Embarking on your journey to conquer the LSAT and secure your spot in law school?
Can't decide between LSAT Demon and 7Sage?
Don't worry. We've done the legwork for you and compared all of their major features.
This comprehensive review will help you decide which program is better for you.
So, read it till the end to make an informed decision.
7Sage LSAT Vs. LSAT Demon Comparison Table
Here is a comparison of top-of-the-line packages from both courses:
2 x 30-hour sessions per month


Free Resources (in Trial)


3 Official LSATs
3 LSATs Explained
1 Monthly Class
Proctored Test


Sample Lessons
1 Free Prep Test

7Sage LSAT Vs. LSAT Demon Overview
With over 200,000+ students, 7Sage is an economical yet highly effective LSAT prep course, founded by JY Ping (a Harvard Law graduate) in 2011.
Ping's aim was to make LSAT prep affordable so that every student gets an equal chance.
LSAT Demon on the other hand is a comprehensive, AI-driven LSAT preparation tool designed by Thinking LSAT hosts and co-founders Ben Olson and Nathan Fox.
But which one of them is better for you?
Let's find out.
7Sage LSAT Vs. LSAT Demon Detailed Comparison in 2023
Let's review and compare the individual features of both.
Preparation Approach
Let's start with the teaching mechanism first.
So, 7Sage has a pretty straightforward and well-structured course curriculum that moves in order. You have to complete the modules one by one before you can take any practice tests.
This slow and steady approach helps you understand all the concepts and principles before you can test your knowledge.
The course outline is divided into the following sections:
Foundation
Logical Reasoning (LR)
Logical Games (LC)
Reading Comprehension (RC)
LSAT Writing
Prep Tests
Admissions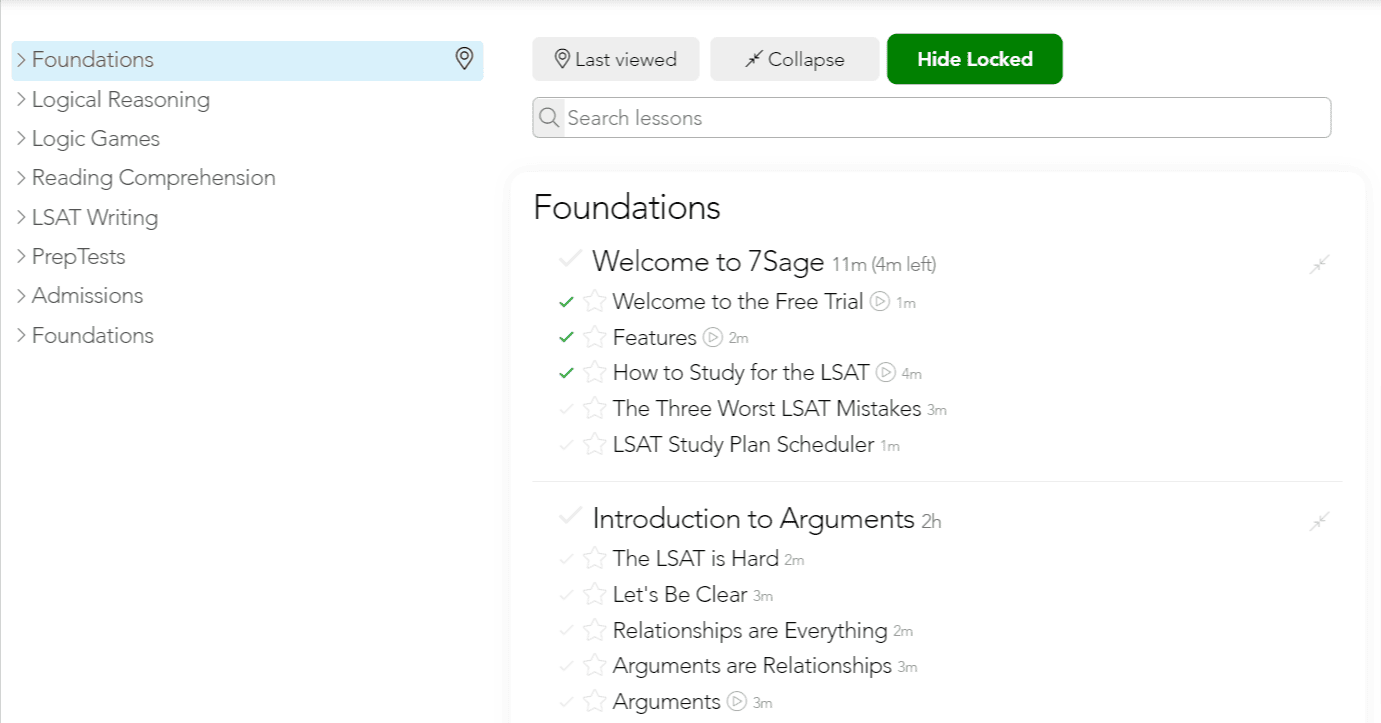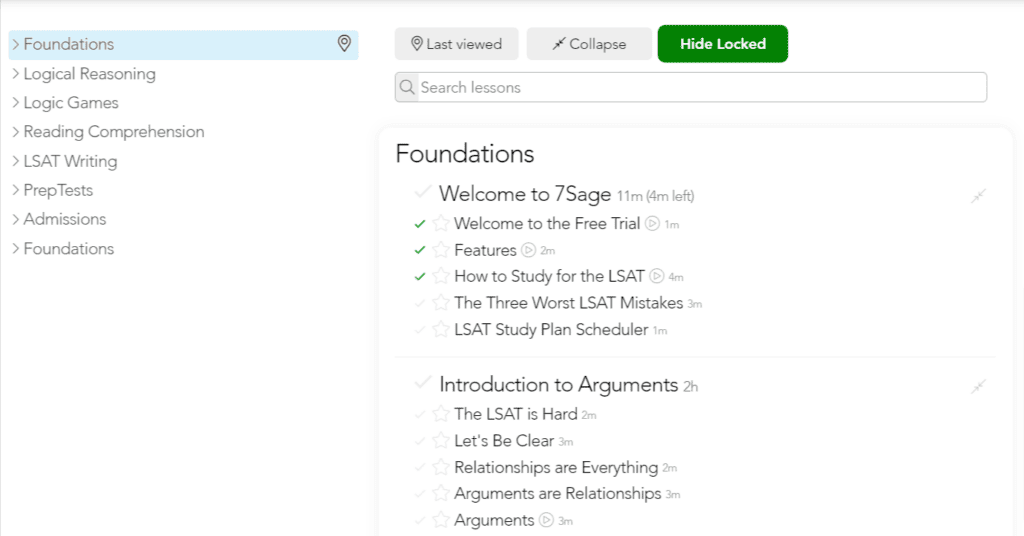 LR, LC, and RC are regular LSAT modules, while Foundation, LSAT Writing, and Admissions are bonus resources.
On the other hand, LSAT Demon takes a different approach to LSAT prep. It also very neatly organizes different topics and modules into groups, but you can choose to study them in any order.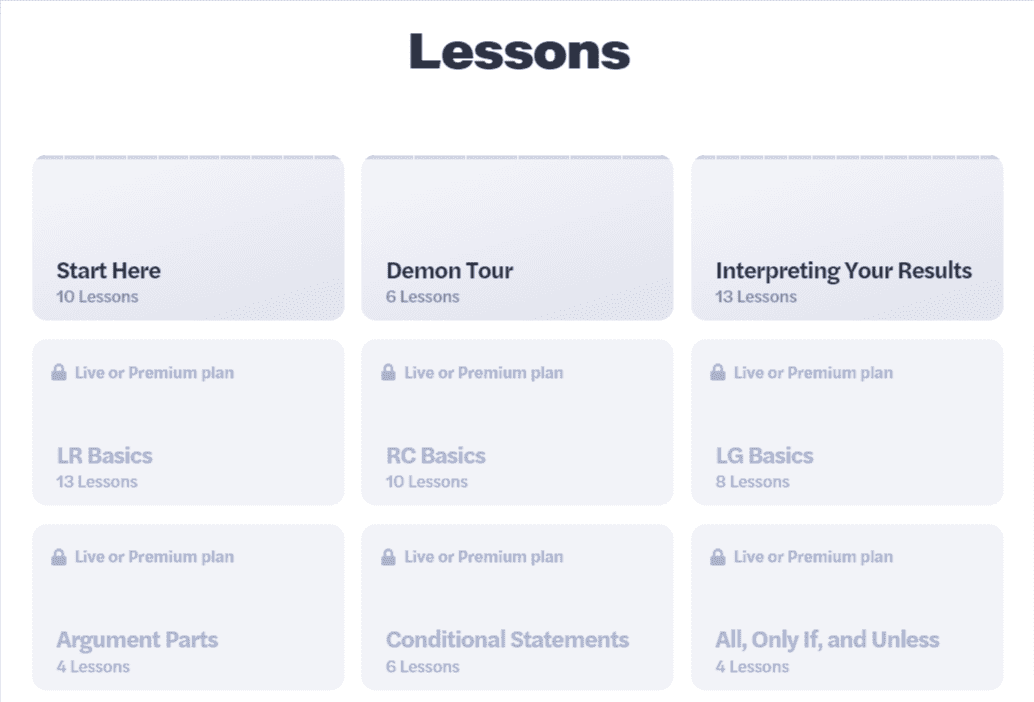 Just go to the "Lessons" tab and study what you want.
However, LSAT Demon tries to push you towards taking a diagnostic test first. Its machine learning algorithm then suggests questions you should practice more, and that's how you complete your prep.
Take more tests, see where you lack, and strengthen those weak areas. So, it's kind of a do-it-yourself approach.
Our Thoughts
7Sage has a guided approach, where the platform invites you to complete the lectures in a sequence before you go on to take full-length practice tests.
LSAT Demon has a more DIY approach and leverages AI to help you decide which questions and lessons you should focus more on.
Who wins? For us, it's a tie.
It really depends on your prep style and studying preference.
Explanation & Video Lessons
7Sage features video explanations for 8,440 questions from official LSATs.
These high-quality videos are thorough and clear in explanation. Every video shows you a screen with a problem statement or discussion topic, where you can hear the instructor talking in the background.
The instructor uses a pointer/cursor to mark or highlight the content on the screen so you can understand better. (See example below)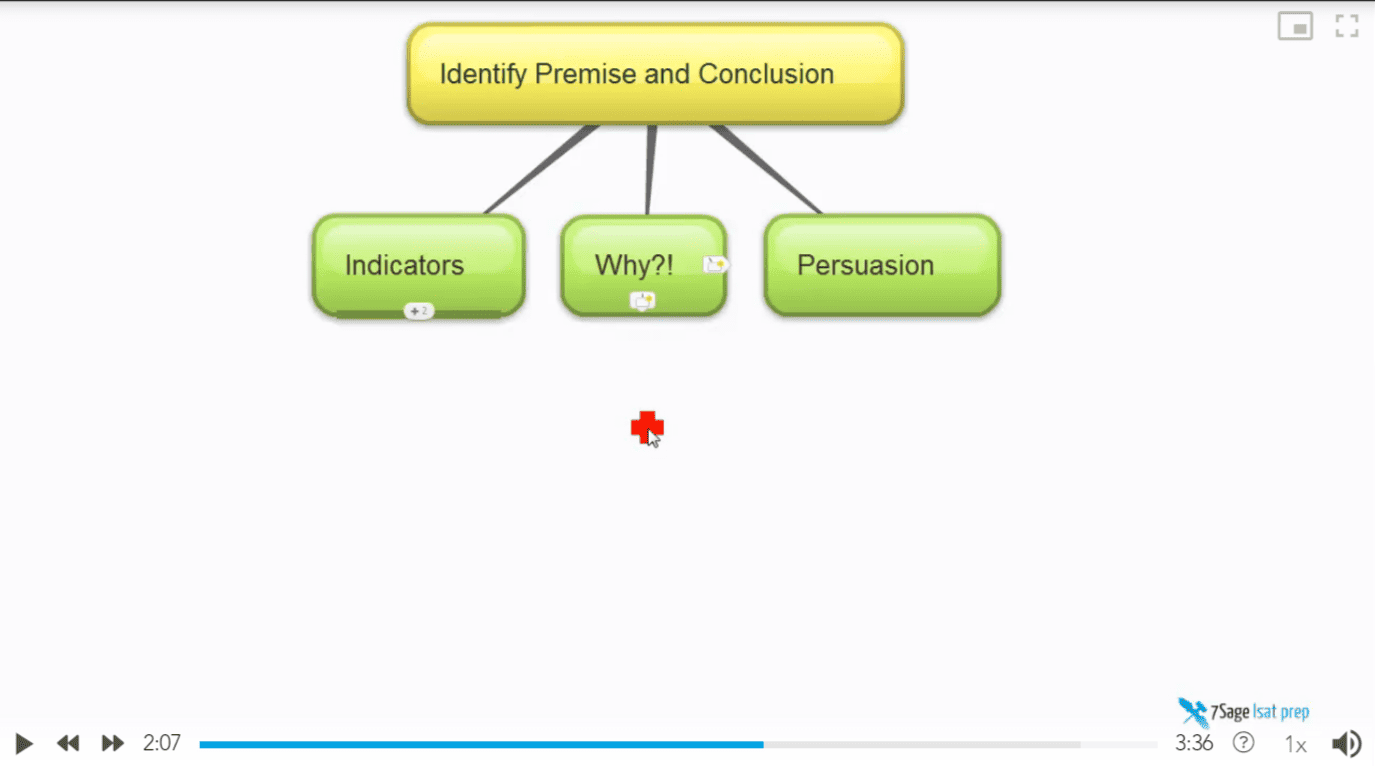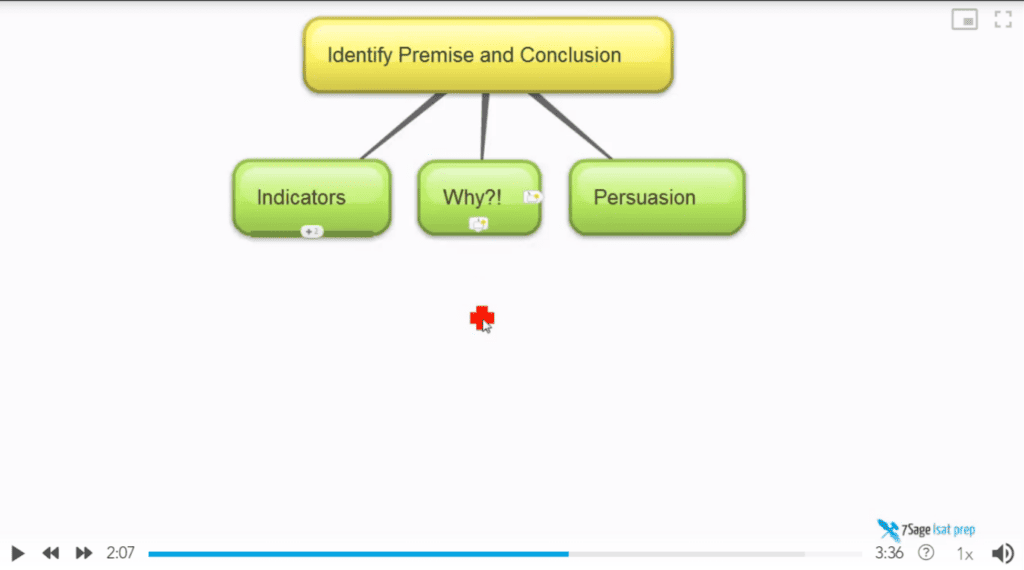 These videos also follow written notes, making it easier for users who like to read and learn.
LSAT Demon also features detailed, high-quality videos with explanation notes.
While the program doesn't boost a specific number of questions, it offers an explanation for every question in the 99 official LSATs it offers.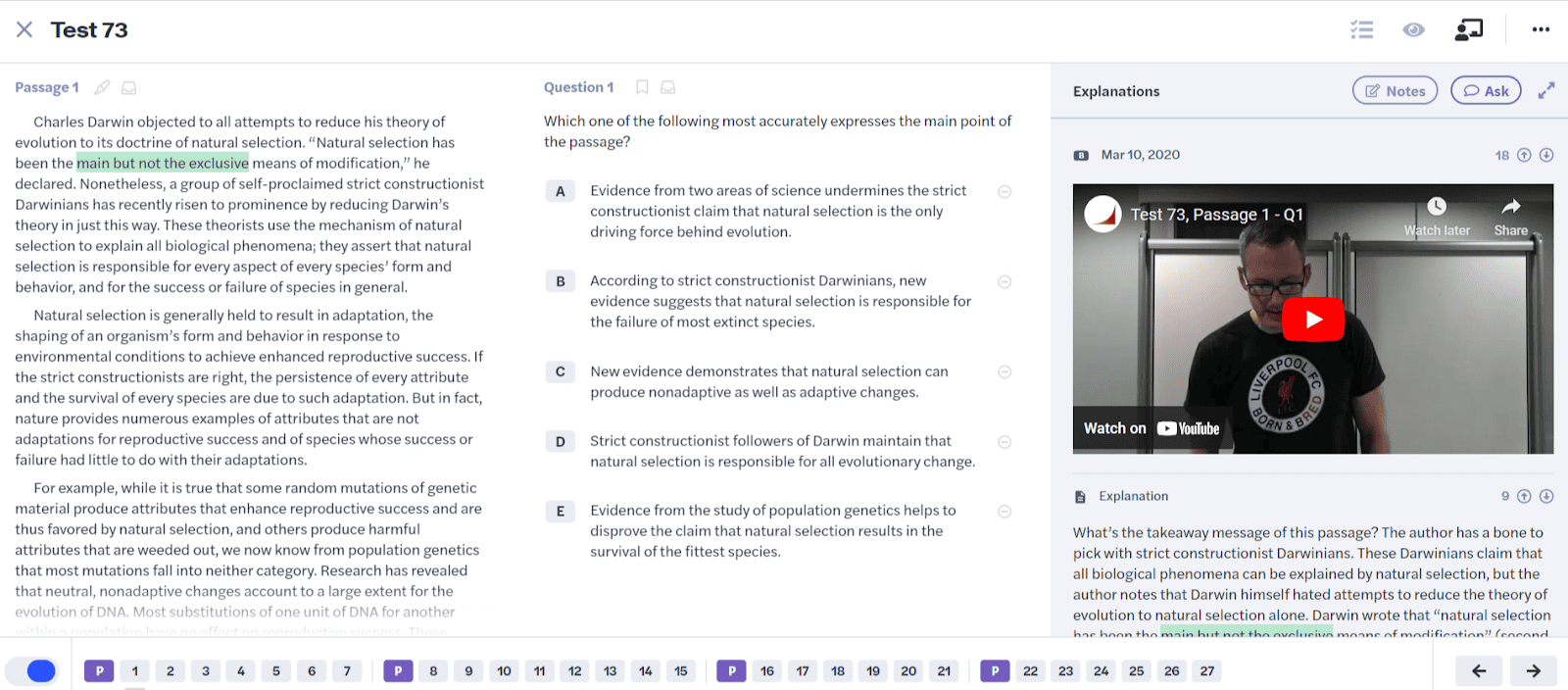 Our Thoughts
Both 7Sage and LSAT feature a huge content library with detailed explanations for each question of all the 99 official LSATs.
Also, both of these prep courses use the same video + text format to help students understand every point.
Who wins? LSAT Demon.
Why? Because Demon coaches add an element of fun to the otherwise dry lessons, and this unique learning experience often gets mentioned in LSAT Demon's reviews. (1)
Besides breaking down complex topics, their teachers make witty remarks and jokes to make students laugh so they don't stress out amid long lessons and complex problems.
Private Tutoring
7Sage offers 1-on-1, private tutoring sessions to all users who buy their top-tier package, which includes a huge content library and daily live classes.
Every student gets two 30-minute private tutoring sessions with 7Sage's LSAT teachers every month. You can ask questions related to the exam, admission, or even later stages of the career.
The good thing is trainers can be available the same day upon request, and these tutoring credits last up to a year after you buy the course.
Moreover, you can buy tutoring hours at $200 per hour if you want more time with an LSAT trainer.
LSAT Demon, on the other hand, doesn't offer private tutoring. Students can ask questions during live sessions or use the "Ask Button" on all the video lectures and explanations.
Our Thoughts
7Sage includes private tutoring sessions in their top-tier package and also offers separate private sessions. Students can book 5, 10, 20, or more hours of 1-on-1 sessions. (2)
LSAT Demon doesn't offer private tutoring. Students can only interact with teachers during live sessions or use the "Asl Button" to ask questions.
Who wins? 7Sage.
Practice Tests & Drills
Now let's see how both companies fare when it comes to practice tests.
Inside the 7Sage dashboard, you'll find the "Practice" tab in the top menu bar.
This option opens up a range of valuable resources to aid your LSAT preparation. Within this section, you can access Drills, Prep Tests, Analytics, and Explanation Videos.
Drills provide you with the option to tailor a custom practice test, adjusting difficulty levels and question types through 7Sage's Advanced Drill Builder. So, whether you want to solidify concepts with the logic game or overcome grammatical errors, you can do so with this auto builder.
With Prep Tests, you can engage with the official 99 LSATs, while Analytics diligently monitors your progress, presenting scores and ratings to gauge your standing in the LSAT journey.
LSAT Demon offers a similar experience with a twist.
Using machine learning and AI, LSAT Demon will create custom drills for you based on your performance in practice tests. This means you don't have to build a test for yourself; the system will do it for you.
Plus, LSAT Demon's "Practice" tab will give you the option to choose either full-length practice tests or timed sections. You can do Logic Games, Reasoning, or Comprehension separately as you like.

On top of this, both programs offer proctored tests, where an instructor will join you live on Zoom while you take the test.
Our Thoughts
Who wins?
Well, there is not one answer to this. So, it's a tie.
Both 7Sage and LSAT Demon offer their unique approach to practice tests and drills.
7Sage allows you to create custom problems for yourself via Advanced Drill Builder so you can repeat the questions of your choice.
LSAT Demon combines analytics with AI to give you tailored drills, so you can practice where you lack.
Tutors
So, who teaches LSAT prep in both programs?
7Sage claims to have a stricter hiring process than Yale Law and only accepts applications from trainers who scored 99th percentile on the real LSAT.
Once an LSAT trainer is hired, they are rigorously trained to become even better. They are taught how to simplify complex topics, recognize patterns, and rule out incorrect answers swiftly.
Naturally, all of this knowledge and skill is ultimately taught to 7Sage students.
Just like 7Sage, LSAT Demon also has a strict hiring policy: they only hire tutors with an LSAT score above 170.
This means all trainers on the Demon team have aced the LSAT with flying colors, meaning you get to study under highly credible and talented professionals.
Our Thoughts
Who has the better teachers?
Both companies have strict hiring policies.
7Sage hires 99th percentile coaches, and LSAT Demon hires only those who scored at least 170 on the LSAT.
Who wins? 7Sage.
Why?
While both hire top professionals, 7Sage slightly edges LSAT Demon because the 99th percentile equals 175 (5 points higher than 170).
Refund Policy
7Sage doesn't offer refunds on any of its LSAT subscription plans.
However, they have a refund policy for tutoring. If you've bought tutoring hours and haven't used more than one hour, 7Sage will give you a full refund (minus a 6% processing fee) within 14 days of your purchase.
LSAT Demon offers a refund on all of their packages if you claim it within 30 days of purchase. This makes it a complete risk-free investment for you.
Important: Remember that no LSAT course will refund your payment for LawHub Advantage because it is a third-party service provided by LSAC.
Our Thoughts
7Sage offers refunds on their tutoring-only packages, while LSAT Demon offers refunds on all of their LSAT courses.
Who wins? LSAT Demon.
Since LSAT prep is the primary offering and not private tutoring, LSAT Demon has the advantage here.
Free Resources
As a test taker, you're already under pressure and want to test some LSAT courses before you can decide which one to buy.
7Sage and LSAT Demon both offer limited resources in their free trials.
7Sage gives you access to some sample lessons, a free prep test, and one hundred explanations.
Comparatively, LSAT Demon is much more generous with its free offerings.
It offers a complete free monthly package with the following:
3 Official LSATs
3 LSAT Explanations
1 Monthly Live Class
Proctored Exams
This generous offer allows you to taste almost everything they have to offer before you pay a single dollar.
Our Thoughts
7Sage offers limited access to video lectures and prep tests during the free trial.
Comparatively, LSAT Demon offers generous resources even in the free plan. You can take proctored tests and live classes, and it even lets you access the full three official LSATs with explanations.
Who wins? LSAT Demon.
User Interface & Experience
Now, let's discuss the design and usability of both platforms.
Truth be told, 7Sage's website and dashboard design doesn't look too fancy. In fact, its design looks old. However, it's neat and professional.
Moreover, the interface is intuitive. You don't have any problems navigating between different sections, tabs, or lessons. You can find anything you want just with a few clicks.
LSAT Demon has a more sleek and minimalistic design, which gives you the feel of a premium resource.
In terms of usability, the platform has an easy-to-use interface, as all lessons, tests, and drills are neatly grouped and easily accessible.
Our Thoughts
7Sage and LSAT Demon both offer a user-friendly and intuitive interface. Even as a new user, you can easily find practice tests, lectures, or anything you're looking for.
Who wins? It's a tie.
Pricing
Lastly, let's talk pricing.
7Sage is one of the most economical LSAT prep options in the market and offers three options, namely Core, Live, and Tutoring.
Its basic plan, Core, starts at a reasonable $69/month and offers 50+ hours of video tutorials, 99 official LSATs, a custom problem generator, detailed analytics, and plenty of other useful features.
Live is priced at $129/month and includes all of the Core's features with daily live classes, proctored tests, and hundreds of on-demand videos.
The Tutoring plan comes at $279/month and allows students to get two 1-on-1 tutoring sessions spanning 30 minutes each month.
LSAT Demon offers the following three packages:
Basic at $95/month
Premium at $195/month
Live at $295/month
The Basic package offers 77 Official LSATs, while the Premium and Live include 99 Official LSATs. Plus, students get access to daily live classes when they buy the Live package.
Our Thoughts
7Sage's basic plan (Core) starts at $69/month, while LSAT Demon's basic paid plan starts at $95/month.
Plus, 7Sage's Core includes more LSATs than LSAT Demon's Basic plan.
Similarly, 7Sage's Live and Tutoring packages are priced less than LSAT Demon's Premium and Live plans but offer more features.
Who wins? 7Sage.
Verdict: Which One Is Better?
So, who wins the LSAT Demon vs. 7Sage battle? Which course is better for you?
If you're looking for an economical LSAT prep course and also want private tutoring, 7Sage is definitely the right choice. It might seem a bit overwhelming when you look at the vast learning resources, but they come at a lower price than LSAT Demon.
However, if you're looking for an LSAT course with comprehensive yet engaging study material, LSAT Demon might be the better choice. Plus, LSAT Demon also gives you a 30-day refund possibility, so there's no risk involved.
7sage LSAT Vs. LSAT Demon FAQs
Is 7sage LSAT cheaper than LSAT Demon?
Yes, 7Sage LSAT is cheaper than LSAT Demon. 7Sage starts at $69/month, while LSAT Demon's offerings begin at $95/month.
Which one provides better value for money: 7sage or LSAT Demon?
We believe 7Sage provides better value for money than LSAT Demon because it offers more features at a lesser fee. Also, you might want to check out LSAT Lab since it's in a similar price range.
You can check out the other reviews we did on other LSAT prep courses below: