Gearing up for the ultimate law school entrance exam?
With a myriad of preparation courses, from affordable to 'exorbitantly expensive' ones, it's critical to find the right balance between cost and quality.
LSAT Demon has recently gained popularity as an economical LSAT resource. But the burning question remains – does it truly deliver on its promise of quality study material?
We'll find out in this comprehensive LSAT Demon review.
Before we do that, I just want to quickly mention this ongoing deal that LSAT Blueprint is running. Use URL below to get the best deal available.
Back-to-school limited deal: Get up to $400 OFF today and start your LSAT prep the right way!
Pros
Best video lessons for LSAT in the industry.
Offers all prep options: online, live classes and private tutoring
Score increase guarantee
Cons
Higher price tag but we think it's well justified.
Summary Table
| | | | | |
| --- | --- | --- | --- | --- |
| | | | | |
| | | | | |
| | | | | |
| | | | | |
| | | | | |
| | | | | |
| Ask Button (For Questions) | | | | |
| | | | | |
LSAT Demon Overview
LSAT Demon packs some amazing features:
Real LSAT questions in practice tests.
Get access to every released LSAT.
Detailed video explanation of 99 LSATs.
Proctored exams with a Live proctor in Zoom.
AI-guided Smart Drilling to track your progress and tailor practice tests.
Daily and Monthly Live classes.
Easy 30-day refund policy.
On top of this, LSAT Demon offers FREE access to 3 Official LSATs, 1 Monthly Live Class, and Proctored Exams, giving you a taste of what they offer.
Plus, their pricing starts at only $95 per month.
But is it worth it?
Read below to find out.
LSAT Demon Review For 2023
LSAT Demon is a comprehensive LSAT preparation tool designed by Thinking LSAT hosts and co-founders, Ben Olson and Nathan Fox.
Let's have a detailed look at what the program offers.
User-Friendly Interface
One of the most notable features of the LSAT Demon program is its easy-to-use dashboard.
It has a pretty neat, minimalistic design, and the interface is pretty intuitive.
Your home view of the dashboard will look something like this: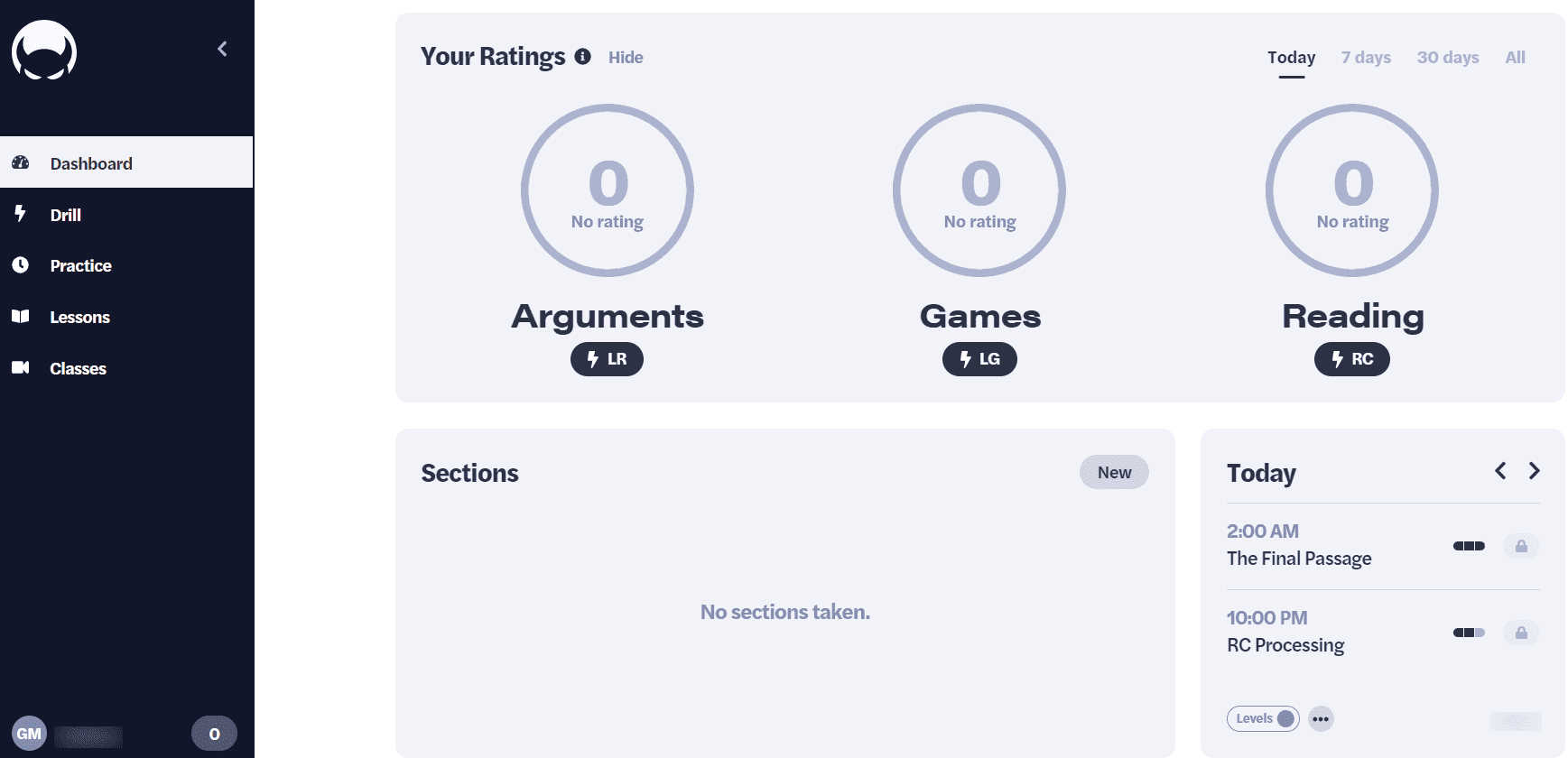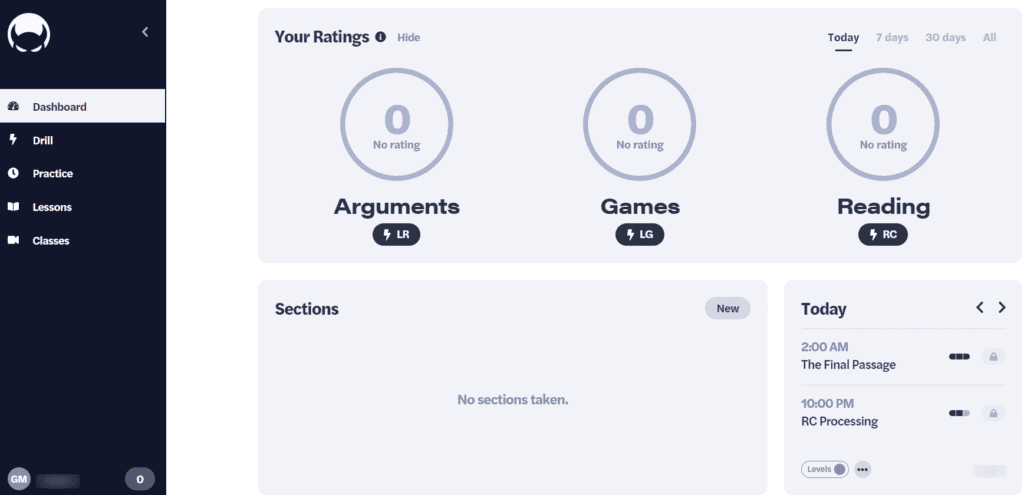 From your home view of the dashboard, you can easily track your progress for practice tests and be notified of upcoming classes.
Plus, it will also show you a score for each section so you know where you stand and what needs improvement.
On the left side of the screen, you can easily move to Drill, Practice, Lessons, or Live Classes.
a. Drills
Drills are customized practice tests created by the Demon's smart AI.
It uses machine learning to assess your performance in the LSAT practice test and gives you relevant questions to strengthen your weak areas.
b. Practice
This tab will take you to a screen where you can practice any of the following test types:
Timed Section where you can choose from Logical Games, Reasoning, or Comprehension
Full-length Practice Tests
Proctored Tests with an online proctor in Zoom
c. Lessons
Live and Premium users can access nearly 150 lessons that cover challenges, conditional statements, strategies, study schedules, and much more.
But that's not it. Free and Basic members also get their hands on nearly 40 lessons, which is still very generous given the prices.
d. Classes
As mentioned, this tab will let you register for an upcoming live class or watch a recording of the previous classes.
The topics/subjects of these classes vary. One day you might be learning about the Law Application Checklist, while the next time, you could be sitting in a detailed review of the last proctor test.
Or you might learn some new tips and strategies for multiple tasks. From controlling your anxiety to scoring above 170, you can learn a thousand things from these Free classes.
Live And Recorded Lessons
Whether you're someone who thrives in a live class environment or somebody who likes to study at their own pace, the LSAT Demon has got you covered.
Their Free, Basic, and Premium packages will give you access to one LIVE class every month, while their Live package includes a live class every day.
If you're on the free plan, their dashboard will let you choose your preferred date to register for the Live class.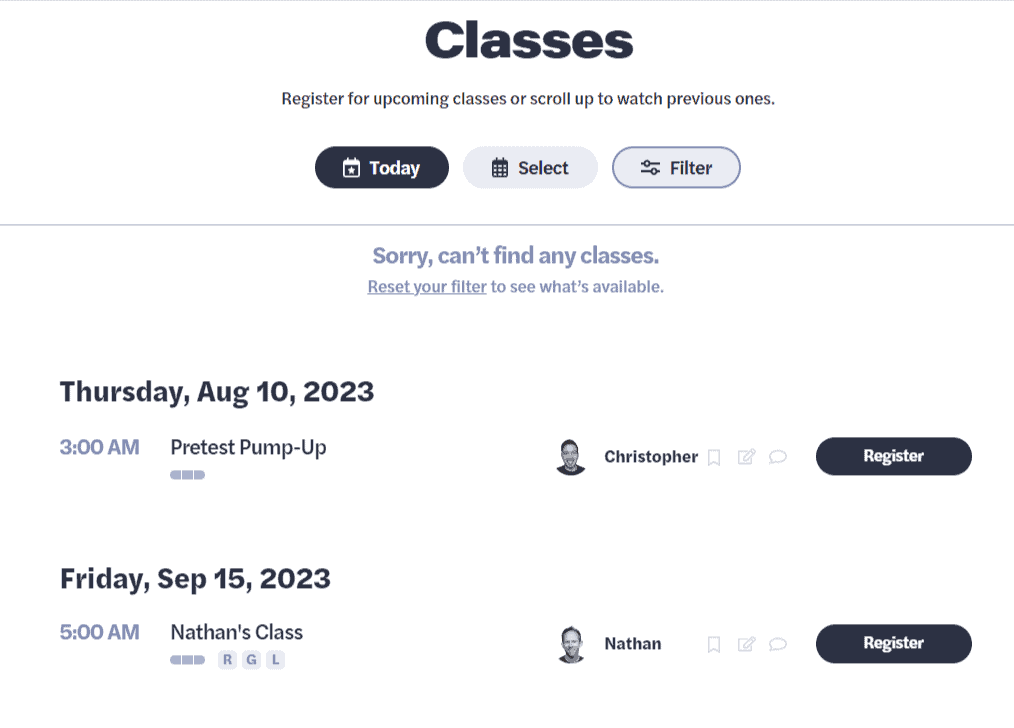 You can also watch the recording of previous LIVE classes.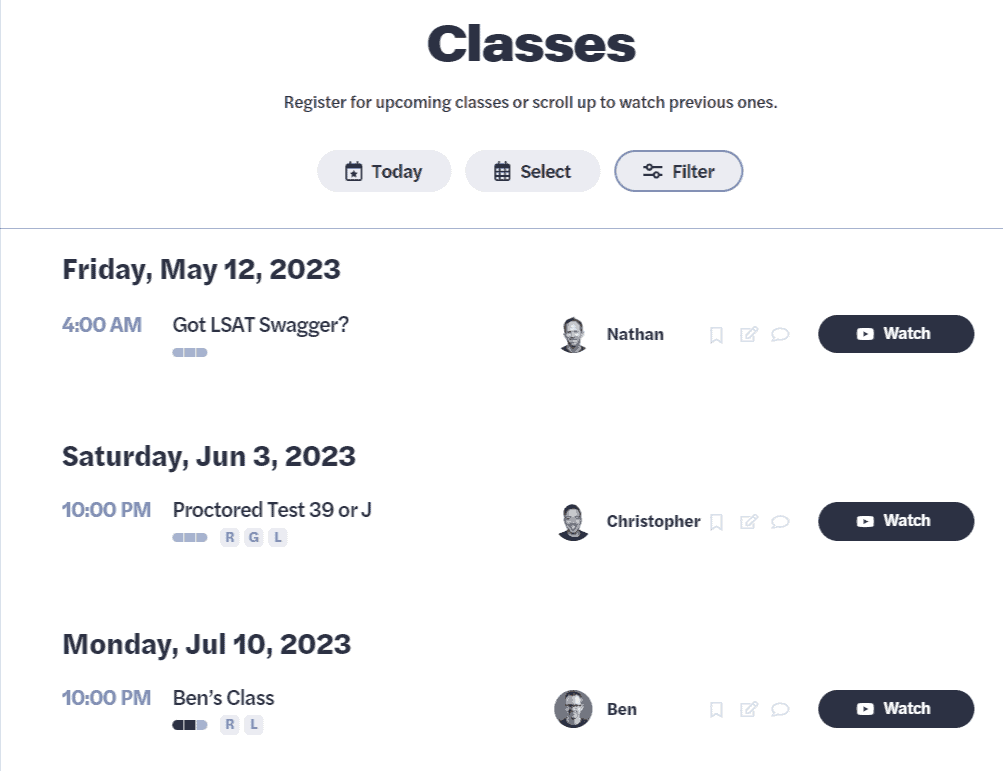 Each of these videos has a "Highlights" section where they briefly explain what's being discussed in these videos. This makes it easier for users to decide which videos they want to watch or skip.
Apart from these live and recorded monthly sessions, the Premium and Live packages feature their catalog of pre-recorded lessons, where you can watch on-demand videos at your own pace.
Fun, Student-Focused Learning Experience
Another amazing thing that repeatedly gets mentioned in LSAT Demon's reviews is their unique learning experience.
Students rave about two things: tutors' sincerity and their ability to infuse fun into the boring LSAT regime.
Yes, besides breaking down complex topics into dead simple language, the Demon tutors add fun to the otherwise dry lessons. They make witty remarks and jokes to make students laugh so they don't stress out amid long lessons and complex problems.
Secondly, a lot of their students talk about the tutors' sincerity.
They mention watching videos where tutors make recommendations against the company's financial advantage and in favor of the students.
Simple, Easy-To-Understand Explanations
It is very easy to learn new ideas and understand complex topics with LSAT Demon's explanations.
First, every concept or focal point of the problem will have a written explanation on the right side of the practice test questions. (As seen below)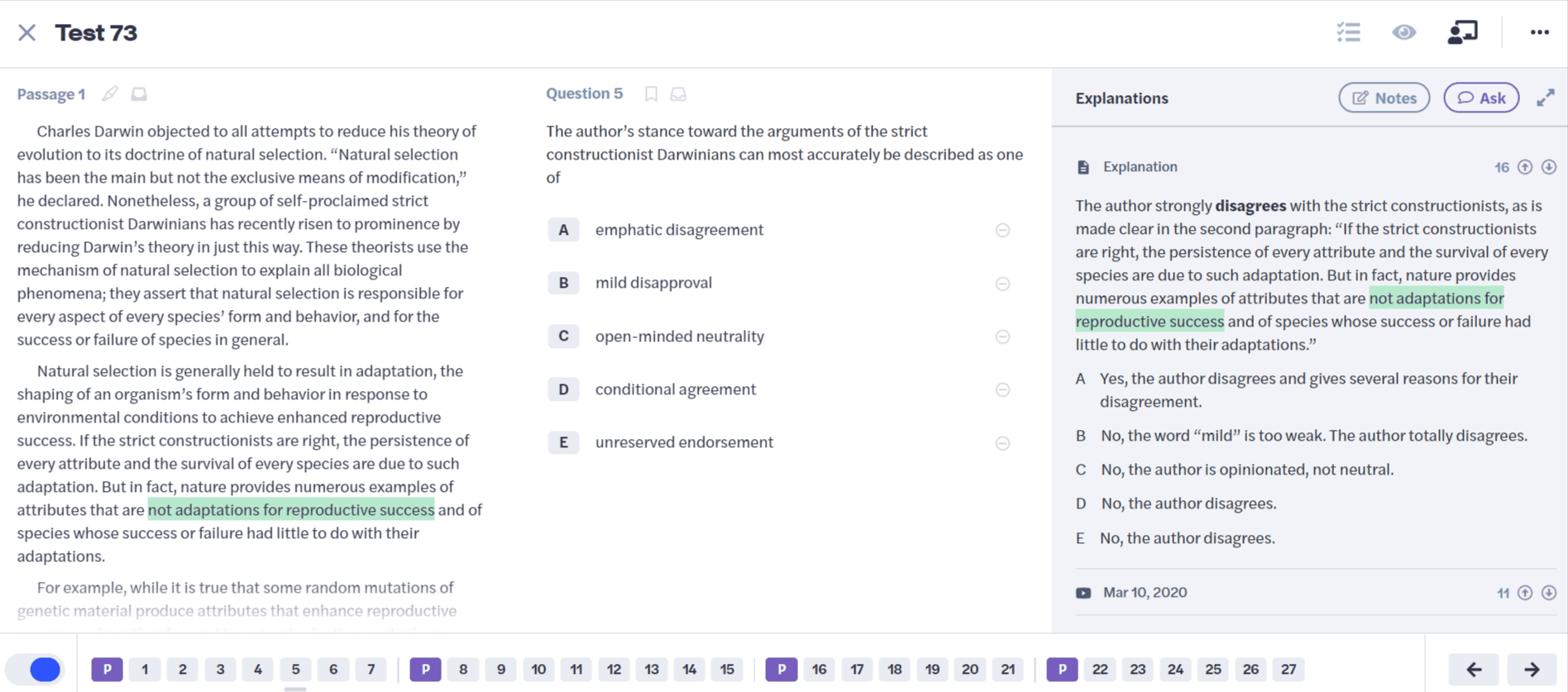 Secondly, there is also a video explanation alongside the test questions.
In every explanation video, the instructor uses a whiteboard to write notes and explain difficult ideas.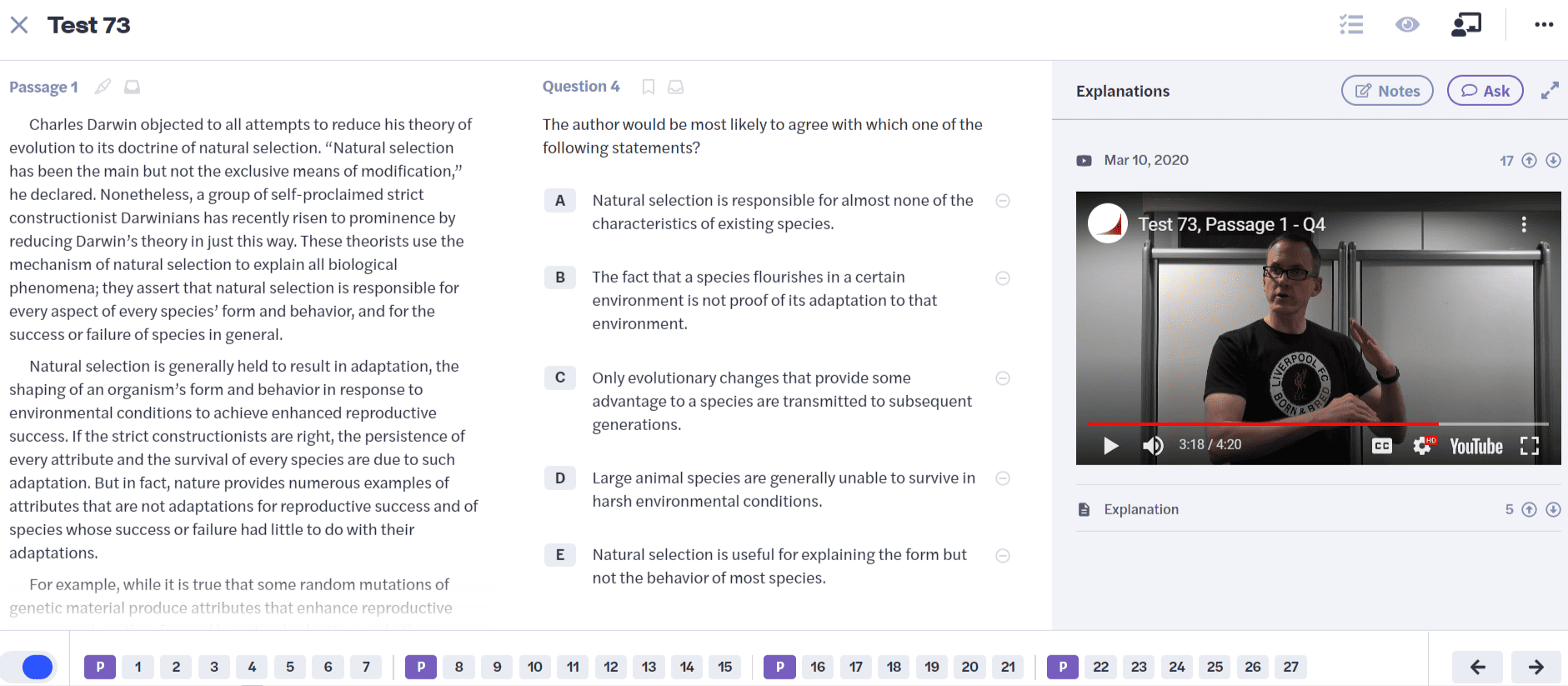 This two-fold system providing both written-format and video-format answer explanations makes it really easy for students to solidify their concepts and clarify any doubts about any topic.
Top-Notch Tutors
Did you know that they only hire tutors with an LSAT score above 170?
Yes. That's true – all tutors on the Demon team have aced the LSAT with flying colors.
That's incredible and reassuring of the fact that you get highly credible and world-class knowledge from this platform.
Excellent Support
Whether you're a paying user, a free account holder, or a prospective customer, you get excellent support from the LSAT Demon team.
As a prospect, you can reach them via email, call, or text.
As a user, you can leverage the "Ask Button" on the top right corner of the Lesson's page and in the explanations window of every question.
You can use it to ask questions about topics you need help understanding. Just type your question and hit 'send.' Someone from their team will get back to you within 24 hours!
Additional Resources
Even with budget-friendly prices, the course comes with generous offerings.
On top of all the practice tests, drills, and lessons, LSAT Demon offers some value-packed additional resources in the form of:
1. Sample Study Schedule: A weekly schedule that covers a full LSAT and is not boring. It includes timed and untimed practice tests and allows you to try something different every day.
2. Book Recommendations: 27 carefully chosen books on:
Law school
Law careers
General writing
Economics
Life-improvement
Fiction
Non-fiction
3. Alternate Career Suggestions: Career suggestions that would give you a taste of work in the law before you jump into a three-year degree
4. Thinking LSAT: This podcast is an excellent compliment to the program. You get to listen to raw wisdom being shared by LSAT tutors every week, free of cost.
Mobile App
Finally, the LSAT Demon has its own mobile app.
This means if you're always on the move or like to keep things at your fingertips, the program has got you covered. Download their free mobile app and access all the study material on the go.
LSAT Demon Pros & Cons
– Offers plenty of free study materials.
– Provides detailed answer explanations.
– AI-guided learning.
– Affordably priced.
– Taught by highly qualified instructors.
– No private tutoring option.
Verdict
So, does LSAT Demon get the green light to be your partner in your law school journey?
Considering all the features and pricing, it's evident that this budget-friendly program offers a generous blend of convenience, quality, and value.
With a range of subscription options, including a free trial, LSAT Demon caters to various learning preferences and financial considerations. The Free, Basic, and Premium packages are for you if you like to study at your own pace.
But if you thrive in a live teacher-student setting, the Live plan will suit you best.
No matter which one you choose, rest assured that Demon tutors are highly credible and talented. Their explanations don't just teach to have you pass the LSAT but make sure that your critical skills are improved.
Plus, they also add a fun twist to this boring study regime and make it rather interesting.
Finally, its drilling feature utilizes machine learning to analyze your strengths and weaknesses, tailoring your study program to target your problem areas.
As a result, you can expect to see faster improvement and substantial score gains.
LSAT Demon FAQs
Is LSAT Demon worth it?
Yes, the LSAT Demon is definitely worth your time and money. The course will surely help you whether you sign up for the free account or buy the Demon Live subscription.
What is the difference between LSAT Demon premium and live?
The difference between LSAT Demon Premium and Live packages is the daily classes. The Live plan gives you access to everyday classes, while the Premium plan will give you on-demand pre-recorded lectures and just one monthly live class.
How does LSAT Demon AI drilling work?
The LSAT Demon AI drilling works by leveraging machine learning. It analyzes your scores on the practice LSAT tests and then creates custom drills so you can strengthen your weak areas and improve your score.
You can check out the other reviews we did on other LSAT prep courses below: