On the one hand, you have a well-known and recognized test prep company; on the other, you have a fairly new lesser-known alternative.
It might be easier to assume that Princeton Review is the clear winner here, but that may not necessarily be the case.
This in-depth comparison of Prep101 MCAT Vs. Princeton MCAT objectively analyzes both options, stacking the courses side-by-side and breaking down everything you need to know to make the decision that best guarantees value for your money.
Prep101 MCAT Vs. Princeton MCAT Comparison Table
| | | |
| --- | --- | --- |
| | | |
| | | |
| | 6 Months, With Unlimited Repeats | |
| | | |
| | | |
| | | |
| Full-Length Practice Tests | | |
| | | |
| | | |
| | | |
| Official AAMC Practice Material? | | |
| | | |
| | | |
| | | |
Prep101 MCAT Vs. Princeton MCAT Overview
Princeton Review is a well-known, tried-and-tested test prep company that has been around for decades, helping thousands of pre-med students ace the MCAT.
Offering a combination of online and in-person study options, Princeton Review has four MCAT courses: Self-Paced, LiveOnline, MCAT 513+, and 515+ Immersion course.
The major difference between the 4 Princeton Review MCAT courses is the number of live instruction hours offered. For instance, while the LiveOnline course offers 40 hours of live instruction, the 515+ Immersion course provides 195 hours of live instruction.
Prep101 is a relatively new, lesser-known platform that's been making waves and quickly building up a reputation for offering excellent MCAT prep.
This comprehensive MCAT prep course has the unique advantage of compiling study materials from various sources, thereby eliminating the testing bias that comes with studying using just a single resource.
Incorporating materials from Examkrackers, Altius, and the AAMC, the Prep101 MCAT course is dense in content, allowing for very comprehensive content review and MCAT practice.
There are two main course options: Classroom Plus and Live Online Flex, and once you've signed up, you can easily switch between either option, choosing to take classes either in-person or online.
Now let's take a closer look at how the Princeton Review and Prep101 MCAT courses stack up against each one.
Exclusive Deal: Get $100 OFF today and start your MCAT prep the right way!
Pros
Offers the most full-length practice exams of any MCAT prep course.
Includes a personal MCAT coach.
Places a particular emphasis on CARS.
Cons
Does not offer a higher score or money-back guarantee.
Prep101 MCAT Vs. Princeton MCAT Detailed Comparison In 2023
Content Access Period
With Prep101, after the start of the prep course, you have access to the on-demand recordings, annotated notes, and student portal features for a period of 6 months.
If you choose to make use of the unlimited free repeats feature by coming back some other time for MCAT review, your access to the student portal will be restored a week before the new course starts, thereby giving you access to the on-demand recordings.
So although Prep101 has an unlimited repeat policy, that doesn't mean you will have access to the resources indefinitely, you have to renew your access every time you choose to retake the course. The good thing is that this is done entirely free of charge.
Princeton Review gives you access to all the course materials for a full year, during which you have the option of retaking any classes as many times as you wish.
Once a year lapses though, you will no longer have access to the resources, necessitating you to sign up for the new courses if you wish to keep using the test prep company.
So considering both options, Prep101 has a far sweeter deal, with its unlimited free repeats feature, at no extra charge at all.
Course Formats and Pricing
Prep101 offers two MCAT prep options: Classroom Plus, and Live Online Flex, both priced at $2,295.
Classroom Plus is an in-person prep course offering a unique mix of in-person classes and live online classes. The in-person classes take place on weekday mornings, while the live online classes are scheduled for weekday afternoons, with each class being offered twice weekly.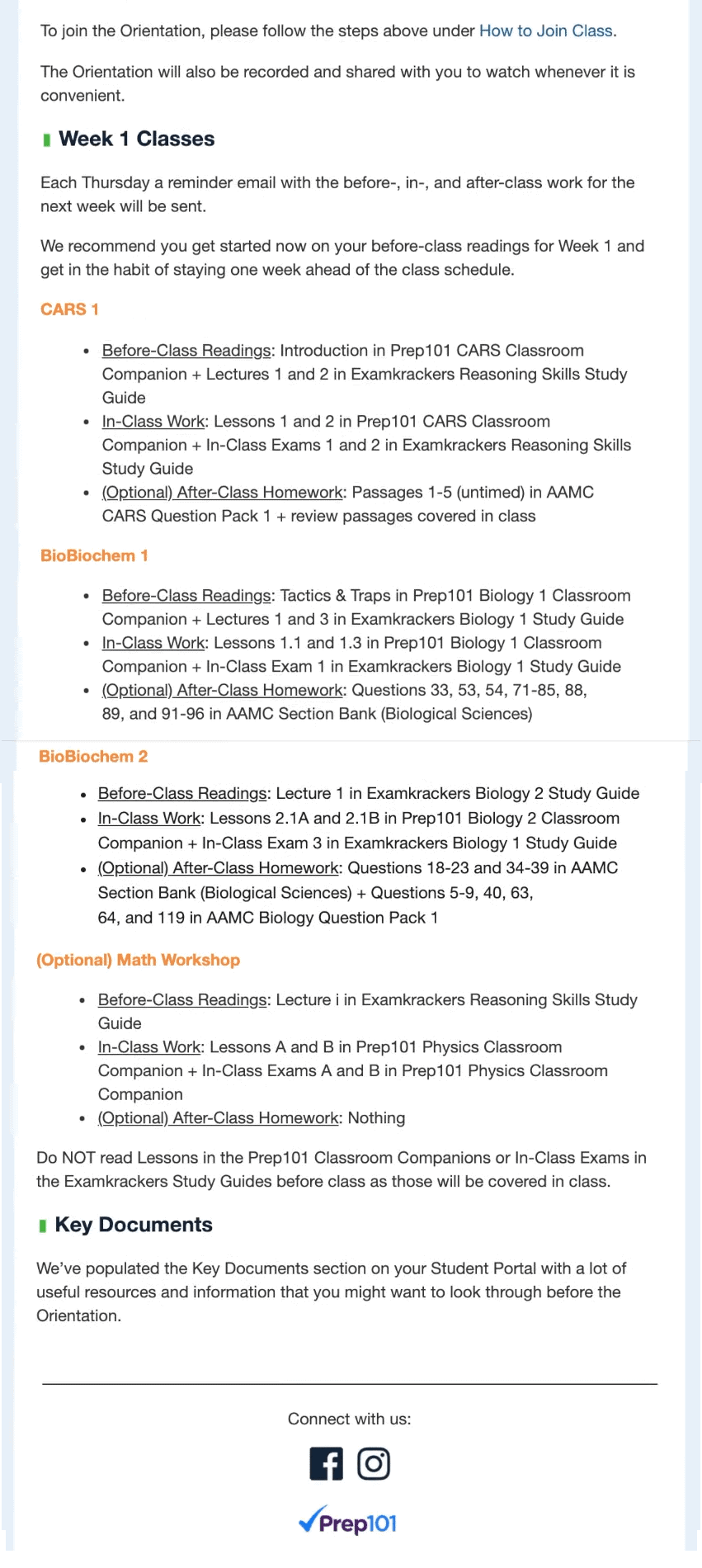 Live Online Flex entirely occurs online, whereby each class is offered four times weekly: weekday morning, afternoon, evening, and weeknight.
Both courses have the same features, except for the classroom environment. If you are signed up for Classroom Plus, you can easily switch to Live Online Flex and vice versa.
Princeton Review offers four course options, ranging vastly in price from $1,999 to as much as $7,349. You have the Self-Paced course, LiveOnline, MCAT 513+, and 515+ Immersion.
As indicated by the pricing, the Princeton Review MCAT prep courses vary vastly in their features and offerings especially when it comes to the total hours of live instruction and the option of having a personal student advisor.
Prep101's Live Online Flex can be equated to Princeton's LiveOnline course in that they are the most comparable in terms of pricing and features.
However, Prep101 is cheaper by about $500 and has far more superior offerings, equivalent to Princeton's 513+ course, that's priced at $3,499.
Flexible Class Scheduling
The greatest advantage of the Prep101 MCAT course is that it allows for flexible scheduling.
The same class is offered multiple times each week, so you can attend whichever best suits your schedule and availability. Alternatively, you could also choose to attend all the classes if it's on a topic you are particularly struggling with.
Furthermore, there are always recordings for each class, so if you miss all of the scheduled options, you can still self-study in the same class later on.
Course Structure
Prep101 delivers 138 hours of live instruction spread across 44 lessons covering the basic science concepts on the MCAT.
The 138 hours are divided into 78 hours for lectures and 60 hours dedicated to guided practice through in-class exams and workshops.
Princeton Review's MCAT live classes vary with the specific course you've signed up for.
The LiveOnline course only has 40 hours of instruction, while the 515+ Immersion course provides a whopping 860+ hours of instruction, out of which you have 195 actual lecture hours and the rest belonging to guided practice.
By sheer quantity alone, Prep101 has the upper hand in that it allocates much more class time at a relatively lower price, while Princeton Review requires you to pay more for increased class time.
Aside from the live class instruction, both platforms additionally offer workshops and on-demand video lectures to aid with self-studying.
Besides that though, Princeton Review goes the extra mile by providing office hours included in their MCAT Topic Focus package.
Office hours can provide a great opportunity for students to learn and think about the material in a refreshingly new way outside the classroom, thereby enriching their studying.
While lectures are often highly structured and fast-paced with time constraints, office hours allow for a more laid-back approach where students can better reflect on problem sets and think through specific topics they would like to discuss with the lecturer.
Princeton Review has the upper hand in this regard, whereby they provide office hours, whereas Prep101 doesn't.
Personal MCAT Coach
While Prep101 may not offer office hours, you get a personal MCAT coach instead, all included within the basic subscription package.
The point of the MCAT coach is to keep you on track, motivate you, and reinforce good study habits so you don't fall short before test day.
They additionally help you design a personalized study plan exactly tailored to your individual circumstances and will regularly meet with you to finetune this study plan ensuring it still serves your study needs and goals.
Princeton Review does offer one-on-one expert study advisor guidance, but this feature is only available with the costlier MCAT 513+ and 515+ Immersion courses.
Practice Tests & Questions
Prep101 offers 20 full-length exams: 10 from Alius, 5 from Examkrackers, and 5 from AAMC. On the other hand, each Princeton Review course has 16 full-length practice exams.
Besides just the sheer quantity, Prep101's exams are superior because they offer far more realistic MCAT practice that's as close as possible to the real exam.
Aside from the AAMC exams, Altius is the one other resource that's very similar to what you will see on the MCAT, especially when it comes to their experimental questions.
However, where Princeton Review takes the day in that it offers 35 diagnostic tests, thereby allowing for far more practice. As we all know, extensive practice really is the only secret to acing the MCAT.
MCAT Prep Books
The 13 MCAT books offered by Prep101 are 6 Examkrackers study guides, 6 Prep101 classroom companions, and 1 Examkrackers CARS workbook.
The 11 MCAT books provided by Princeton Review comprise 7 review books for each of the MCAT subjects and 4 exclusive titles.
The Princeton Review books are really well written by expert tutors, incorporating a bit of humor and plenty of high-quality graphics.
Examkrackers books are incredibly in-depth and detailed, and they are excellent guides not just for content review but also for test-taking strategies. Each section is accompanied by clear graphics, diagrams, and practice questions.
Furthermore, the books are very easy to read and even cover more information than the Kaplan books.
All in all, because they are written with personality and more engagingly, the Princeton Review MCAT books win this round.
Mobile App
While Prep101 doesn't have any mobile App to help you study on the go, Princeton Review does have an MCAT flashcards App that you can download for free once you've signed up for any of their MCAT prep courses.
Providing access to over 500 flashcards, this app allows you to easily get some learning done while you are up and about.
Via the App, you can set alerts for when you want to test yourself on something, track your progress, and even create your own custom cards based on the specific MCAT content you're struggling to grasp.
Score Guarantee
Lastly, we have the matter of guarantees. MCAT courses can often cost a fortune, and having a guarantee helps give some peace of mind that you're not simply flushing all that money away without any assurance that the course will actually help you pass the MCAT.
Prep101 does not provide any guarantees. Instead, though, the platform has an unlimited free repeats policy in that you can take the course as many times as you wish.
This means you can start your MCAT prep earlier, signing up for the course in the summer after your first year, then retaking it in the summer after your second year right before sitting for the exam.
All this at absolutely no extra charge!
On the other hand, though, Princeton does offer a better score money-back guarantee whereby if you don't score higher on the actual exam, you get your money refunded.
Verdict: Which One Is Better?
The Prep101 Vs. Princeton Review MCAT course comparison is a pretty tight race. Both have stellar online courses with various features to facilitate self-study.
On the one hand, Princeton Review has top-notch MCAT prep books and provides more guided practice through their workshops and office hours.
They also provide more tests and practice questions than what's offered by Prep101 and a handy flashcards mobile App to facilitate studying on the go.
On the other hand, Prep101 has a deep curriculum packed with detail for those needing stronger content review, and the flexible class scheduling sweetens the deal even further.
Besides, Prep101 is priced cheaper yet packed with features only accessible on the higher-priced Princeton MCAT courses. These features include a personal MCAT advisor and more live class hours.
Moreover, Prep101's annotated class notes are extremely beneficial, helping you fill any cracks in our content review. Not to mention that Prep101 does have better full-length exams that are representative of the actual test in structure, content, and passage lengths.
So should you go with Prep101 or Princeton Review for your MCAT prep?
Well, ultimately, this will largely depend on your budget.
If you are looking for an online course not exceeding $2,500, then we highly recommend Prep101. The course is affordable but offers in-depth content review with many premium features and excellent guided practice from expert instructors.
However, if you are willing to splurge to the point of spending over $7,000 on an MCAT prep course, then perhaps you are better off going with Princeton's 515+ Immersion.
Offering far more guided practice and on-demand tutoring, this high-end option might be just what you need to score in the 99th percentile.
Ultimately, though, Prep101 takes the day for being more comprehensive and efficient without requiring you to break the bank.
You can check out the other comparisons we did on other MCAT prep resources below:
Prep101 MCAT Vs. Princeton MCAT FAQs
Should I Take Prep101 Or Princeton Review For MCAT Prep?
Prep101 should suffice for any student looking for a premium yet affordably priced MCAT course that's comprehensive and offers a personalized studying approach.
However, if you need far more guided practice through workshops and office hours, then Princeton Review would be a better fit for you.
Which Is Better For CARS MCAT: Prep101 Or Princeton?
Prep101 is better for CARS, especially because this course comes with the Examkrackers 101 Passages in MCAT verbal reasoning that's widely acclaimed as being an excellent resource for CARS.
Aside from that, Prep101 has 12 out of its 14 workshops dedicated especially to CARS.
Which Has Better MCAT Books: Prep101 Or Princeton Review?
Princeton Review has better MCAT books that are written with humor and personality and, therefore, more engaging for the reader.
Their extensive glossaries and chapter review are also quite helpful when you are looking to quickly scheme through before the exam.