Blueprint offers excellent top-notch LSAT prep material and resources.
However valuable though, these courses come with a hefty price tag that may simply be out of reach for some pre-law students.
So what do you do when you wish to prep efficiently but simply cannot afford to pay for the LSAT course?
Well a Blueprint LSAT discount code would certainly come in handy but where do you even begin searching for the best discount deals?
Back-to-school limited deal: Get up to $400 OFF today and start your LSAT prep the right way!
Pros
Best video lessons for LSAT in the industry.
Offers all prep options: online, live classes and private tutoring
Score increase guarantee
Cons
Higher price tag but we think it's well justified.
Quick Summary
On average expect to save about $300 when using a Blueprint LSAT discount code.
Coupon codes have a limited period of validity so you are better off activating your course before your discount code expires.
Beneficiaries of Blueprint LSAT scholarships or reduced tuition similarly have a specific window to enroll in the course failure to which will result in their discount offer being voided.
You cannot stack coupons in order to get a larger Blueprint LSAT discount. Only one code or discount offer applies at any time.
What Is The Best Blueprint LSAT Discount Code For 2023?
Blueprint offers a variety of options to make your LSAT prep more affordable. This is typically done through discount codes, promotions, and scholarships.
Generally, the best Blueprint LSAT discounts fall around holidays and other similar special occasions. However, Blueprint pretty much runs special sales all year round so you are likely to find a running promotion whenever you may be signing up for your LSAT prep.
Whenever there is a sale, you can access the discount codes on their official discounts and coupons page. However, these promotions typically run site-wide as well, so you aren't likely to miss it.
Here are some options on how to access the best Blueprint LSAT discount codes.
a) Regular Promotions
Blueprint LSAT regularly runs discounts on their Self-Paced, Live, and 170+ LSAT Courses.
The Live and 170+ Courses typically attract a higher discount compared to the Self-Paced course. Whereby, for instance, you could get $400 off your Live Course, but only $200 off the Self-Paced Course.
However, this is not necessarily a hard and fast rule.
b) Special Holiday Sales
Blueprint LSAT runs sales during major holidays and special occasions such as valentines day discounts, 4th of July sales etc.
During these periods, every LSAT prep package will attract a discount, including the Tutoring packages and Law School Admissions consulting packages.
c) National Black Law Student Association
Aside from their promo codes and promotions Blueprint LSAT further has special offers for pre-law members of the National Black Law Student Association, NBLSA.
These pre-law members have access to a variety of Blueprint LSAT benefits including:
100 free Blueprint LSAT courses every year,
20% discount on LSAT courses,
Access to exclusive webinar events.
The benefits are typically awarded through a scholarship content whereby interested students get to apply and compete for the benefits.
d) LSAC Fee Waiver Recipients
As an extension of LSAT financial aid, students who receive an LSAC fee waiver are eligible for certain Blueprint LSAT benefits.
These students get to enjoy reduced tuition of up to 50% off, but this offer is limited to the following course options:
LSAT Live Course program.
LSAT 170+
LSAT Self-Paced course packages of 6 months or more.
The reduced tuition doesn't apply to tutoring or any other products. Just as well, reduced tuition only applies to first-time Blueprint LSAT students.
Another thing to note is that this reduced tuition cannot be combined with any other promotions or discounts.
For your reduced tuition to take effect, you should contact the company directly with your LSAC Fee Waiver approval. This can be done via phone call or email.
e) LSAT Course Giveaways
Blueprint LSAT runs course giveaway contents on their social media pages on a daily regular basis.
So if you are strapped for cash, this is another option you can keep an eye out for and try your luck when the next contest pops up.
Winners are chosen at random. To be eligible though, you cannot be a former or current Blueprint student.
At the same time, if you have been awarded a free course, you have 5 days to claim it or another winner will be chosen in your stead.
So it is advisable that you only participate in these contests if you are ready to begin your LSAT prep immediately.
How Much Can I Save Using A Blueprint LSAT Discount Code?
With a discount code, you can save as much as $500 on your Blueprint LSAT course.
If you get $500 off the 12-month self-paced course, you will end up getting 12 months for the price of 4. That's a pretty sweet deal, wouldn't you agree?
The majority of their offers take about $300 off your LSAT course, whereas on the lower end, the least amount you can end up saving is about $100.
But hey, saving $100 is still far better than saving $0 so even with a lesser discount code, Blueprint LSAT's discounts are still a good deal to pounce on and save money.
On the other hand, you can end up saving as much as 15% off the tutoring packages. However, this lucrative deal is only available during their tutoring flash sales so you'd have to be incredibly keen to land on the sale.
Lastly, you could also end up saving as much as 15% off Law School Admissions packages.
Does Blueprint LSAT Offer Scholarships For Pre-Law Students?
Yes, Blueprint LSAT does offer scholarships for pre-law students and this is done through their partnership with the National Black Law Students Association, NBLSA.
The Blueprint LSAT Law School Scholarship is a $20,000 scholarship for undergraduate students who are planning to take the LSAT.
This scholarship exclusively applies to current NBLSA pre-law members who intend to take the LSAT in the upcoming year.
This means that the 2023 Blueprint LSAT Prep scholarship applies to students who are taking the LSAT in 2024 and so on.
In addition to the $20,000 fee amount, scholarship recipients are additionally awarded a free Blueprint LSAT prep course. Here, the student has an option of choosing the Live Online Course, or the Self-Paced course.
The great thing about this scholarship is that you do not need to submit an essay as is the case with most other scholarships. Instead, you simply fill in a form and wait to see if your application turns out successful.
How Can I Redeem A Blueprint LSAT Discount Code?
Redeeming a Blueprint LSAT discount code is fairly straightforward:
Step 1: Go to the Blueprint LSAT website and navigate to the MCAT course you wish to sign up for.
Step 2: Scroll down to the course's offerings and click "Buy Now."
Step 3: Confirm your selection by clicking on "Enroll Now", which will then direct you to the checkout page.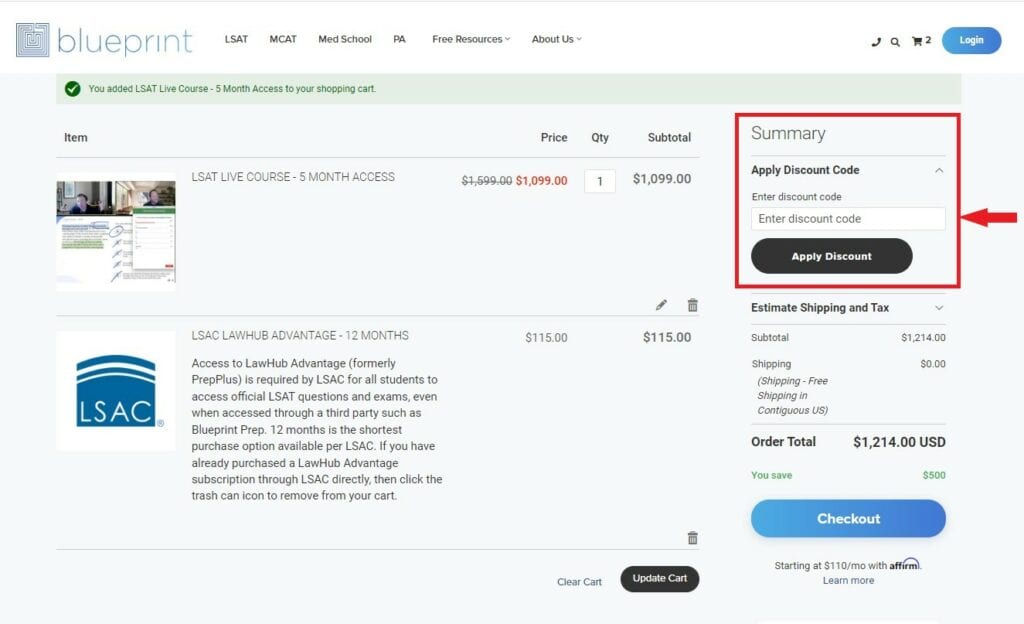 Step 4: On the checkout page, you should see the option to apply your discount code. Enter your promo code and proceed to checkout to finalize your purchase. That's it!
For the discount to apply, make sure you are using a coupon code that's valid and not expired. Promo codes typically have a specific validity window after which the discount offer no longer applies.
If your coupon code has already expired, you will get a notification at the top of the checkout window stating that the coupon code you've provided is not valid.
Because of their limited duration of validity, you are better off activating your Blueprint course as soon as possible when you happen to get your hands on a working coupon code.
Blueprint LSAT Discount Code FAQs
How Often Does Blueprint LSAT Offer Discounts?
Blueprint LSAT offers discounts very regularly, all year round.
Whenever you may be signing up for an LSAT course, you can bet that there will be a special promotion or holiday sale running on their platform.
The discounted amount varies, whereby at one point their LSAT Live Course could be discounted by $500 and at another time the discount could be $300.
Where Can I Get The Best Blueprint LSAT Discounts?
To get the best Blueprint LSAT discounts, you simply need to check the Blueprint LSAT website regularly.
Blueprint sales and promotions typically run site-wide so you aren't likely to miss out on a good discount.
Does Blueprint LSAT Have A Free Trial?
Yes, Blueprint LSAT has an unlimited free trial whereby you get access to their free resources indefinitely.
With a free account, you have unrestricted access to the following:
8 Learning modules.
Personalized LSAT study plan.
1 full-length practice exam.
Detailed score report & advanced analytics.
In-depth answer explanation videos.
Lessons learned journal.
Does Blueprint LSAT Run Black Friday Sales?
Yes, Blueprint LSAT runs Black Friday and Cyber Monday sales.
During these sales, you can expect to save between $350 and $500 on any of the Blueprint LSAT course options.