Shortly after its introduction, the Med School Bootcamp program gained popularity among students. Many complimented it on certain aspects, such as the quality of the videos and questions.
But for all those raving testimonies, is this course as worth it as it sounds? Discover the answer with this Med School Bootcamp review.
Dive right into it with me!
Summary Table
Here's a simple summary of what Med School Bootcamp has to offer:
$49 (1-month access)

$299 (1-year access)

$549 (2-year access)

Yes

(only for those who paid for 1-year or 2-year access)

11,696+

(with breakdowns/explanations)

Digital/PDF Lesson Outlines

Med School Bootcamp Overview
The best thing about Med School Bootcamp is that all students have access to the same set of materials:
Sleek and organized user interface
More than 1,600 high-quality video lessons
More than 11,000 board-style questions and question bites
Digital or printable lesson outlines and nine-week study schedule
Access to anatomy bootcamp and mobile apps
Integrated Anki deck
Med School Bootcamp Review for 2023
Evaluating a prep course entails looking into its most significant aspects. I will do that in this section.
Pricing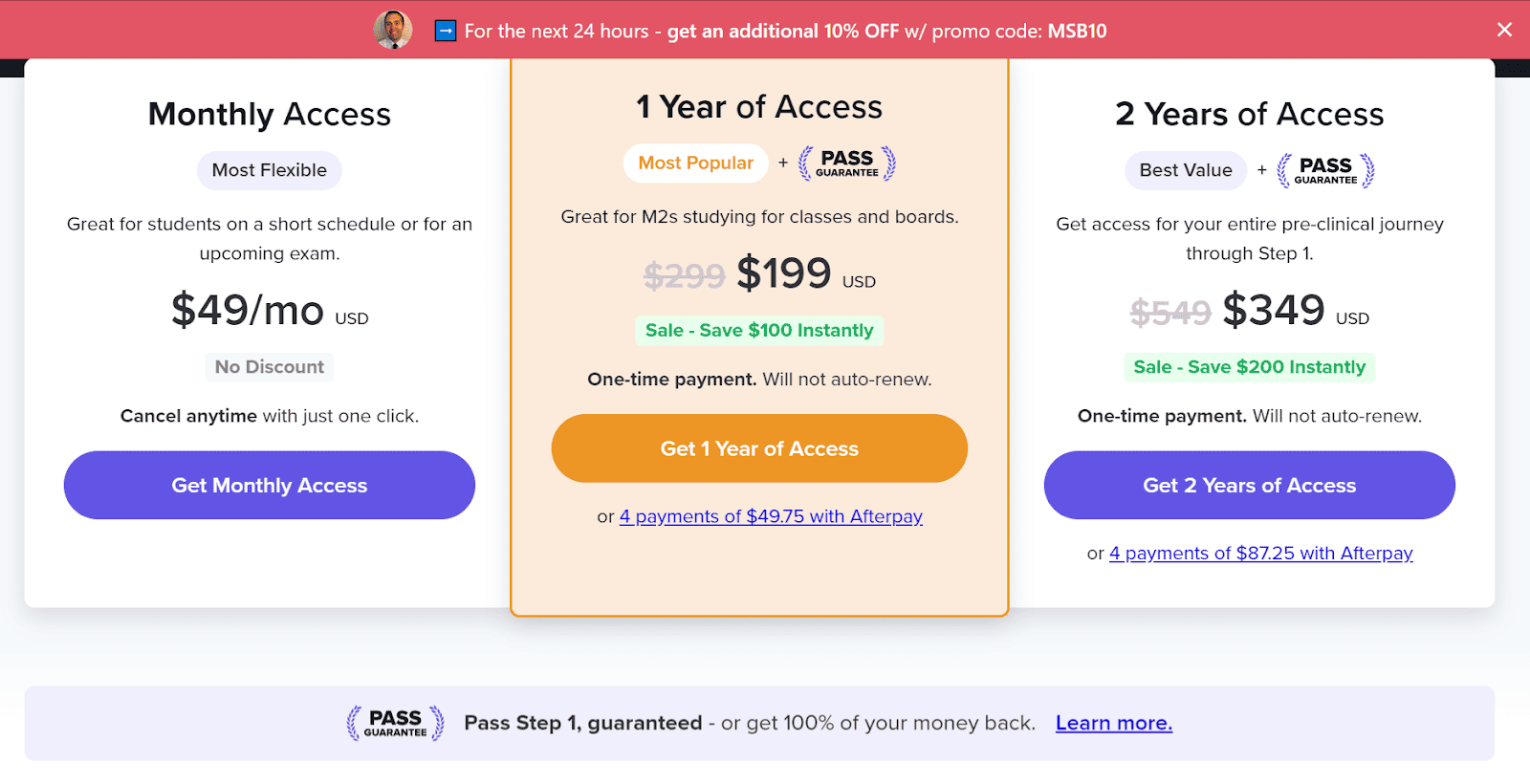 The Med School Bootcamp subscription plans vary according to access period. There is a $49-monthly plan, ideal for those on a budget or studying for a short period only.
Meanwhile, those who want to make the most out of their Bootcamp access might prefer the $299 and $549 plans. They provide one-year and two-year access.
While the one-time payment options feel hefty, many find them worth the price. They use the subscription for their Step 1 preparation and med school classes.
Also, many of them do not have to pay the full price. Bootcamp often offers a group discount program and promo codes. There is also an option to pay in installments through Afterpay.
Additionally, Bootcamp's pricing is standard for Step 1 prep courses. Its closest competitor, Boards and Beyond, charges $89 for one month, $249 for one year, and $399 for two years.
Another competitor, UWorld, charges $319 for one month and $559 for one year.
Still, students say that Med School Bootcamp provided the best value for their money. They claim so because of the volume and quality of resources.
Pass Guarantee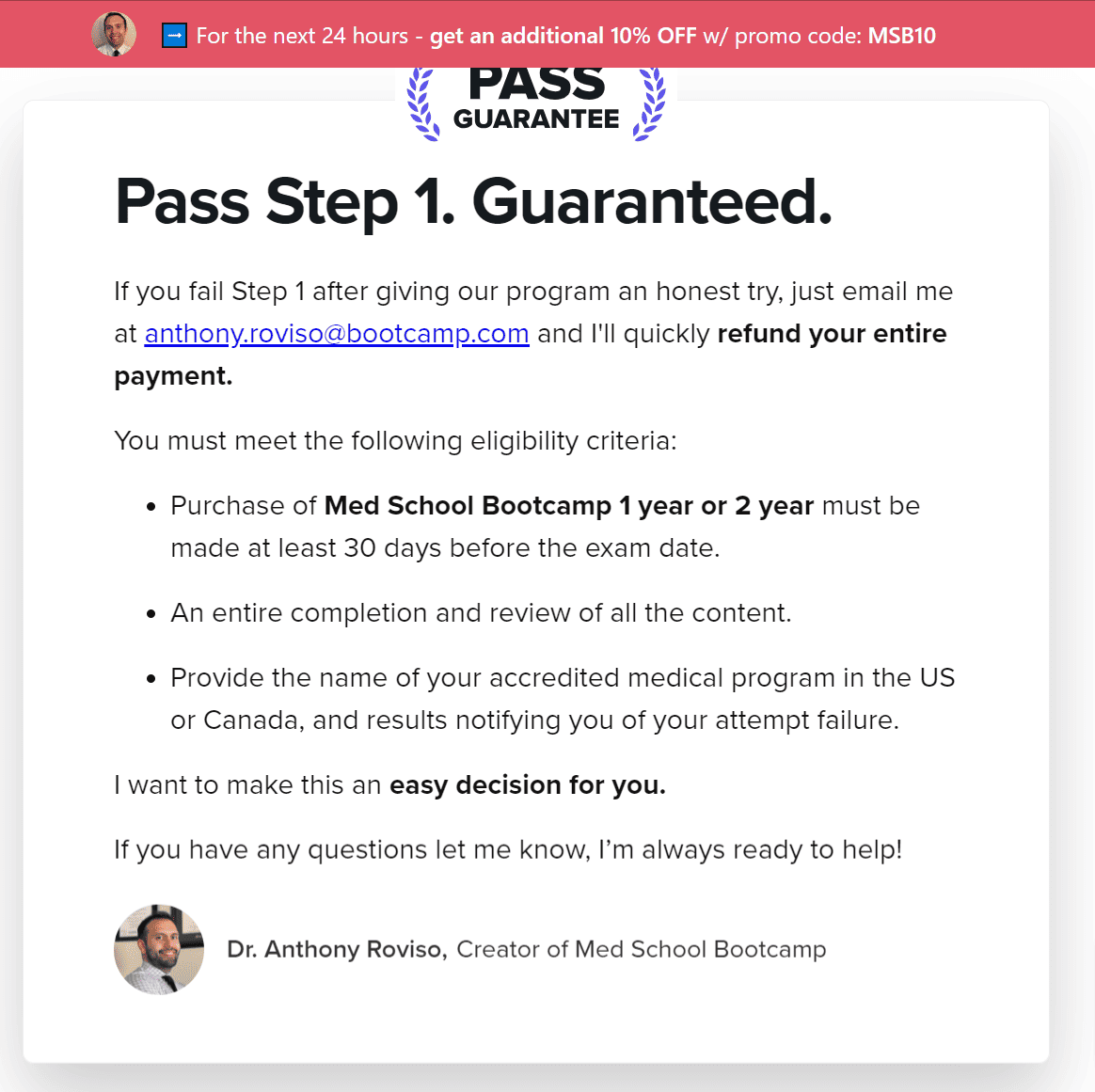 Many prep courses offer a guarantee to students who made a membership purchase.
For the companies, the guarantee is a marketing ploy. Meanwhile, it's reassuring to the students. But is it reassuring enough to the students?
For this Bootcamp, the premise is if you fail the Step 1 exam, you can get a complete refund. But you must meet stringent conditions:
You must have chosen a 1-year or 2-year access.
You must have bought the course at least 30 days before the exam date.
You must have reviewed all materials.
You must be in an accredited medical program.
You must provide proof of a failed attempt.
The pass guarantee is strict but fair. It pushes you to take the review seriously, which can go two ways: pass or fail and get a refund.
Free Trial
Signing up for the Med School Bootcamp free trial was easy. You only need to provide an email address, and you're granted access for three days.
Based on my experience, there aren't any restricted resources when you're on a free trial. So you can check out all the videos, PDF materials, study schedules, and questions.
But since you're given three days only, it isn't enough time to take advantage of everything. But it is long enough to assess whether you like the course.
I recommend you undergo the free trial first. If you skip it, there's no loss or gain because the company won't even ask for bank or card details.
User Interface and Experience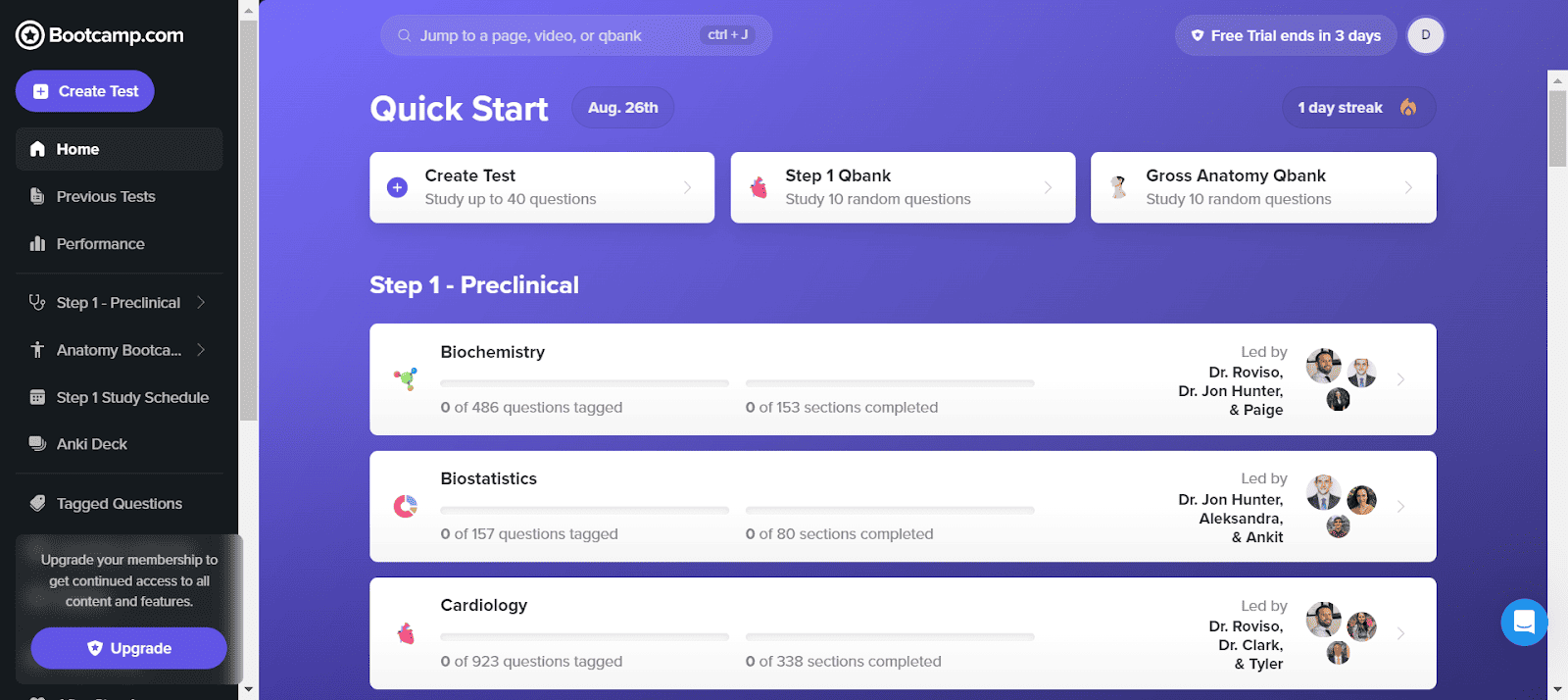 I had a smooth experience navigating the Bootcamp interface. It's sleek and organized.
Questions are accessible on the home page. Meanwhile, the course sorts lesson materials by subject.
You can also find other resources, such as the Anki deck, on the sidebar.
Additionally, I also appreciate the introductory video shown right after signing up. It's 9 minutes long and teaches you how to navigate and find resources.
My only concern about the video was the speed of it. Even at 9 minutes, it was too fast for me. But there are captions and playback options, so you can use those if you also find it too quick.
Curriculum
Med School Bootcamp aims to be an all-in-one resource for USMLE Step 1 exam-takers. Its 18 sections match most of the exam coverage.
But because the course is new, it has only identified its program coverage. The individual disciplines are still a work in progress.
As of August 2023, these are incomplete sections:
Biochemistry
Endocrinology
Microbiology
Musculoskeletal
The Bootcamp, being a new resource, has pros and cons. For the pro, you're sure the information is up-to-date.
The downside is that students have to supplement the Bootcamp with other resources. For instance, many of them pair Bootcamp with UWorld's question bank.
Despite the incompleteness, many students find the Bootcamp curriculum comprehensive and streamlined.
The high-yield concepts are identified and organized under each section. That makes reviewing easier. Users also shared that the course tackles both fundamental and challenging concepts.
Many are confident that once the Bootcamp is complete, it will be one of the best prep courses for Step 1. Course creators expect the sections to be complete by the end of 2023.
Practice Questions & Quizzes
One of Med School Bootcamp's main selling points is its practice questions. With more than 11,000 of them, the course has one of the most impressive and diverse question banks.
Also, the company is still updating its course! So, you can expect the question bank to grow. That is excellent news for those who want as many questions as they can practice with.
There are two types of questions in the Med School Bootcamp:
Board Style Questions – simulates the Step 1 questions and exam interface
Question Bites – intended for recalling knowledge, reinforcing lessons, and pinpointing weaknesses
The question bites usually follow lessons. They're used to reinforce and recall knowledge. But you can also open a subject and find the question bites tab.
A great thing about these question bites is that they're interactive. There's more you can do besides choosing an answer and moving forward.
You can tag each question as learning, reviewing, mastered, or bookmarked. It's recommended to tag the ones you've gotten wrong as learning or reviewing so you can re-take them later.
If the questions come with images or graphs, there are options to zoom in and out. You can also opt to see the labels, making it easier to identify body parts like arteries.
The only thing I don't like about the question bites is that the arrows disappear if you choose to check the answer. I didn't know how to move on to the next question after that. But it was a minor inconvenience compared to the overall experience.
The board-style questions' structure and interface differ from the question bites. They're meant to simulate the USMLE Step 1, so they're more complex and straightforward.
To access these types of questions, you can create a test. You can also select Step 1 Qbank on the home screen.
While taking the test, you can access lab values and a calculator. There's also the option to expand to full screen. You can also tag questions, like the question bites.
Additionally, the board-style questions promote application, rather than plain recollection, of knowledge. They push the students to think like doctors instead of memorizing terms.
This approach is also what makes Bootcamp invaluable. These days, med students are urged to think more on their feet.
After taking the test, you'll see your results with simple score analytics. You'll see what items you got wrong and how your score compares to the population average.
You'll also see how much time you spent per question. But nothing summarizes or identifies which subjects are your weaknesses or strengths. You must do that manually.
Both question bites and board-style questions come with detailed explanations for the answers. There will be context or extra information about the topic.
The course also gives a detailed explanation for each choice. So, you'll know why a particular option is right or wrong.
It may also show a recommended lesson or video at the end of the explanation. You can watch it to learn more about the topic.
You can ask an instructor if you still need help with some concepts. Click the "I have questions or feedback about this explanation" button to do so.
A chat window will open, and you can type in your query. An expert will respond within a few hours and provide detailed guidance.
Video Lessons
This course has no live classes. It's self-paced and delivered through videos.
Many students praise the Med School Bootcamp videos. Appearance-wise, they are of the absolute highest quality.
The video lecture and audio are crisp, the images and words are clear, and you can see the instructor on the screen. But what students love the most about the Bootcamp videos is the engagement.
They say that compared to competitors, the Bootcamp videos do not lull them to sleep. They're also easier to understand, especially if the instructor is Dr. Roviso.
Also, the videos focus on streamlined instruction. They comprise only one or two outline slides, so it's easy to review.
Moreover, the videos highlight high-yield concepts. They are topics or questions that often appear on the Step 1 exam. If you're cramming the review, you can focus on them.
Another thing I like about the video lessons is that they are segmented. You can see the parts if you hover over the video progress bar. You can move forward to those if needed.
You can also adjust the playback speed and turn on the closed captions. An extra feature, though, is you can view the video lecture transcript.
Lesson Outlines
Every lesson comes with a PDF handout. It's the presentation slides in the videos, so it's easier to follow the lecture if you have this outline.
As someone who finds it hard to focus on videos or audio, these outlines are a gem. I can review them before the video lessons so I won't feel lost while watching.
Also, they're printable! If you like to write while learning, get printed copies and take down your notes on them.
But if you prefer digital copies, save the PDF. Then, you can add notes on them using PDF-editing software.
Many point out that these outlines are the Bootcamp's only written study materials. There are no course books, cheat sheets, or other such resources. Some students may find that a downside.
Anatomy Bootcamp
Anatomy is the bane of many medical students. If you're one of them, you'll appreciate the anatomy bootcamp.
It covers four disciplines:
Gross Anatomy
Neuroanatomy
Histology
Embryology
This full anatomy course also has videos, PDF handouts, and quiz questions. Additionally, it stands out for its practical exams.
The practical exams are like question bites.
But instead of high-yield recall questions, you identify parts like veins or arteries. Some questions, though, don't involve identifying a part of the picture.
The images, questions, and lessons make the anatomy course invaluable to students. They're helpful even after the Step 1 exam.
Study Schedule
The nine-week study schedule looks overwhelming because of how packed it is. There are no specific time or hour allotments, but it indicates if tasks are for morning or afternoon.
So, it's a bit flexible. But it's not malleable enough for busy or working students.
Indeed, some don't follow the schedule at all and still manage. But if you can, following the plan is a great idea. It'll keep you on track, especially if you find it hard to manage your time.
Anki Deck
Anki flashcards are popular among medical school students. They're used for both regular studies and exam reviews.
So, having them integrated into the Bootcamp is a significant upside. It incorporates itself into students' study habits.
Also, students spend less time preparing flash cards because of Bootcamp's ready-made ones. As long as the integration is done, you can access those cards.
Make sure, though, that you're using the AnKing v12. It's the fully integrated version, so the cards are up-to-date.
Med School Bootcamp Pros & Cons
– All-access 3 days free trial.
– Fair and motivating pass guarantee.
– High-quality and engaging video lectures.
– The curriculum encompasses the fundamentals.
– More than 11,600 practice questions and corresponding explanations.
– Comprehensive anatomy course.
– Integrated Anki deck for easy flashcards.
– Four lesson sections are still lacking in resources.
– No live classes.
– Uncustomizable nine-week study schedule.
Verdict
The Med School Bootcamp offers excellent value for its price. Even at the development stage, the lessons and questions are comprehensive.
Many students say that the Bootcamp helped them pass Step 1 as it was their primary review material. If ever they used a supplement, it was to address incomplete sections or to add to the question bank.
Also, the quality and volume of materials justify the price. For instance, there are 1,600+ videos. Students often describe them as engaging and better than those of competitors.
The 11,000+ questions also make the cost worth it. They're not only many, but they're also up-to-date and help with retention.
The extra resources, especially the anatomy course, are the cherry on top. They're not the core of the Bootcamp's Step 1 curriculum, but they enhance it.
Med School Bootcamp FAQs
Is Med School Bootcamp Any Good?
The Med School Bootcamp is a good prep course for those planning to take the USMLE Step 1 exam. The comprehensive curriculum is nearly complete, and the materials are high-quality.
The thousands of practice questions also help with recall and simulation. The extra resources, such as Anki flashcards, are also beneficial to students.
What's the Difference Between Med School Bootcamp vs. Anatomy Bootcamp?
The course creators designed the Med School Bootcamp for the Step 1 exam. Thus, the program's 18 sections correspond to the exam's coverage.
Meanwhile, the Anatomy Bootcamp consists of four sections. As anatomy is still part of the Step 1 coverage, this course may be helpful for exam-takers. But they're primarily for med school.
Also, the Anatomy Bootcamp has practical tests. The Med School Bootcamp does not have those, but it does have board-style questions.
Is Med School Bootcamp In-Depth Enough for Step 1?
The Med School Bootcamp is not yet in-depth enough for Step 1. It still has incomplete sections, such as biochemistry and endocrinology. But the complete units are comprehensive for their disciplines.
Thus, many expect that once the Bootcamp is complete, it will be in-depth enough for Step 1. If that happens, it can be an all-in-one resource.