Among all other online courses in the market, the MCAT Self prep course appears to be a favorite amongst pre-med students.
As this MCAT Self Prep review will reveal, once you see what this online course offers, it will not be hard to see why students prefer it over other test prep options.
This program allows for incredible flexibility and customization, personalizing your study as much as possible to guarantee you achieve your target MCAT score, earning you a spot in your chosen medical school.
Let's dive in.
Exclusive Deal: Get $100 OFF today and start your MCAT prep the right way!
Pros
Offers the most full-length practice exams of any MCAT prep course.
Includes a personal MCAT coach.
Places a particular emphasis on CARS.
Cons
Does not offer a higher score or money-back guarantee.
MCAT Self Prep Plans Compared
Create-Your-Own Study Plan Course
MCAT Self Prep Overview
MCAT Self Prep collects information from various study resources and consolidates that into this prep course that plenty of students have come to love.
Better yet, the course presents learners with a wide variety of study plan options ensuring that everyone's needs are met, taking into consideration their budget, study time, and learning styles.
The self-paced MCAT prep courses within this program include Free MCAT Prep, Basic Pro Plan, Advanced Pro Plan, and Deluxe Pro Plan.
Let's look at the offerings within each prep course plan, shall we?
1. Free MCAT Prep
This option is entirely free and offers the learner access to:
MCAT Launchpad.
The 10 Content Modules.
MCAT Bootcamp.
300 Quizlet Flashcards.
Weekly MCAT Study Tips.
MCAT Questions of the Day.
The Facebook Study Group.
24/7 personalized support.
2. Basic Pro Plan
This option costs $19.99 and is typically referred to as the "Create-your-own Study Plan" Course. It comes with the following:
Full access to the Create-your-own Study Plan Course.
Create-your-own Study Plan Spreadsheet.
Score Tracker.
MCAT Bootcamp with customization.
300 Quizlet Flashcards.
All 10 content modules.
Guidance on how to work your way through the modules.
MCAT Self Prep Study Portal.
The MCAT Video Collection.
Ad-free studying experience.
3. Advanced Pro Plan
This option costs $199.99 and comes with the following:
ALL the Basic Pro Plan features.
Full access to all 5,000+ Quizlet Flashcards.
120 end-of-lesson mastery quizzes.
2,500+ practice questions.
7-day money-back guarantee.
4. Deluxe Pro Plan
This option costs $1,999.99 and comes with the following:
ALL the Advanced Pro Plan features.
All 9 mastery and strategy courses:
a. Amino Acid Mastery Course.
b. Behavioral Science Booster Course.
c. Metabolic Pathways Mastery Course.
d. 100 Most Essential Equations Mastery Course.
e. High-Speed Maths Mastery Course.
f. 10 Most Commonly Missed Concepts Course.
g. Science Passage Reading Strategy Course.
h. Ultimate Cars Strategy Course.
i. Medical School Application Course.
30-day money-back guarantee.
Score improvement guaranteed.
Besides the self-paced course options, the MCAT Self Prep program also offers tutoring options under its "Elite MCAT Tutoring" option. The cost starts at $149.99 per session for an Elite tutor, $249.99 per session for a Premium Elite tutor, and $399.99 per session for a head tutor.
Here's what you get under the tutoring package:
ALL the Basic Pro Plan features.
Study portal.
MCAT tutors who scored 520+.
Allows for flexible scheduling of sessions.
Satisfaction guaranteed.
MCAT Self Prep Review For 2023
Pricing
One thing that makes the MCAT Self Prep course a particular favorite among pre-med students is that it only costs a fraction of what other MCAT prep courses cost without compromising on quality.
Are MCAT prep courses worth all the money you will be spending? Well, some courses are, and some simply aren't. This is where your discernment comes in, requiring you to perform your due diligence before settling for a particular prep course.
This program provides 3 plan options, the cheapest being the Basic Pro and the most expensive being the Deluxe Pro Plan. This way, students can make their choice based on how much they are willing to spend on an MCAT prep course.
Furthermore, the Deluxe Pro Plan allows you to pay the $1,999.99 in 4 interest-free monthly payments of $500. This flexible payment plan ensures that the high-yielding course is accessible to various students regardless of their financial standing.
Create-Your-Own Study Plan Course
Working your way through this course will help you generate an efficient and personalized study plan based on your goal score and your ongoing performance on AAMC practice questions.
To make the study plan as personalized as possible, plenty of personal factors are taken into consideration, including your educational background, goal medical schools, baseline score, GPA, any outside commitments you might have, etc.
As such, the Create-your-own Study Plan Course follows a step-by-step methodology to ensure success in your MCAT exam. Also, the course contains premium study tools including a Study Plan Spreadsheet, and Score Tracker.
Study Portal
The MCAT Self Prep study portal allows you to keep a list of unanswered questions you would like to return to later or that you would like to review with your MCAT tutor.
Additionally, the study portal also gives you a place to keep track of what mistakes you are making so you can easily spot patterns revealing your areas of weakness.
MCAT Launchpad
This is a free session with Andrew George, the Head Tutor and also the founder and CEO of MCAT Self Prep. Did you know that Andrew scored in the 99th percentile?
During this free session, he outlines how he and others managed to get such high MCAT scores and explains the tools and resources contained within this eCourse.
The detailed overview of MCAT Self Prep that Andrew provides will teach you how to get started on this program so you do not waste time trying to figure things out on your own.
Content Modules
These lessons are very easy to complete, and they are well organized so that you can quickly find videos on a specific topic you might wish to review.
The 10 content modules as outlined by the AAMC are: Biochemistry I & II; Biology I & II; Chemistry I & II; Physics I & II; and Behavioral Science I & II.
Each module contains 15 lessons, giving you a total of 150 lessons. Within each lesson, you will have an hour of required video, along with about 1 or 2 extra hours of optional video content.
The best part is that each lesson integrates content from the best MCAT prep courses in the market, including Princeton Review and Kaplan content books, Khan Academy video collections, and AK lectures.
As such, you can rest assured that you are prepping with the best possible MCAT study resources.
MCAT Bootcamp
Only get started on MCAT Bootcamp after you have finished all 10 content modules, which ideally is during the final month before taking the MCAT exam.
This module requires you to take two full-length practice tests per week, which will require plenty of diligence and hard work. At the same time, you will need to review everything you've learned in the content modules quickly yet thoroughly.
By the time you are done with MCAT Bootcamp, the idea is to get you 100% confident and ready for the actual MCAT.
MCAT Video Collection
The videos in this MCAT prep course come from various sources, including AK Lectures, Khan Academy, Crash Course, and Udemy.
Each lesson contains a playlist with approximately 10 to 30 videos. Considering that there are 150 lessons in total, this translates into plenty of video content to go through. But you do not have to go through every single video in this collection.
You may opt to watch just the Khan Academy videos, or if you are particularly struggling with a specific topic, then you can go ahead and watch all the videos in that playlist.
Furthermore, the 300+ hours of video content can be watched at 2x speed should you wish to go through the collection a little faster.
Reading Assignments
Within each lesson, you will find reading assignments from the Kaplan and Princeton Review MCAT prep books.
Depending on how much you struggle with that particular topic, you can choose to do just one reading assignment, both, or even neither.
As is the case with the video playlists, the idea is to do more for the challenging topics you are struggling with and less for the topics you already fully comprehend.
Quizlet Flashcards
The 5,931 flashcards comprehensively cover every single MCAT concept as officially outlined by the AAMC.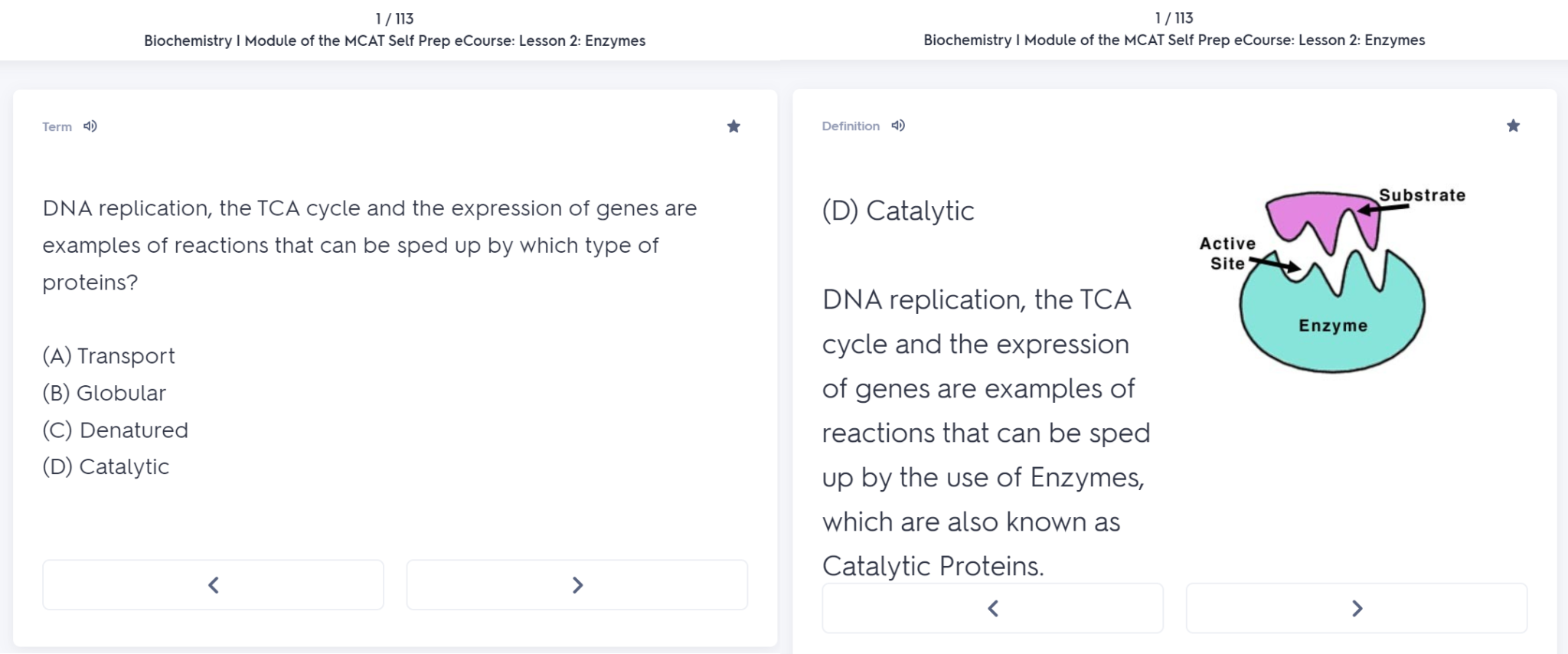 The Quizlet flashcards are organized in the same way as the content modules whereby each set is matched with its associated lesson.
Better yet, this program includes a free Quizlet mobile App so you can conveniently study the flashcards anywhere, and at any time while you are on the go.
The flashcards come complete with answer explanations, worked math solutions, diagrams, pictures, and AAMC-style stand-alone questions.
End-Of-Lesson Mastery Quizzes
The 120 end-of-lesson mastery quizzes comprise 2,500 AAMC-style stand-alone practice questions to test your comprehension of each of the 150 lessons in the content modules.
After watching the Khan Academy playlist, or going through a Princeton Review or Kaplan reading assignment presented in each lesson, you can then take the end-of-lesson mastery quizzes to test your understanding of what you have just learned.
At the same time, these quizzes come in handy as a last-minute comprehensive review in the final stages of your MCAT studying.
Free Study Resources
Even without signing up for any of the prep course plans, the MCAT Self Prep program gives you access to a ton of free study materials.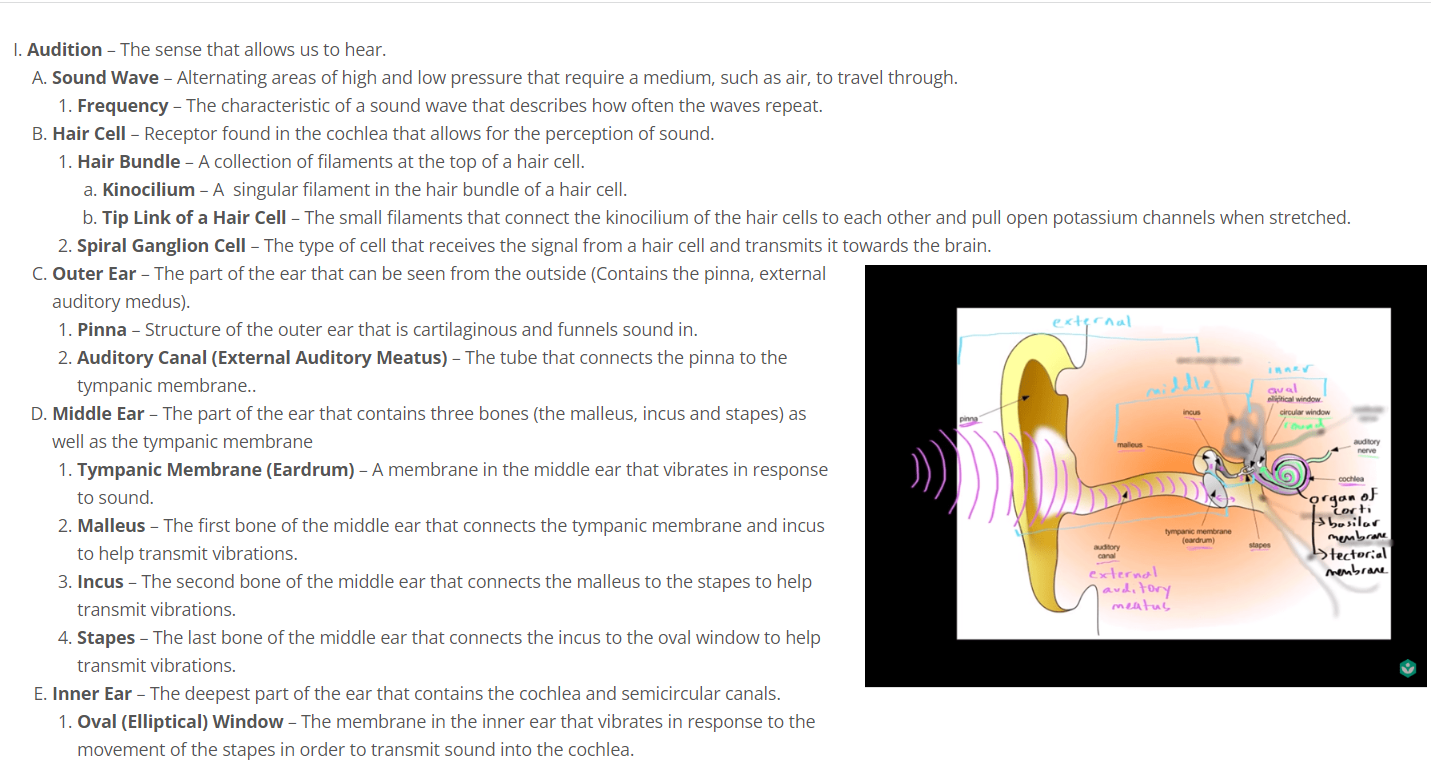 The Free MCAT prep course gives you access to the 10 content modules, the video collection, weekly MCAT study tips, MCAT question of the day, the Facebook study group, and 24/7 personalized support.
Other prep materials you can access for free within this eCourse are a free CARS session complete with 100 free CARS passages, and Behavioral study notes.
Mastery Courses
The entire point of these memorization and strategy courses is to allow you to get straight to the point, so you know exactly what to memorize without wasting your time on unnecessary details.
Although the 9 mastery courses are included within the Deluxe Pro Plan, each course can also be purchased separately, individually.
These high-value courses allow for quick mastery and accelerated learning, and AAMC practice questions have also been included so you can test yourself on the real thing.
MCAT Self Prep Pros & Cons
– Caters to students who may be on a very low budget.
– Consolidates a wide variety of high-value study resources into a single prep course.
– Very well-organized content modules.
– A personalized eCourse that's completely customizable.
– Provides 24/7 personalized support from the head tutor himself.
– You will have to buy the AAMC practice question bundle separately.
Verdict
MCAT Self Prep is the best MCAT prep course for students who are looking for affordably-priced high-value study content.
Studying for the Medical College Admission test can feel grueling. There is a ton of material to cover and plenty of pre-med students are often left wondering where to start with their test prep.
Well, this perfectly structured and well-organized course, takes the guessing away by outlining everything for you in clear-to-follow steps starting with taking a diagnostic test.
Right from helping you create your own study schedule, all the way down to offering guidance on how to get through the content modules, this detailed prep course is laid out in a way that's very easy to follow.
Furthermore, the course incorporates official AAMC practice materials, including AAMC practice tests designed to give you a very clear idea of the score you are likely to get if you were to take the MCAT exam this very minute.
The one downside though is that you will have to purchase these AAMC practice exams separately seeing as they are not included as part of the Pro Plans, even though you are required to have these study materials for this MCAT course.
Nevertheless, this is quite possibly one of the best online MCAT prep courses you will come across, guaranteeing excellent value for money to earn you your desired MCAT score.
MCAT Self Prep FAQs
Is The MCAT Self Prep Course Worth It?
Yes, the MCAT Self Prep Course is absolutely worth it.
Not only is this program more affordably priced than other competitors in the market, but it also offers excellent value for money. The modules are very well organized and the material covered is extensively thorough, covering every single topic in the MCAT as outlined by the AAMC.
Is The MCAT Self-Prep Course Really Free?
Yes, the MCAT Self Prep course is really free, if you access the Free MCAT Prep Course option.
This 100% free eCourse gives you access to MCAT Launchpad, the 10 content modules, MCAT Bootcamp, weekly Study Tips, and MCAT Question of the Day. You also get access to the Facebook Study Group where you can exchange notes with fellow test-takers.
Is It Possible To Self-Study For MCAT?
Yes, it is possible to self-study for the MCAT as long as you are armed with the right material, and take the time to go through numerous full-length practice exams.
However, it is often much better to enroll in a competent prep course. The right MCAT prep course will consolidate high-yield study resources in one handy program, and also offer an incredible structure for your test prep period.