Are you gearing up for your upcoming INBDE exam? Need help deciding between INBDE Booster and INBDE Bootcamp?
Well, with so many prep courses popping up and very few available reviews, making this choice is hard.
But don't worry. We've tested both resources and will be sharing our analysis here.
This detailed comparison will help you decide which one's better for you.
So, keep reading to find out.
Comparison Table
Here is a comparison of INBDE Booster's 90-day membership with INBDE Bootcamp's 3-month package:
| | | |
| --- | --- | --- |
| | | |
| | | |
| 1-on-1 Tutoring / Support | | |
| | | |
| | | |
| | | |
| | | |
| | | |
| | | |
| | | |
INBDE Booster Vs. INBDE Bootcamp Overview
The INBDE Booster is a comprehensive question bank featuring over 2,000 practice questions organized by subject.
These questions cover all high-yield topics relevant to the INBDE and include detailed explanations, as well as custom videos for most explanations that walk you through the process of elimination to arrive at the correct answer.
Bootcamp, on the other hand, is a renowned prep course library featuring prep courses for several exams.
The INBDE Bootcamp is a reliable and affordable course, popular for its accurate representation of the actual INBDE exam.
But what other features does it offer, and how do they compare with the INBDE Booster?
Let's find out.
INBDE Booster Vs. INBDE Bootcamp Detailed Comparison in 2023
Let's compare the different features, usability, and pricing of both courses.
Course Options/Packages
The INBDE Booster offers just one package priced at $239, giving you a 90-day Premium Membership.
This membership includes the following:
2000+ questions
Mock exam
Video Lessons
Case-based questions
Study guide
And much more
This membership doesn't auto-renew unless you manually do it.
However, it also offers a free trial where you get to practice 270+ questions from different subjects. Plus, you also get access to some case-based questions and video lessons.
On the other hand, INBDE Bootcamp offers three course options.
The offerings in all three don't differ but only vary in periods of access. Here's how their pricing looks:
$199 for 1 month's access
$299 for 3 months' access
$399 for 6 months' access
The course gives you access to a comprehensive question bank with over 2295 questions, a custom test generator, a study schedule, and the mental dental video series.
Also, you can get a free trial with access to 100 practice questions and a free video series.
Who Wins? INBDE Booster.
It gives you more free resources and also comes at a more economical price.
Study Modes
Once you log into INBDE Booster, you'll see the exam subjects listed on the left side of the dashboard.
Every subject has its own study material and will include a combination of some of the following:
Questions Bank
Cheat Sheet
Flash Cards
Study Notes
Review Sheet
Video Content
The Question Bank will include practice questions where you can mark and check every answer on the spot.
Cheat Sheets summarize the key information that you need to know for each drug type on the INBDE.
Flash Cards are Anki decks that can be used on an Anki application. For more information about using Anki, please visit the Anki software website.
Study Notes contain links to detailed PDF guides you can use to understand each topic and prepare for the exam.
Review Sheets also open up PDFs with explanations of different topics and processes.
Video Content is only available for Anatomy & Physiology. (More on this later)
The INBDE Bootcamp has a similar interface. You will see the subjects listed on the left side, and upon clicking them, you will get the following options:
Question Bank
Cheat Sheet
Mental Dental Videos
Mental Dental Bites
Question Bank includes practice questions where you can mark and check every answer on the spot.
Cheat Sheet lets you download PDF notes, but they are different from those in INBDE Booster. Every PDF includes information in tabular form, making it easy for you to identify and memorize information.
Mental Dental Videos contain links to the free video series.
Mental Dental Bites include short practice questions to reinforce your learning.
Who Wins? It's a tie.
Both platforms offer detailed learning material.
Video Lessons
The INBDE Booster is relatively new and currently offers only 10 video lessons focusing only on Anatomy and Physiology.
Although short in length and numbers, the video lessons are pretty detailed and engaging. You can see the instructor's face speaking from the bottom left corner and view the slides with notes as you go.
Besides its own video content, the platform gives you access to Dr. Ryan's Mental Dental Videos. They're part of a free series available on YouTube, but INBDE Booster has integrated them into its platform for easier access.
INBDE Bootcamp also gives you access to the Mental Dental Videos, but it doesn't have its own video content.
However, Bootcamp has an amazing feature. Since the Mental Dental video series is old, the Bootcamp directs users to a blog where they share the latest updates and corrections in those videos.
This blog lists all subjects with subtopics and shares the exact timestamps where the update or correction applies. (See example below)

Who Wins? INBDE Booster.
It gives access to 10 extra video lessons other than the free Mental Dental series.
Practice Questions
The INBDE Booster gives you access to over 2000 practice questions. You can access them via the Question Bank in each subject (module) on the left-side menu bar (as explained above).
This is how its interface looks:
You can mark your answer and verify it on the spot. Whether your answer is true or false, you will get to see a detailed explanation (picture below) for the right answer in written + video form.
INBDE Bootcamp also offers 2000+ practice questions in the form of a Question Bank.
It has almost the same interface but has a different approach to the answer and notes. The platform gives you a detailed note on every answer, explaining why the wrong options are ruled out.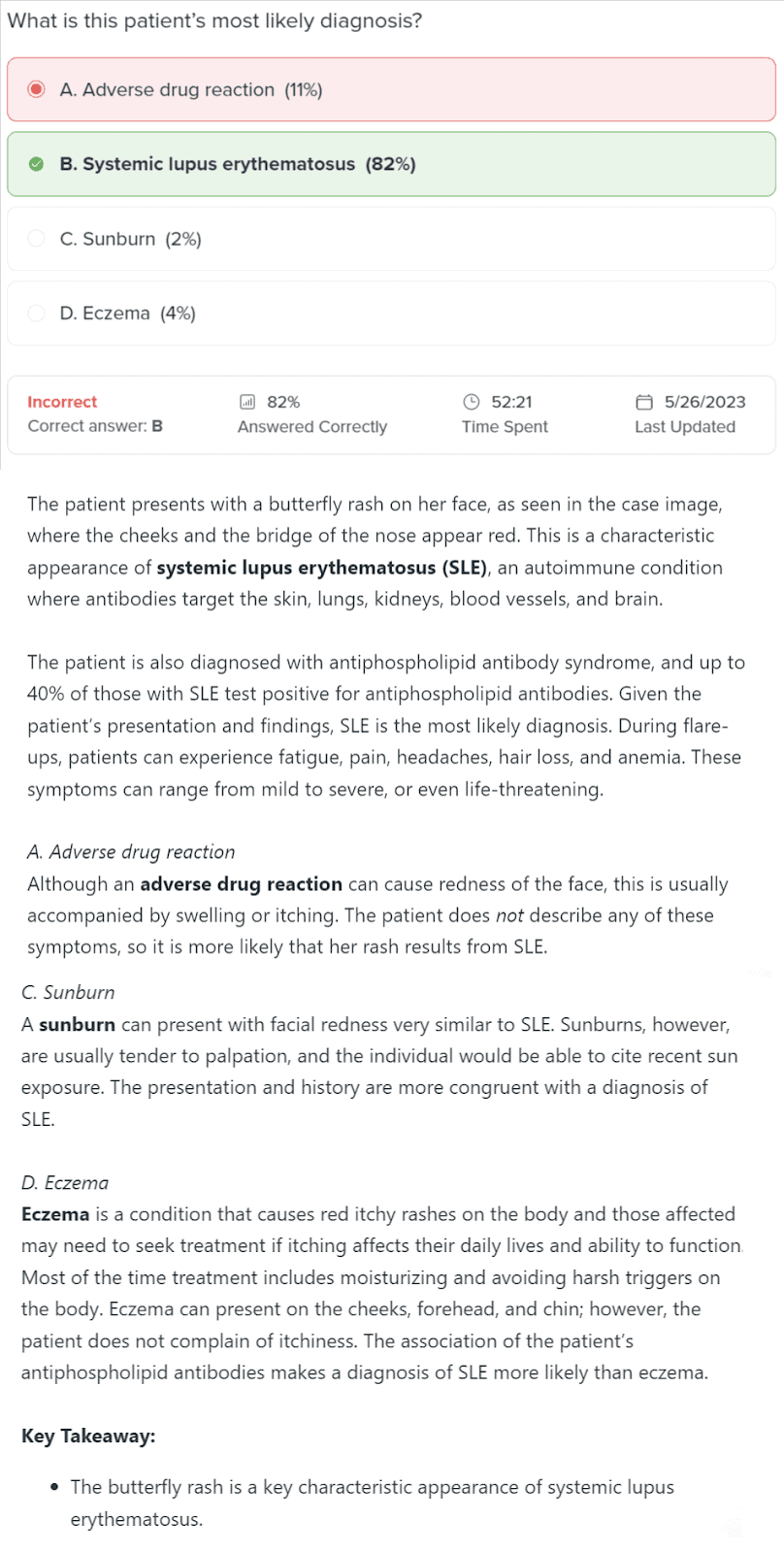 However, it lacks in the sense that it doesn't offer video explanations.
Who wins? INBDE Booster.
Although both platforms offer detailed written notes and explanations, INBDE Booster has the advantage because of the video feature.
Progress Tracking And Marking
The INBDE Booster's interface offers a helpful progress-tracking feature where you can easily spot the number of questions you have attempted from each module.
Moreover, it allows you to flag questions that you want to revisit for better learning.
INBDE Bootcamp offers the same feature. Every Question Bank shows you your progress and also allows you to mark questions.
However, it edges past INBDE Booster by allowing users to mark questions based on how well they understand it.
For example, if you feel confident answering a particular question every time, you can mark it green (Mastered). Tag it yellow if you feel you need to understand something better.

Or if you keep getting a question wrong and want to understand and remember it fully, mark it red (Learning).
And if there's something you know you'll want to revisit in the future, simply bookmark it.
Who wins? INBDE Bootcamp.
Its tagging feature is simply more efficient than INBDE Booster.
Mock Exam
The INBDE Booster offers a Mock NBDE that mimics the actual exam and allows you to take Parts 1, 2, 3, & 4 on Day 1 and Tests 1 & 2 on Day 2, just like the original INBDE.
This feature helps you see the exam day experience and analyze your performance in exam-like conditions.
The INBDE Bootcamp also offers this feature with the name of Simulation Exam. It follows the exact 2-day routine of the actual exam.
But here's the interesting part. The INBDE Bootcamp also allows you to create a custom test.
You can choose the subjects of your choice and also choose from questions that you have tagged as per your strengths or weaknesses.
Who wins? INBDE Bootcamp.
While both platforms offer the mock exam, INBDE Bootcamp's custom test is a game-changer.
Added Resources
Both platforms offer some added resources for better prep.
The INBDE Booster offers a Case Bank with 24 case-based practice tests, which allow users to have an even stronger grip on exam questions.
Similarly, it also offers Past Test Results that show you how you performed in the practice tests.
INBDE Bootcamp also offers case-based scenarios, but they're not separately available.
However, the platform has another amazing feature. It always shows a detailed performance analysis on the home dashboard. It displays your overall score and subject-wise score based on the practice questions you attempt.
This is an excellent way to measure your performance in real time.
Besides the above, both platforms have their communities on Facebook where you can hang out with peers, ask questions, and grow your network.
Who wins? It's a tie.
While INBDE Booster's case bank has its unique advantage, Bootcamp's performance analysis is equally valuable when it comes to exam prep.
Study Schedule
The INBDE Booster offers an 8-week detailed study schedule. The study plan is further divided into three phases.
Phase 1 – Content Learning & Memorization
Phase 2 – Review & Practice Questions
Phase 3 – Practice Questions and Filling in the gaps
The focus of the first phase is to learn the foundational knowledge tested on the INBDE for each section of the exam in four weeks.
In the second phase, you begin taking separate practice questions to assess your understanding of the material you learned in Phase #1. This lasts two weeks.
In the final week, your goal is to review the mistakes you have made and learn how to overcome them.
Overall, the schedule is detailed and gives you an effective roadmap to success.
The INBDE Bootcamp gives you a 45-day schedule designed by the founder (Dr. Ari) himself.
Similar to the Booster's schedule, this one is also divided into three phases and encourages you to solidify learning and memorizing first before you move on to the simulation exam.
Both of the platforms give you the schedule for free.
Who wins? It's a tie.
Tutoring And Support
INBDE Booster offers a unique support feature, and it's equivalent to private tutoring. They call it the "on-site tutoring" service.
How does it work?
As a Premium member, you can click on the chat support button (on the bottom right corner) if you have a question or confusion.
INBDE Booster's team of practicing dentists and current residents will either assist you in real time or respond promptly to your message.
The INBDE Bootcamp offers a similar feature.
You can use their chat button to ask for support or answer any specific query. While it is the same as the Booster's support feature, they don't promote it as a 1-on-1 tutoring service.
This means there's a lack of information on whether your questions are answered by subject experts or not.
Who wins? INBDE Booster.
Since the Bootcamp doesn't specifically state about support, INBDE Booster gets the advantage.
User Experience
Both the INBDE Booster and INBDE Bootcamp have an intuitive interface and user-friendly design.
Their home dashboards are professionally designed with a simple-to-understand structure. You can easily navigate to any sections you want to.
Who wins? INBDE Bootcamp.
Why is it not a tie? Because Bootcamp offers a mobile app, which enhances the user experience, while INBDE Booster has no such option.
Pass Guarantee
Finally, both platforms guarantee that you'll pass the INBDE, or they'll return your money.
While INBDE Booster has just one package, the INBDE Bootcamp offers this guarantee on 3 and 6-month programs, which is fair.
Who wins? It's a tie.
Verdict: Which One Is Better?
So, who wins the overall battle?
Well, both programs promise great value for money. They offer a true exam-like experience and offer highly representative questions to prepare for the INBDE.
If you're considering buying the INBDE Booster, note that you'll get it at a slightly better price. Plus, it comes with some extra video lessons. You'll find them in the video content and under the explanation of each question.
So, it gets a slight advantage in terms of variety and quality of content.
Moreover, you get 1-on-1 support from a real dentist who has been in your shoes. So, that's an added plus.
But remember that you can't create custom tests and monitor your progress as efficiently as in the Bootcamp. Plus, you don't get a mobile app, which might be a problem if you like to study on the go.
On the other hand, INBDE Bootcamp also offers excellent study material, but it also lets you create customized tests so you can work on your weaknesses.
Moreover, the Performance dashboard lets you monitor your progress regularly and lets you see where you stand in your INBDE prep journey.
And then there's the app. The INBDE Bootcamp offers a mobile app for both Android and iOS, so you can access course material wherever you are.
INBDE Booster Vs. INBDE Bootcamp FAQs
INBDE Booster Vs. Bootcamp: Which one is more representative?
INBDE Booster is more representative when it comes to experiencing exam-like questions. (1)
Is INBDE Booster harder than INBDE Bootcamp?
Yes, INBDE Booster questions are slightly harder than the Bootcamp, as many users mention. (2)
Although you would also find people saying the opposite, the majority of users label Booster to be harder and more representative than Bootcamp.
Are the INBDE Booster study notes any good?
The INBDE Booster study notes are highly effective for exam prep.
They feature written + video explanations for each question, making it easy for users to understand the rationale behind correct answers.