UWorld and Blueprint have two of the most well-recognized MCAT question banks in the market, and students typically speak very highly of both programs.
Which of the two is a better option, though, when it comes to the quality of practice questions and representativeness?
Moreso, how does each of these QBanks stack up to the AAMC practice resources?
Well, that's what we intend to find out in this comprehensive UWorld Vs. Blueprint MCAT review.
So let's dive right in, shall we?
Holidays sale: Get up to $400 OFF today and start your MCAT prep the right way!
Pros
Best video lessons for MCAT in the industry.
Offers all prep options: online, live classes and private tutoring
Score increase guarantee
Cons
Higher price tag but we think it's well justified.
UWorld Vs. Blueprint MCAT Comparison Table
| | | |
| --- | --- | --- |
| | | |
| | | |
| | | |
| | | |
| | | |
| Full-Length Practice Exams | | |
| Integrated Study Planner Tool? | | |
| | | |
UWorld Vs. Blueprint MCAT Quick Overview
UWorld is a question bank with over 3,000 questions split into various MCAT subjects and sections. Each subject is then further broken down into various topics or subsections.
You are able to assign the number of questions you want to do in each section, thereby generating a short test session with both MCAT-style passages and discrete stand-along questions.
The UWorld MCAT QBank costs between $299 and $399, depending on what option you want to buy.
UWorld MCAT QBank Pricing
Aside from the UWorld MCAT paid membership, there is also a free 7-day trial, but with this option, you only get 100 questions.
Blueprint is typically a full MCAT prep course program, similar to Princeton Review or Prep101, but it also offers the option of buying the QBank exclusive of the prep program.
The AI-powered Blueprint MCAT QBank has 4,000 questions, split into 1,200 passage-based questions and 2,800 discrete, stand-alone questions.
Aside from that, this question bank additionally comes with one full-length practice exam and a half-diagnostic test.
The standalone Blueprint QBank costs $249, but you could alternatively pay $399 (unless you use a coupon code for Uworld MCAT) and have all 10 Blueprint practice exams included with the question bank.
UWorld Vs. Blueprint MCAT Detailed Comparison In 2023
Integrated Study Planner Tool
UWorld does not have the option of creating a personalized study plan integrated with its question bank.
On the other hand, the Blueprint QBank comes with access to a customizable study planner tool, and better yet, this study plan can sync with your Calendar App.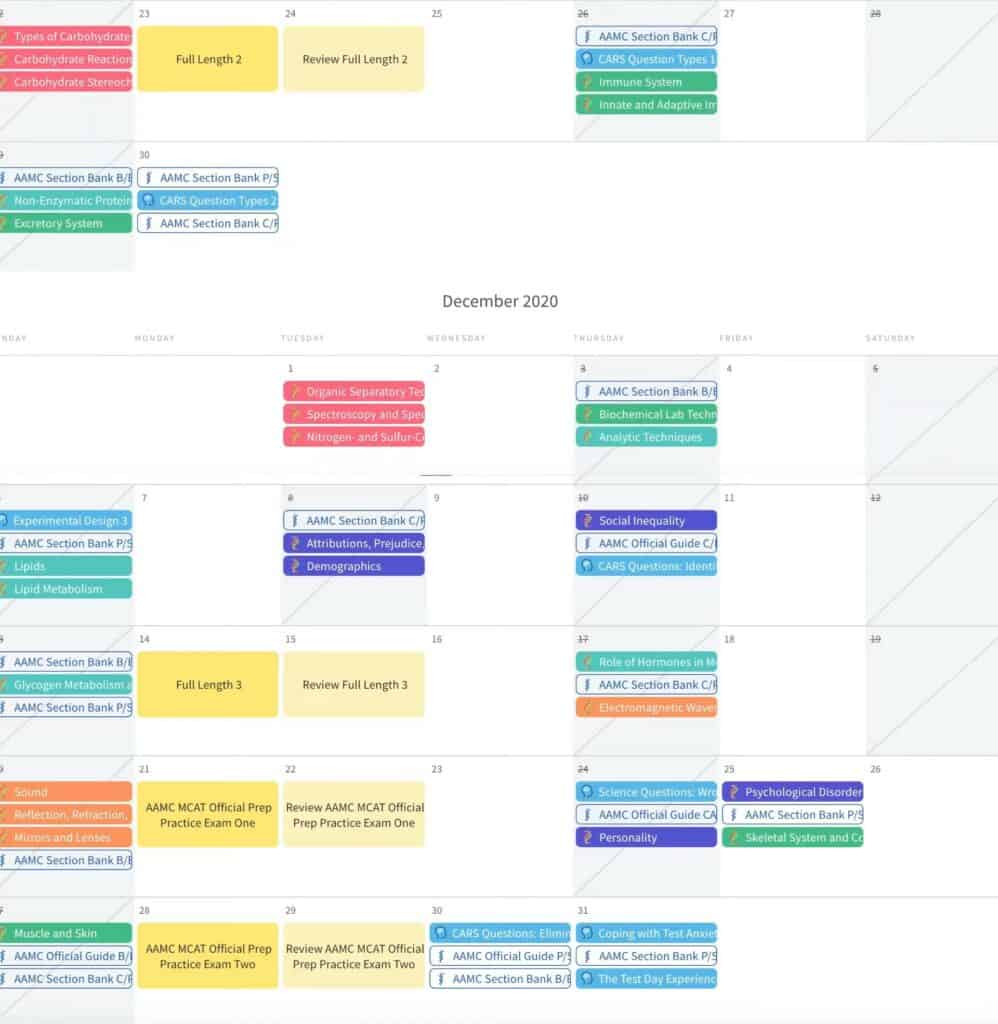 This adaptive study plan allows you to choose when you want to study and what days you want to rest, and everything else shall automatically be generated for you.
When you generate your Blueprint study plan for the first time, recommended QBank practice sets will populate automatically, but you can also add and remove practice assignments as you wish.
You can easily remove any auto-generated QBank practice set from your study plan. The best part is that even when you do so, the practice set will still remain in your Assignment Bank for easy retrieval if needed.
Besides just QBank quizzes, other activities you could include in your study plan include daily CARS MCAT passages, AAMC practice, and flashcard practice.
This way, the Blueprint study planner helps you seamlessly consolidate and control all your MCAT practice from one place, keeping track of exactly what you need to review and when.
Blueprint has the upper hand here.
Content Delivery Platform
The UWorld Interface mirrors the MCAT exam, thereby providing students with realistic test simulation.
The idea behind this is that getting accustomed to the real test interface will help reduce test-day anxiety, build your pre-test confidence, and increase your likelihood of being able to think critically when you walk into the testing center.
Similarly, the Blueprint interface is also designed to emulate the real MCAT testing environment. From the formatting and functionalities to the fonts, color schemes, and item design, taking the real exam will feel like another practice session on Blueprint.
Overall, both UWorld and Blueprint MCAT have excellent layouts that are easy to navigate and have been designed to mirror the real thing.
Besides that, though, UWorld can be accessed in two ways: on the computer or via a mobile App available on Android and iOS.
UWorld wins for having a more versatile platform, thereby enhancing accessibility.
Quality Of Practice
Featuring over 3,000 questions, the UWorld MCAT QBank has been developed and is regularly updated to align with the AAMC MCAT exam outline.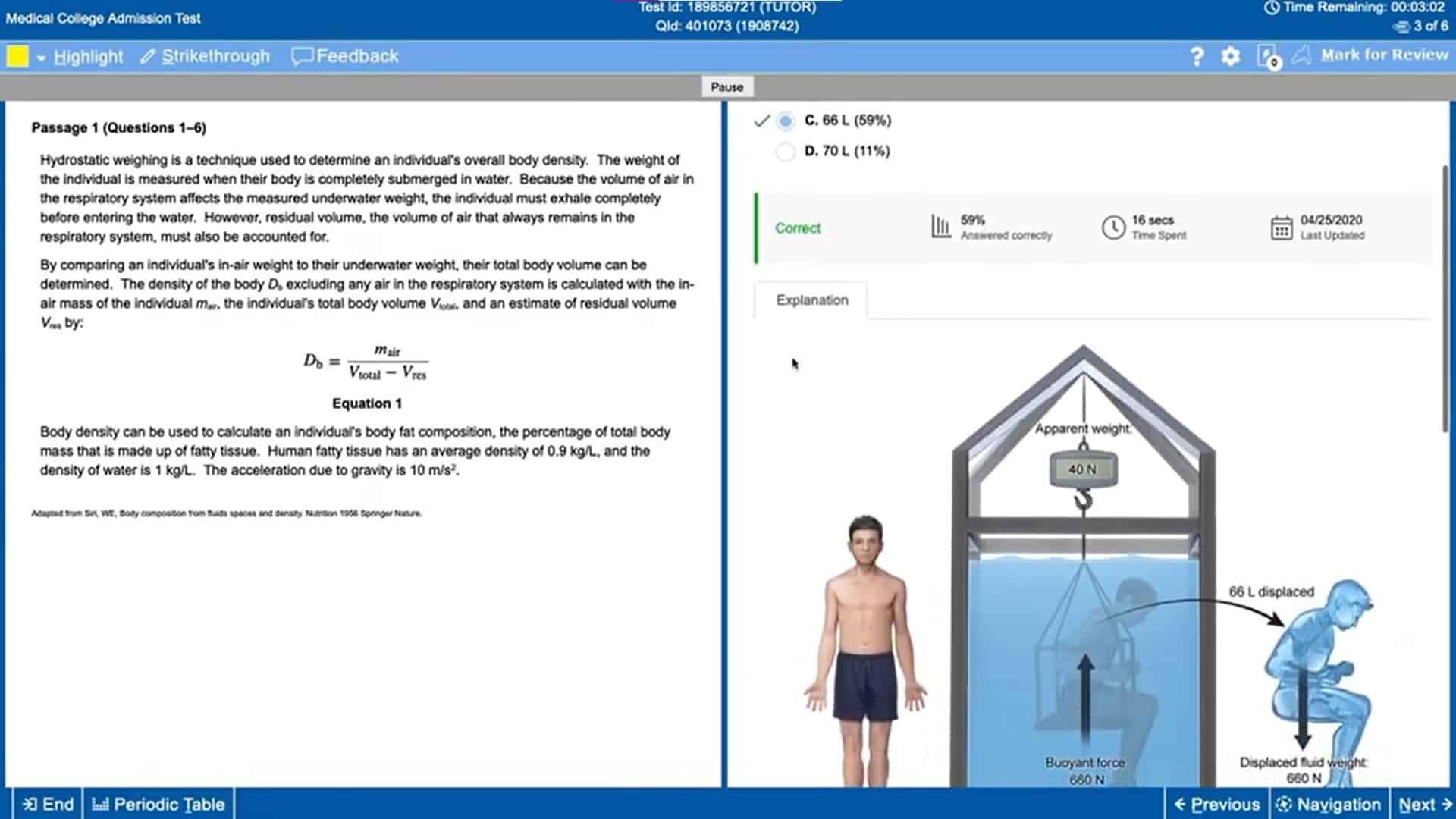 The question sets are primarily passage-based, replicating the style and difficulty level of the AAMC tests.
On the other hand, with over 4,000 questions, Blueprint MCAT also offers very realistic MCAT practice regarding question wording and content tested.
Also, aside from simply providing practice questions, the basic Blueprint MCAT QBank purchase additionally comes with a half-diagnostic exam and a full-length practice test.
So Blueprint wins for offering more practice, including the option of taking a timed, full-length exam.
Creating Practice Sets
On both UWorld and Blueprint, you are presented with several options while creating a practice set. Here's how these options compare on both platforms:
| | | |
| --- | --- | --- |
| | | |
| | | |
| | | |
| | | |
| Option to recycle questions | | |
| Option to use incorrect or marked questions | | |
| | | |
| Option to specify the exact number of discrete and passage-based questions | | |
| Option to select the test difficulty | | |
UWorld has the upper hand in that you can select multiple subjects to test at once, and you can also choose to select questions from the ones you've marked or gotten incorrect in previous tests.
Blueprint has the upper hand in that you can modify the timing, select the number of discrete and passage-based questions you wish to include in the test, and you can also set the difficulty as easy, mild, medium, tough, or brutal.
Besides that, AI integration is another thing that sets the Blueprint MCAT question bank heads and shoulders above other market options.
The Blueprint QBank uses AI technology to personalize your practice, strengthening your weaker topics and making suggestions of high-yield areas you should capitalize on.
Right when you are creating a test, Blueprint will make auto-generated smart recommendations regarding:
a) Which section to practice
Blueprint MCAT will recommend the MCAT section where you have the least accuracy based on the questions you've answered correctly over how many you've seen.
b) High-yield topics to focus on.
For each section, the Blueprint algorithm pre-selects 5 topics using a combination of your weakest topics and exam yield.
As such, you may have a topic where you are weaker, but it doesn't get recommended in the topic pool because its yield is low.
You, however, have the liberty to remove any of the suggested topics, add to them, or scratch all the recommendations and choose your own topics to get tested on.
Owing to the advanced AI algorithm used, Blueprint wins when it comes to creating efficient, high-yield custom tests.
Answer Explanations
The one thing that sets UWorld apart from other MCAT QBanks is the depth and quality of their answer explanations.
All UWorld practice questions have been paired with thorough explanations comprehensively explaining all correct and incorrect answers.
These detailed explanations are filled with illustrations, graphics, diagrams, and labeled images that amplify the well-written explanations, thereby enhancing content retention for critical MCAT concepts.
UWorld not only tells you the correct answer, but it also explains why that answer is the right choice and the others are wrong, and that's where the true value lies in using this QBank.
This is a great approach when it comes to sharpening your critical reasoning skills, helping you understand how to think for the MCAT, and giving you a fair shot at a high MCAT score once you face the real exam.
From animations of laboratory techniques to annotations of key figures, graphs, and tables and clear walk-throughs of all mathematical practice questions UWorld does a great job at demystifying complex concepts and tricky question types.
UWorld's detailed answer rationales are simply unmatched.
Integrated Study Tools
Aside from the practice questions, the Blueprint QBank additionally comes with flashcards and the study planner tool. On the other hand, the UWorld QBank comes with flashcards and a virtual notebook.
Regarding flashcards, UWorld has the upper hand in that you can create your own flashcards, while Blueprint's flashcards are fixed, and you cannot customize your own.
Aside from that, there's also the UWorld QBank notebook that's quite valuable yet very understated. With this handy study tool, you can quickly transfer QBank content, such as images and illustrations, to the notebook for later reference.
This means that those vivid illustrations you loved in the UWorld answer explanations and flashcards can all be saved in the notebook for quick reference when needed.
Besides consolidating related topics and relevant imagery, you can also use the notebook's note-taking feature to annotate text how best you deem fit for easy memorization.
By using the notebook consistently while working through the QBank, you will end up with your very own illustrated study guide on MCAT concepts.
Better yet, this study guide will prove to be better than any MCAT prep books because it will contain information tailored specifically to your weaknesses and the concepts you may be struggling with.
Notebook content is saved and synced across devices through the UWorld MCAT App, so you can conveniently keep up with your MCAT studying from anywhere.
Complementing the comprehensive answer explanations, this virtual notebook is an absolutely invaluable resource.
Hence, owing to the virtual notebook, UWorld wins in this category.
Performance Analytics
Blueprint's advanced analytics is way superior to the performance reporting done by UWorld.
UWorld will track your performance by subject and foundation, tracking your question usage in each subject and providing an analysis of your performance by proficiency.
By highlighting all these, you can then identify your strengths and weaknesses and have the chance to create a focused practice test for remediation.
On the other hand, Blueprint's next-generation analytics help you quickly identify patterns in questions you get wrong. These patterns are highlighted by subject, AAMC reasoning skill, and question type.
Additionally, the program also breaks it down for you if you switch answers from right to wrong, and vice versa, giving your insight into your answering tendencies so you can also analyze how you tend to think while taking a test.
Blueprint wins for having far more advanced and thorough analytics.
Verdict: Which One Is Better?
UWorld has many top-tier, valuable aspects to it.
The full-functional mobile App means that you can conveniently study on the go, from anywhere, as long as you have your phone on you.
Then there's the ability to create a multi-subject practice set and create custom tests that specifically contain the questions you've gotten wrong in previous test sessions.
The best thing about UWorld isn't even the MCAT-style questions themselves but the comprehensive answer rationales that are unlike anything else you'll find in the MCAT market.
Every single question comes with a very detailed explanation clearly explaining the concept being tested, but also comprehensively analyzing each answer choice with explanations behind why each option is the right or wrong answer.
Complete with excellent visual representations, including pictures, graphs, annotations, flowcharts, and even animations, UWorld's answer explanations offer a wealth of content review material.
Furthermore, you also have the visual notebook where you can create an illustrated study guide guaranteed to help you ace the MCAT and get into a top medical school.
Blueprint MCAT similarly has many excellent features.
For starters, the customizable study planner tool helps a great deal in organizing your study period, taking the guesswork out of your MCAT preparation.
Then you have the fact that this program includes a full-length practice exam which is Blueprint's first practice test, and you can even pay for more full-length practice tests.
As much as practice sets provide great practice, nothing beats taking an actual MCAT exam under test-taking conditions to help you accurately gauge not just your content knowledge but also your stamina and mental fortitude for the big test.
Blueprint's technological integration via AI and advanced analytics also helps immensely in taking the guesswork out of your studies.
The QBank's algorithm makes smart recommendations, pointing you in the exact direction you should be focusing your attention on and even creating a test for you to that effect without you having to figure out what to include or exclude from your practice sets. That's a really great feature.
Not to mention that the advanced analytics are very specific and thorough, perfectly pinpointing exactly where your strengths and weaknesses lie with regard to MCAT subjects, question types, and AAMC reasoning skills.
The best thing about Blueprint is that the program is keen to provide you with high-yield practice, pointing you toward your greatest areas of opportunity for a stellar score.
So which one is the better MCAT QBank: UWorld or Blueprint?
Well, if your content knowledge is a little rusty and you are looking for an MCAT question bank that's representative and serves as content review, then you are better off with UWorld.
On the other hand, if your content review is pretty much up-to-par and you are looking for a high-yield MCAT question bank that will highlight your greatest areas of opportunity, then Blueprint MCAT is your best bet (do not forget to save some money by using a discount code for blueprint mcat)
Holidays sale: Get up to $400 OFF today and start your MCAT prep the right way!
Pros
Best video lessons for MCAT in the industry.
Offers all prep options: online, live classes and private tutoring
Score increase guarantee
Cons
Higher price tag but we think it's well justified.
You can check out the other comparisons we did on other MCAT prep resources below:
UWorld Vs. Blueprint MCAT FAQs
UWorld Vs. Blueprint: Which One Is Best For The MCAT?
UWorld is the best MCAT QBank if you are looking for a resource that familiarizes you with MCAT question styles, format, and content, in addition to serving as a pretty decent content review resource.
Blueprint is the best MCAT QBank if you are looking for a program that presents you with high-yield MCAT questions and concepts, thereby highlighting your areas of greatest opportunity on the exam.
Does Blueprint Have Better MCAT Practice Material Than UWorld?
Yes, Blueprint has better practice material than UWorld regarding the sheer quantity of practice material, their representativeness, and the program's ability to create efficient, high-yield custom tests explicitly tailored to your strengths and weaknesses.
Should A Non-Traditional Student Use Blueprint Or UWorld For MCAT Prep?
Typically, non-traditional medical students often need a bit more help with content review to re-familiarize themselves with concepts they may have long forgotten.
But most students would rather have a quick glance at the material for a quick refresher rather than take MCAT courses.
As such, UWorld would be the best MCAT prep for non-traditional students as the detailed answer explanations for each question offer a very decent content review that's in-depth yet concise.
Successful test-takers have reported that just reading the answers provided by UWorld proves to be good enough of a prep if you are just rusty on some concepts.
At the end of every single UWorld question explanation, you will find a summary telling you the exact nugget of information that you needed to know to have answered that specific question correctly.
That's what makes UWorld particularly more suited for non-traditional students than Blueprint.