The MCAT is a tricky test in that you may have all your content knowledge down to a T yet still perform poorly on the exam.
This can be frustrating for any student because other than having a firm content grasp, what else could you possibly do to prep for the MCAT? And why is acing the MCAT such a challenge even for A-students?
Well, the MCAT is a unique exam that doesn't necessarily test what you know. Rather it tests how you think and your application of what you may know.
It all sounds rather confusing, but the good thing is that that's where the Jack Westin MCAT course comes in.
Unlike other prep companies, this program teaches you how to take the MCAT, equipping you with strategies and methods to enhance your passage deduction and critical thinking skills.
Let's learn more about that in this comprehensive Jack Westin MCAT review, shall we?
Summary Table
| | |
| --- | --- |
| | |
| | |
| | |
| | |
| | |
| | |
| | |
| | |
| | |
| | |
| | |
| Workshops & Office Hours? | |
| | |
Jack Westin MCAT Overview
The Jack Westin MCAT course uses a unique approach in that instead of focusing heavily on content review, this course leans more towards teaching students the strategy portion of the exam.
This course teaches you how to approach the MCAT strategically, helping you build the right critical thinking skills, which will come in handy not only in CARS but also in the science portion of the test.
Actually, for a long time, Jack Westin was only known for their CARS Strategy Course. But then they developed a Science Strategy Course and combined these two into their comprehensive, complete MCAT Course.
Jack Westin's Complete MCAT Course will cost you $1,450. If you are in a financial pinch, you'll be happy to know that this amount can be paid through 10 weekly installments of $145 each.
Signing up for the Jack Westin MCAT course will provide you with access to the following features:
An adaptive study schedule.
100+ hours of content lectures.
2 – 4 live sessions weekly.
Exclusive homework assignments.
Practice exams, quizzes, and practice passages.
Daily CARS passages.
10,000+ flashcards.
Daily passages.
Strategy and test-taking skill lectures.
Emphasis on Reading Comprehension.
Both live and on-demand passage review workshops.
Live office hours.
A year's access to office hours after your course ends.
Continued support for alumni students.
Individualized feedback from tutors.
Direct access to the course creators.
One key thing to keep in mind is that this is an AAMC-based course structured on the AAMC topic outline and focusing heavily on AAMC practice passages.
However, unlike other prep companies such as the Princeton Review, whereby your course subscription includes access to AAMC materials, with this Jack Westin MCAT course, you will need to buy AAMC's official MCAT prep bundle separately.
This is crucial, too, seeing as the AAMC practice resources are integrated within the Jack Westin course in the form of homework assignments.
Now let's take a deeper dive into the MCAT resources offered by Jack Westin.
In case, you wanted to look at other MCAT prep options, let me just quickly mention this ongoing super deal from one of the top leading MCAT courses, Blueprint MCAT (it's ranked 1# on our list of top MCAT prep courses)
Back-to-school limited deal: Get up to $700 OFF today and start your MCAT prep the right way!
Pros
Best video lessons for MCAT in the industry.
Offers all prep options: online, live classes and private tutoring
Score increase guarantee
Cons
Higher price tag but we think it's well justified.
Jack Westin MCAT Review For 2023
Course Structure
Jack Westin offers a very structured program, generally comprising lectures followed by corresponding homework assignments.
a) Content Lectures
The pre-recorded lecture videos taught by Phil Hawkins pretty much make up the bulk of this course.
Comprising over 100 hours of instruction, these videos are incredibly helpful and well-explained. Not to mention that they are very in-depth, covering everything you need to know for the MCAT.
The engaging instructor perfectly explains what you need to know and to what depth, so you won't feel lost wondering about the level of detail you should go into while studying different subjects.
Furthermore, there is also detailed instruction regarding various possible ways that the AAMC might ask questions on a specific topic.
Ultimately, these content videos cover MCAT content and concepts extremely well and teach you how to think like a 129+ scorer and the correct way to approach all MCAT sections.
Also, the videos have a logical order to follow, so you won't have to wonder which lesson to jump to next.
b)CARS Strategy Course
The CARS section of the MCAT is typically the biggest challenge for most students. The Jack Westin CARS strategy course has been around for over 10 years, so you can rest assured that Westin knows a thing or two about guiding you toward a high CARS score.
Integrated within the complete MCAT course and taught through pre-recorded video lectures, this CARS course uses proven, tried, and tested strategies to help you master MCAT passage reasoning ability and AAMC question logic.
c) Homework Assignments
After each content lecture video, you will be assigned homework passages and questions. These assignments may be derived from Jack Westin, Khan Academy, or official AAMC material.
Ideally, the Jack Westin MCAT course is set up such that by the time you finish the course, you will have gone through virtually all the AAMC practice questions in a curated order.
This, in itself, is a huge advantage.
As opposed to other courses whereby you have to figure out how to take AAMC practice alongside the 3rd part course materials, Jack Westin has made life so much easier by integrating the AAMC practice right within its course structure.
d) Strategy Lectures
Aside from the content lectures, there are also some pre-recorded strategy lectures. These review videos go through quite a number of the AAMC passages explaining how to answer the questions.
You'll receive insight into the proper way to approach MCAT passages, distinguishing between pseudo-discrete questions and the questions that require information from the passage.
Not only that, but these strategy lectures also teach passage-based deduction, so you can know how to analyze an MCAT passage the way the AAMC expects you to.
There's a wide variety of MCAT strategies presented to you, including how to read dense CARS passages, efficiently analyze every data type presented, interpret graphs and tables, follow Physics experimental passages, etc.
Live Sessions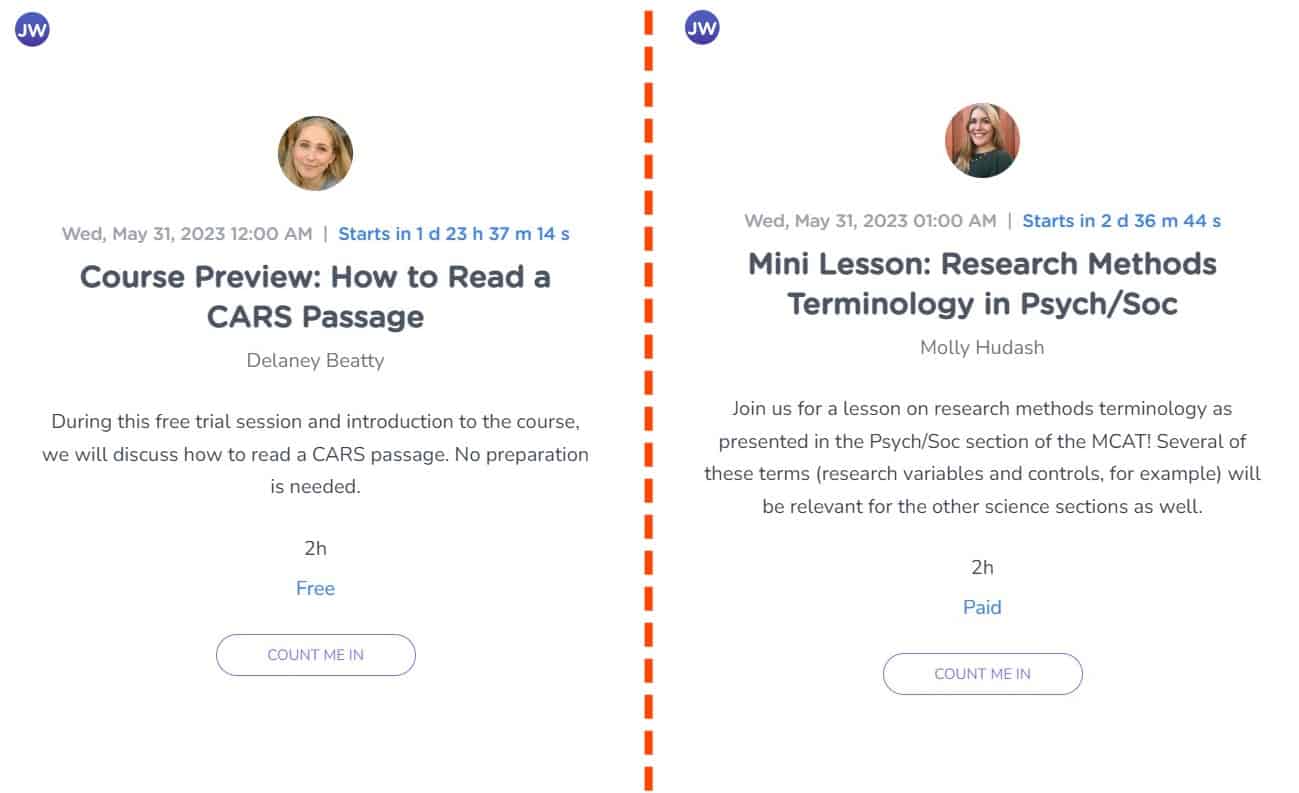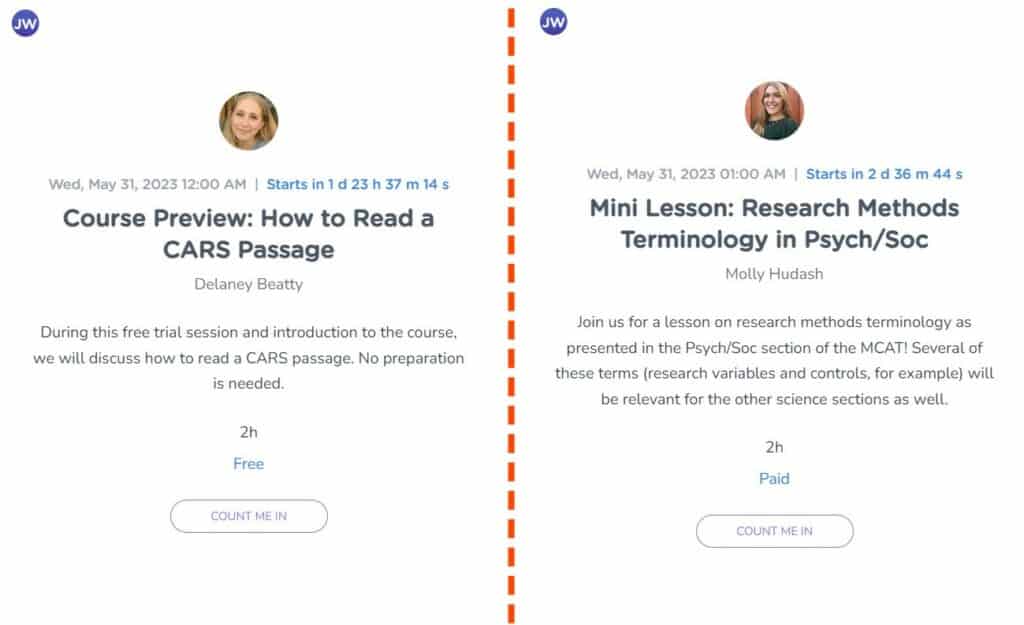 Aside from the pre-recorded lectures, you will also have access to multiple weekly live sessions, which are undertaken in a group setting.
These live sessions include office hour Q&A sessions, passage analysis workshops, and live content strategy lessons.
Sessions will vary weekly, and they are not mandatory to attend because each live session is recorded, so you can have access to it at a later time in the course of your MCAT prep.
All this is done so that the Jack Westin MCAT course can be beneficial and manageable for all types of students regardless of their schedules, learning pace, and preference.
Adaptive Study Schedule
This MCAT course is based on a rigorous study plan so it only makes sense that it would come with access to an adaptive study schedule to help keep you on track with your MCAT exam prep.
Set out your desired course completion date and the number of hours you can study per week, and the program will generate a comprehensive study schedule outlining what you need to do on a weekly basis up until test day.
You will have lectures, homework, and workshops assigned to you in a way that fits your life and aligns with your availability and learning pace.
The schedule adapts automatically based on what you accomplish. Meaning if things get a little overwhelming one week and you fail to get everything done, the schedule will automatically adapt and rearrange the assignments over the next few weeks.
Life is unpredictable and things can sometimes get in the way of your study plan.
Rather than having a customized study plan that becomes obsolete after a few weeks, Jack Westin's study schedule continually adapts throughout the entire course period, keeping you on track without you feeling overwhelmed in having to catch up and make up for lost study time.
Free MCAT Resources
The Jack Westin MCAT course includes many free resources you can use at your own pace, even without signing up for the course.
a) Daily CARS Passage
You get to work through one unique CARS passage for every day of the year. These passages are great, too, doing a stellar job at replicating AAMC CARS logic.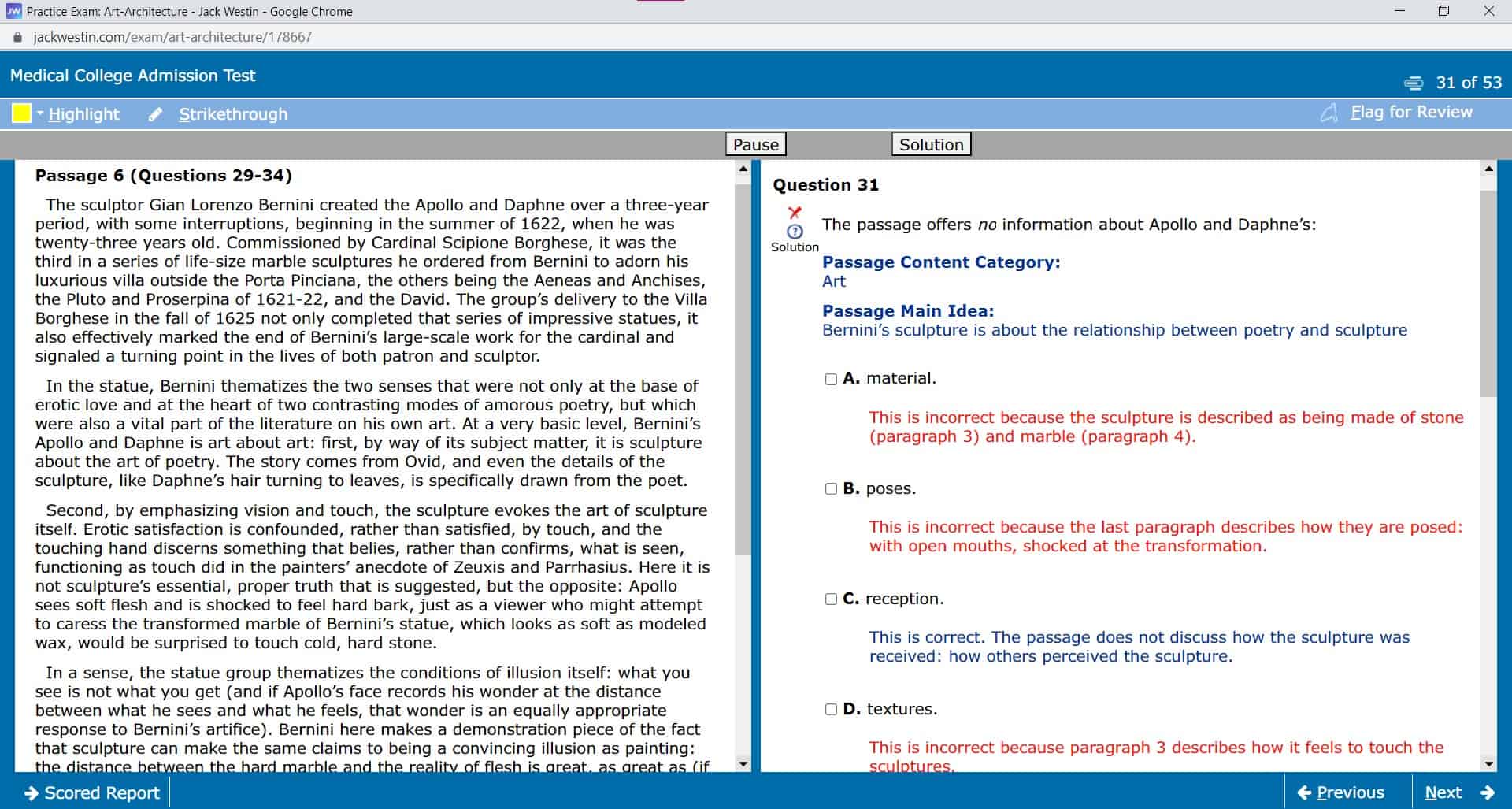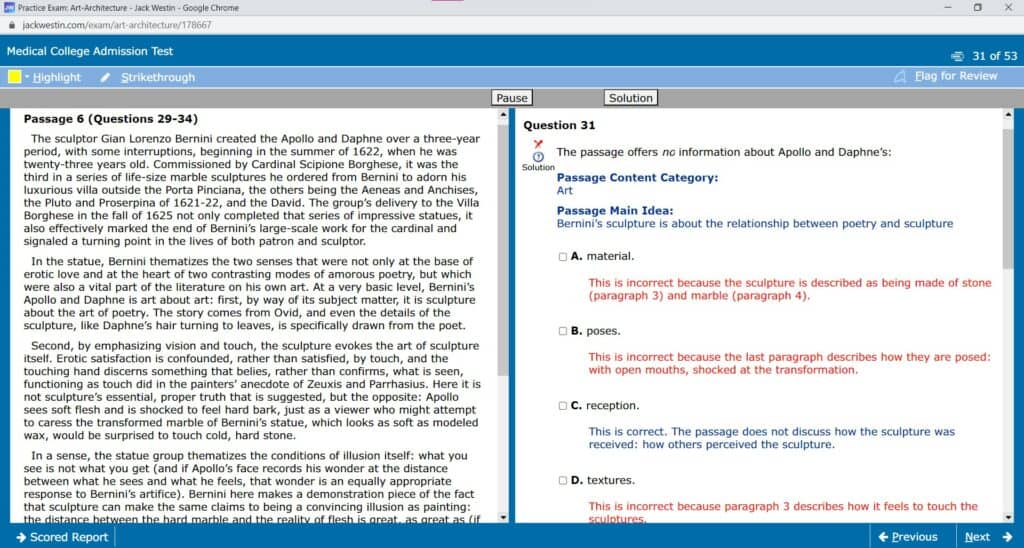 b) MCAT QBank
Featuring both discrete and passage-based question banks, you can access the Jack Westin MCAT practice questions absolutely free of charge.
The style, flow, and logic of the questions are pretty impressive, providing great practice and familiarization with AAMC-style questions and passages.
c) Live Sessions
While the majority of the live sessions require you to either be a Jack Westin alumni student or sign up for paid membership to the course, there are quite a number of live sessions which anyone can attend.
These free live MCAT sessions vary but will mostly be on passage analysis workshops, admissions advice and assistance, and overall MCAT test-taking skills and strategy for different subjects and exam sections.
d) AAMC MCAT Interface Chrome Extension
This extension allows users to view AAMC Practice material in the proper, intended MCAT exam testing interface.
This allows you to familiarize yourself with the real exam interface and layout, helping reduce anxiety on test day.
Additionally, this extension adds Jack Westin's solutions to the answer explanations, which are more thorough and better explained than the solutions provided by the AAMC. You not only get to see the correct answer but also receive a well-laid-out explanation for correct and incorrect answer choices.
Unparalleled Student Support
If you are still on the fence about taking the Jack Westin MCAT course, then perhaps this last course feature may help you make up your mind.
Jack Westin offers incredible support for their students throughout the duration of the course and even long after completing the course.
For starters, students have direct access to the course creators, including Jack Westin himself, and you can ask any question or present any issue you may have and need help with.
Secondly, alumni students will still have access to live office hours for a full year after their course ends. So, even after taking the course, you can always contact the instructors for mentorship, general questions, and overall support.
If there are certain MCAT concepts you are particularly struggling with, you can always meet with an instructor after class for one-on-one assistance. You don't have to limit yourself to the group sessions.
Some students may need more time and attention, and Jack Westin gets that.
From one-on-one sessions to phone calls and email check-ins, the Jack Westin team vows to help you for as long as you need until you grasp the MCAT strategies being taught.
If you are still a little confused and underprepared, after the course is over, you will receive a free course extension until the instructors are certain that you are ready to face the exam and ace it.
Jack Westin MCAT Pros & Cons
– Features a comfortable learning pace for any student.
– Actually teaches you how to take the MCAT.
– The AAMC review videos are incredibly helpful.
– The science passages are top-notch.
– 1-year access to live office hours for alumni students.
– Doesn't come with any full-length exams or MCAT books.
Verdict
The Jack Westin MCAT course is pure gold, yet very underrated.
First off, this course is very well paced, such that even a non-traditional med student will find it easy to get through the course material without having to sacrifice their full-time employment.
Secondly, being AAMC-based means that this course strictly teaches you exactly what you need to know for the MCAT, no fluff. All subjects are covered in impressive breadth and depth, ensuring your prep time is well spent on learning only the necessary content.
The instructor takes time to highlight low-yield and high-yield topics and concepts so you are aware of where to focus more attention and study time.
Furthermore, rather than taking too much time on content review, this MCAT course actually teaches you how to develop critical thinking skills and passage-based deduction, so you learn how to rationalize information quickly.
The Medical College Admissions Test is more about how you apply your knowledge rather than what you know. In line with that, this course actually teaches you how to take the MCAT and understand the AAMC logic being tested in different question types.
You are guided on how to read every type of passage, how to find the right ideas from the passages, how to identify the main idea, how to approach the science questions, and how to answer every single type of MCAT question.
While Jack Westin makes CARS very easy to understand, their science passages are also rather impressive in content coverage and question logic, style, and format.
Overall, the Jack Westin MCAT course provides excellent value for money, and it may just be what you need to get your MCAT score well over the 520 mark.
Jack Westin MCAT FAQs
Is Jack Westin Good For MCAT?
Yes, Jack Westin is a great MCAT prep resource.
From the well-done content videos to their strategy lectures and live workshop sessions, this course explains how to master critical thinking skills and develop the right CARS strategies.
Furthermore, this AAMC-based course is very concise and to the point. They only teach you what you need to know for the MCAT without any fluff or overwhelming information.
The supportive instructors are another thing you will love about this course. The dedicated tutors go above and beyond to ensure you have fully grasped the concepts and strategies being taught, ensuring you don't fall behind on your MCAT prep.
So, all in all, I would highly recommend Jack Westin for your MCAT prep.
Is Jack Westin MCAT Good For CARS Practice?
Yes, Jack Westin is great for CARS practice.
Besides having plenty of CARS practice questions and exams, the course equips you with CARS strategy methods that actually work.
You'll learn how to read dense CARS passages and understand how to answer difficult CARS questions requiring assumptions and inferences.
Better yet, you will learn how to finish the CARS section in time so you don't get flustered on test day.
Are Jack Westin Practice Exams Free?
Yes, Jack Westin CARS practice exams are free to access, at least within a limited period of time, after which you may have to pay for a membership to access the exams.
Are Jack Westin Passages Harder Than AAMC?
Yes, Jack Westin passages are slightly harder than the AAMC passages.
However, they do have sound question logic that closely replicates the AAMC logic, meaning you'd be able to get in some quality practice for the real test.