It's probably too early in this review to say this, but DAT Bootcamp is the most complete DAT prep program you will find in the market today.
I will explain later on why I think so.
In this detailed review, we cover everything there is to know about DAT Bootcamp and we compare it with other popular alternatives.
But before that, if you are here looking for a discount, I have good news for you.
We have an exclusive discount only for TestPrepPal readers. You can access it by clicking this link (use testpreppal10 coupon for DAT Bootcamp in checkout to get the discount).
The all-in-one DAT prep that everyone is talking about is here, plus with a discount
Pros
Provides all the necessary materials needed to prepare for the DAT.
The best user interface in the industry.
An advanced markup feature to easily improve on your weaknesses.
Cons
Sometimes the videos can be too detailed
Use code at checkout: TESTPREPPAL10
DAT Bootcamp Review for 2023
Background
The DAT Bootcamp was created by Dr. Ari Rezaei, an ex-DAT student who found it difficult to prepare for the test adequately.
He didn't feel like the available resources for the DAT were sufficient enough to help him prepare. He had to work too hard for a good score.
After scoring highly on the test (99.9% percentile), Ari founded DAT Bootcamp as a way of helping future pre-dental students crack the test with ease. He promises to provide students with all the necessary materials they need to score in the 90th percentile and above.
The Structure of DAT Bootcamp
Alright, so let's talk about the setup of DAT Bootcamp.
DAT Bootcamp has three main parts:
1. The learning section:
This is the main area of the training program where they cover all the subjects of the DAT.
The subjects are Biology, General Chemistry, Organic Chemistry, Perceptual Ability, Reading Comprehension, Quantitative Reasoning.
And for every section, they have an extensive array of study materials like you can see in the image below:
For Biology, they have practice tests, a question bank, Bio videos, Bio Bites (snack-sized questions), notes, flashcards, and strategy tips.
More on the content of each section later.
2. Study Tools
These are tools that help you better prepare for the DAT.
Here are the tools you will find:
This is the section where you get to practice on full-length DAT tests that are very similar to the real tests.
Here you get to see the scores you get on your FullLength or practice tests. It's a good way to measure your progress.
All the questions you save while going through the content can be found here.
You can find Ari's 10-week Study Schedule and Study Guide to prepare the right way for your DAT.
From learning about how to use DAT Bootcamp's practice tests to reading about different study strategies used by previous successful students, the Study Strategy tab has resourceful blog posts to ensure a high DAT.
The all-in-one DAT prep that everyone is talking about is here, plus with a discount
Pros
Provides all the necessary materials needed to prepare for the DAT.
The best user interface in the industry.
An advanced markup feature to easily improve on your weaknesses.
Cons
Sometimes the videos can be too detailed
Use code at checkout: TESTPREPPAL10
3. The community: DAT Study Group
From this alone, I think it's worth it to join DAT Bootcamp.
It's a group of 22K members where you can meet other students preparing for the DAT and share tips and strategies. Most importantly, there are students who got into dental school and share how they got a top-tier score.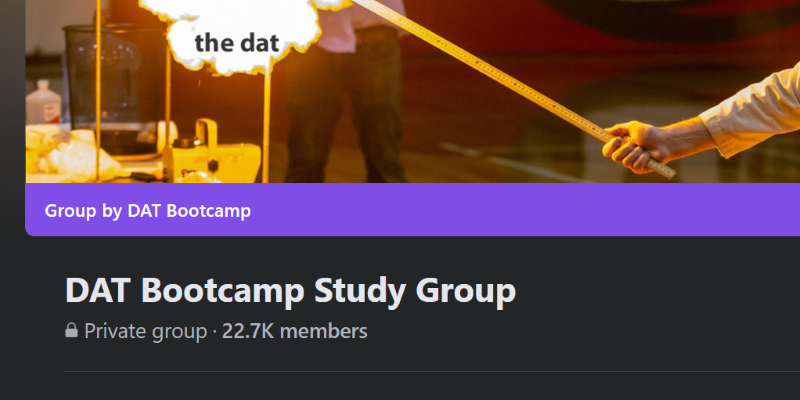 DAT Bootcamp Curriculum
DAT Bootcamp curriculum includes study materials for all these sections:
You gain access to practice tests, a question bank, Bio Videos, Bio Bites, Bootcamp Biology notes, Biology Flashcards, and the Biology strategy.
With the practice questions, the system will allow you to tag various questions in each section for easy review later on. You will also love the unique questions, which are updated regularly.
The biology notes are detailed, come with illustrations and a quick cheat sheet for taxonomy questions.
The best part is that you can easily click to download them for easy review when not online.
There are also 25 sets of flashcards to help you master essential terms anywhere, anytime.
The Biology strategies include some tips on the must-know genetic terms, must-know biology Mnemonics, how to study the right way, and many more other tips.
The general chemistry section also comes with practice tests, a question bank, Mike's Videos, Strategies, worksheets.
The practice tests take the same structure as the Biology ones, and they give you a glimpse of your previous attempts for comparison.
The question bank gives you access to unique questions to enhance your knowledge, with the issues being updated from time to time.
Mike's Videos aren't famous for nothing. Here you gain access to numerous videos touching on various concepts for easy understanding.
And the General Chemistry Strategy segment takes you through the equation sheet, lab techniques, explanations of the intermolecular forces, the various types of questions to expect on the DAT, and common ions you should know.
There's also an analysis of the DAT Bootcamp in comparison to the real DAT.
Plus the three worksheets; Mike's General Chem Outline, the General Chen Lab Equation Sheet, and General Chem Lab techniques.
The classroom structure of the Organic Chem is similar to that of General Chem.
The significant difference, however, is that this section contains fewer Mike's Videos and two worksheets (Mike's organic chem outline and the organic chem reaction summary sheet)
This section also comes with numerous practice tests. But it has the PAT generator, which covers areas such as the angle ranking generator, the hole punching generator, and much more.
The PAT academy also contains numerous videos, complete with sets of practice tests for adequate preparation.
You will also love the PAT Trainer Game.
Like every other section, you will gain access to practice questions.
You will also find the RC academy videos, and the practice question bank useful for enhancing your test-taking skills.
The reading and comprehension strategies offer amazing tips on productive DAT reading and exam-taking.
And of course, you will benefit from the Daily Reading Practice, which contains 10 sets of practice tests.
Automatic access to unique sets of practice tests and, of course, the question bank.
The QR academy contains 100+ videos on various topics, complete with concept questions.
There's also one worksheet (quantitative reasoning formulas cheat sheet) and the QR strategies on smart DAT review and useful test-taking tips.
In addition to all of this, as mentioned before, you get access to:
Full-length tests (will expand on this later)
Past test results to help you compare your progress
Bookmarked questions, for easy review
Study guide for smart reviews
Study strategy for useful DAT exam-taking and study tips
Inspirational stories to motivate you towards achieving your goal
Summary Table:
| | | | | | | |
| --- | --- | --- | --- | --- | --- | --- |
| | | | | | | |
| | | | | | | |
| | | | | | | |
| | | | | | | |
| | | | | | | |
| | | | | | | |
| | | | | | | |
DAT Bootcamp Content Videos
In general, DAT Bootcamp offers you access to over 700 strategy videos.
The videos are typically led by relevant experts, so you can expect to receive only the best.
There are also the Dr. Mike videos for chemistry sections, addressing various concepts in each section.
So, if you love tutor-led study sessions, then you're in for a blast.
At 700+, I feel the videos are pretty sufficient if you combine them well with other study materials.
And to ensure you get the best from those videos, study the materials first, then watch to enhance retention.
DAT Bootcamp Practice Tests
The primary role that full-length and short question problems play in your DAT review cannot be ignored.
It's always advisable to weigh your content retention ability by taking tests often. For instance, you can take the shorter practice tests at the end of each topic, and the full-length every two weeks.
DAT Bootcamp offers you over 4670+ high-quality questions and 60+ high-yield practice tests.
As for the full-length tests, they are distributed equally among all 6 sections. So each section gets around 10 full-length tests.
The best thing is that you receive an analysis report on your practice tests, complete with in-depth explanations of your answers.
This will help you understand why you got some answers wrong, even when they seem correct.
Remember, the DAT is quite tricky, so you've to up your game and know how to spot the correct answer amidst all the similarities.
The all-in-one DAT prep that everyone is talking about is here, plus with a discount
Pros
Provides all the necessary materials needed to prepare for the DAT.
The best user interface in the industry.
An advanced markup feature to easily improve on your weaknesses.
Cons
Sometimes the videos can be too detailed
Use code at checkout: TESTPREPPAL10
DAT Bootcamp Pricing & Discounts
How Much Does DAT Bootcamp Cost?
The DAT Bootcamp price starts at $497 for the first tier (Bootcamp Pro) which has all the necessary materials and it gives you an access of 180 days.
The second tier (Bootcamp Plus) costs $897 and has everything that Bootcamp Pro offers plus 30 practice tests (Bootcamp Pro has only 60 practice tests). Also, Bootcamp Plus members will get access to the materials for a period of 6 months.
However, you do not have to pay full price. We have a coupon code for our users that gets you 10% OFF. Here it is: TESTPREPPAL10
It's also worth noting that DAT Bootcamp has a free trial which allows you to take a look at the inside of the program and even watch some videos entirely for free so you know exactly what you are getting.
DAT Bootcamp Discount and Coupon
I was able to get us a deal for TestPrepPal readers that can help you save up to $100 on your purchase of DAT Bootcamp.
As for most of the DAT prep courses, DAT Bootcamp also provides coupons and discount deals for eligible buyers.
Here is the DAT Bootcamp coupon code to use: TESTPREPPAL10
You can follow this link to use the discount code: You can access the deal by clicking this link
Make sure to use this code in checkout to make sure you benefits from the discount.
DAT Bootcamp Vs. Actual DAT In 2023
DAT Bootcamp has fantastic practice tests and questions.
Still, many pre-dental students often wonder how these compare to the actual DAT with regard to the question style, structure, content covered, and level of difficulty.
Are DAT Bootcamp Scores Accurate?
No, DAT Bootcamp scores are not accurate. Rather, the scores you get from Bootcamp's practice tests tend to be deflated by about 3 points.
This means that if you scored a 23 Academic Average on the full-length practice tests, expect your score on the actual DAT to be about 26.
You shouldn't beat yourself up over low DAT Bootcamp scores. Instead, focus on the process, taking note of where your content gaps lie and taking time to understand why you keep getting certain questions wrong.
You will likely score a few points better on the actual DAT.
And isn't that so much better than working with practice exams where the scores are inflated only for you to score lower on the actual exam?
How Similar Are DAT Bootcamp Tests To Actual DAT?
One thing worth mentioning is that DAT Bootcamp offers 10 full-length practice tests and about 60 subject-based tests. All these tests vary in difficulty whereby some are harder, and others are quite similar to the real exam in the level of difficulty.
That being said, DAT Bootcamp practice tests are rather similar to the actual DAT in terms of structure, style, and content covered.
The exams are a pretty accurate representation of the real DAT, only slightly harder, more often than not, in order to provide you with the rigorous practice you need.
In particular, Bootcamp's PAT section is quite challenging, and you will typically find that you even struggle to finish the test in time. After working through these though you will find the Perceptual ability section on the real DAT to be a breeze!
The Reading Comprehension section in Bootcamp is also considerably harder than the actual exam, as is the Quantitative Reasoning section as well.
The science section in Bootcamp is still challenging but quite similar to the style of the real DAT.
You will be glad to know that on the real DAT, there are far fewer Math problems in Gen Chem than what you may have encountered in Bootcamp.
Is DAT Bootcamp Harder Than Actual DAT?
Yes, DAT Bootcamp is harder than the actual DAT.
However, that's a good thing because practicing using challenging material will sufficiently prepare you for the challenging areas on the real exam.
This builds your confidence, allows you to cover more ground with content review, and additionally allows you to work on your pacing so that you can get through the real exam much more leisurely.
Rather than feeling discouraged by the low scores you may be getting in Bootcamp, focus instead on all the positives and allow yourself to enjoy the learning process.
One helpful thing to remember is that although Bootcamp's tests are more difficult, the content covered is very much representative of what you'll find in the actual exam.
DAT Bootcamp PAT Vs. Real DAT PAT?
The DAT Bootcamp PAT section is much harder than the real DAT PAT.
On Bootcamp, you may find that you struggle to finish the perceptual ability section in time. The Keyholes are very intricate in Bootcamp, but the Angle Ranking questions are just as tricky on the teal DAT as on Bootcamp.
All in all, rest assured that you are bound to perform much better on the real DAT PAT than what you may currently be scoring in Bootcamp's PAT section.
DAT Bootcamp vs. Kaplan: Which is better?
Both Kaplan and DAT Bootcamp are big names when it comes to the DAT test prep sector.
They both have impressive features, which leave students confused whenever choosing between the two.
So, if this feels like you, look no further, we give you a comprehensive comparison of DAT Bootcamp vs. Kaplan to make your decision easy.
Pricing: DAT Bootcamp Cost vs Kaplan's
The Kaplan self-paced course will cost you around $899, with the price expected to rise if you upgrade.
On the other hand, DAT Bootcamp price is $497 for 90 days access. If you upgrade to Bootcamp Plus, then you will be paying $897 for 180 days access, plus some extra features.
Of course, both companies offer discounts, however they are not running them all the time.
By the way, I have a DAT Bootcamp coupon code just for our reader at TestPrepPal. You can access it by clicking on this link and using "testpreppal10" in checkout
Full-length Practice Tests
The Kaplan package comes with 7 full-length practice tests, which will help you identify your position as far as preparedness for the actual DAT is concerned.
On the other hand, DAT Bootcamp offers its users 10 full-length practice tests. That's a lot, right?
Problem/Practice Questions
With the Kaplan package, you will receive over 1500 questions in their customized Qbank.
DAT Bootcamp, on the other hand, promises users over 4670 problem questions. They, too, have a Qbank for all sections.
Videos
Videos provide an excellent tutor-like experience, which makes them ideal for students who prefer expert guidance in their studies.
Both companies seem to understand this pretty well, with Kaplan offering over 200 recorded videos. DAT Bootcamp, on the other hand, will give you access to 700+ videos, which include strategy videos and tutor-led academy videos with practice tests.
Accessibility
Kaplan has an app that makes their self-paced course accessible via iOS and Android.
You can also access DAT Bootcamp via Android and iPhone.
The two are easy to use and optimized to ensure quality isn't compromised.
Flashcards
Kaplan lacks the Flashcards option in their package and Bootcamp DAT provides sets of flashcards for biology, general chemistry, and organic chemistry.
Premium options
Both prep companies have premium options with Kaplan allowing students to benefit from the 3 hours of 1-1 coaching sessions and the self-paced Math Foundation with their Self-paced Plus membership plan. There are also personalized, 1-on-1 tutoring packages for DAT Bootcamp as well.
DAT Bootcamp also has Bootcamp Plus, which gives 180 days of unlimited access and an additional 1,150 practice questions.
Study Plan
They both come with a study guide and a study schedule. Both study plans can be personalized to suit individual needs.
Comparison Table
| | | |
| --- | --- | --- |
| DAT Program | Kaplan | DAT Bootcamp |
| Pricing | $899 | $497 |
| Community | Not active | Active on Facebook and Instagram |
| Full-length practice tests | 7 | 10 |
| Question Problems | 1500+ | 4670+ |
| Videos | 200+ | 700+ |
| Flashcards | | |
| App | | |
| Premium options | | |
| Study plan | | |
Verdict: Is DAT Bootcamp Worth It?
When it comes to content, DAT Bootcamp seems to be more detailed as opposed to Kaplan. And this is quite impressive given that Bootcamp is much cheaper than Kaplan.
Also, you can't really compare the video content of Kaplan with that of Bootcamp both in terms of quantity and quality.
Yes, the two companies uphold quality, but I find Bootcamp doing pretty well with their expert-led videos.
And then Bootcamp features 25 sets of biology flashcards, which can be useful for individuals struggling with biological concepts. Kaplan doesn't seem to have any, which works against it.
There's a one-on-one coaching option in Kaplan's premium option, which makes it ideal for individuals who find it challenging to be productive without tutor lessons. DAT Bootcamp offers high-quality, private tutoring from top-scoring dental students as a separate package.
Also, when you take a quick look at the practice questions from both companies, you will realize that Kaplan has much simpler problems as opposed to DAT Bootcamp. And this makes Bootcamp DAT pretty similar to the actual DAT in terms of difficulty.
So, generally, while Kaplan resources are well-polished and you get to use them for a while (4 months) without an upgrade, I find DAT Bootcamp a better option for these main reasons: It's cheaper and the full-length that difficulty mimics that of the actual exam.
Bootcamp DAT Test Prep FAQs
Does the Bootcamp DAT have a free trial?
Yes, the Bootcamp DAT comes with a free trial that allows you to experience the programs before deciding if it's the right prep program for you.
How long is DAT Bootcamp study schedule?
The DAT Bootcamp study schedule is 10 weeks long. It has two main parts. The first part is called learning which lasts for 5 weeks. The second part revolves around practice tests and reviewing content and it will last for 4 weeks. You can read the entire study schedule by clicking here.
Is Bootcamp harder than the real DAT?
DAT Bootcamp has a lever of difficulty that is very similar to the real DAT. However, this sometimes can be subjective as some people may find DAT Bootcamp practice tests easier than the real exam while others think the opposite. All in all, it's safe to say that DAT Bootcamp is as hard as the real DAT in most cases.
How many hours a day is DAT Bootcamp?
According to study guide provided by DAT Bootcamp, you can expect to spend at least 3-4 hours for a period of 10 weeks to prepare for the DAT exam. Keep in mind that everyone is different so this estimation varies a lot.
How long does DAT Bootcamp last?
DAT Bootcamp lasts for either 90 days (Bootcamp Pro) or 180 days (Bootcamp Plus) depending on which subscription you buy.
Conclusion
DAT Bootcamp is an excellent resource that can help you ace the DAT. Most students prefer it because of the detailed explanations that come with the answers, and its pricing isn't too high.
I also find its "classroom" set-up impressive with a daily warm-up, the Question of the Day, and a Facebook study group, where you can mingle, meet study partners and make life-long friends.
It's also well-organized and easy to use, especially with the quick accessibility through Android and iPhone.