Studying for the DAT can be a hectic period for any student. Adding to this strain is the fact that DAT prep courses can be rather expensive.
Therefore, it is expected that before you decide to sink your money into a particular program, you'd want to be sure that you are investing in a valuable resource.
This DAT Booster review is here to help you decide whether this prep program is worth your time and money.
But, if you are just looking for a DAT Booster coupon code to save you money, the team at TestPrepPal have managed to get you a great deal. Use the coupon code "testpreppal" to save 15% OFF. Click here to use it. 
This is the best bang for your buck when it comes to premium DAT prep programs.
Pros
The best PAT section content in the industry.
Representative practice tests that are close to the real thing.
Beautifully illustrated videos that get right to the point.
Cons
No mobile app available
Use code at checkout: TESTPREPPAL
DAT Booster Features Summary
Subscription Length: 90 Days or 180 days
Delivery Option: Fully Self-Paced
Practice Tests: 60+
Practice Questions: 8900+
Videos: 1000+
Chapter Notes: 20+
PAT Tutorials: Yes
One-On-One Online Tutoring: Yes
DAT Booster Review For 2023
The first thing that stands out about DAT Booster is its friendly price tag, making it among the cheapest complete DAT prep courses in the market. As a result, many students working within a budget seem to be drawn to this course.
Upon payment for the premium membership, the student has 90 days to access all material within the DAT Booster prep course, after which their membership expires.
Now, 90 days might not seem like much, but this is actually plenty of time, especially considering that the DAT team recommends and offers a 10-week study schedule to help you prepare for the actual DAT.
Additionally, there is also the option of an 8-week or a 12-week study schedule in case you have more or less time to study for the DAT.
Using this DAT Booster study schedule, you can pace yourself accordingly as you go through all four sections of the DAT, which are all covered fairly in-depth in this course. Apart from self-learning, however, there is also the option of one-on-one tutoring for students who may have any particular questions they need to raise.
There are over 6000 practice questions in this course, and they are designed to be challenging enough to prepare you for the actual test.
It is not uncommon to find that students score higher in the actual DAT exam than on these practice tests. This is a good thing because ultimately, you would rather be over-prepared than under-prepared, wouldn't you agree?
Nevertheless, these high-yield Booster practice tests have up-to-date content to make this prep course a representative resource for what's on today's DAT.
Many students end up being pleasantly surprised at how similar DAT Booster's practice tests are to the material tested in the actual DAT exam. This is particularly true for the PAT section and the Biology portion of the prep course.
DAT Booster fully integrates PAT Booster, complete with PAT content videos, strategies, and advanced PAT generators. You get unlimited PAT questions, as well as a comprehensive DAT step-by-step guide on how to approach every PAT section of the DAT.
PAT can be highly challenging, and a lot of users seem to agree that PAT Booster is the most representative resource for building PAT skills. Actually, PAT Booster just might be the only PAT prep resource you will need to ace your DAT scores.
One other impressive feature that sets DAT Booster apart from the competition is the advanced software developed by Booster Prep Inc. This smart tracking accelerates the student's learning by analyzing their performance and pinpointing particular areas of weakness.
When you do discover your areas of weakness, you can either watch videos or read the provided notes to better grasp that particular topic.
Essentially, DAT Booster has been crafted so that you will enter the DAT test room confident about attaining a good enough DAT score that gets you into dental school.
Why Choose DATBooster?
a) Budget-Friendly
The Dental Admissions Test costs over $400 each time you take it. This is a considerable amount of money and a major reason why students may not always have the extra cash to spend on a DAT prep course.
DAT Booster is much cheaper than other prep courses, and it manages to keep its cost low without compromising the quality of the content it offers.
b) Simulates The Actual Test
DAT Booster test questions do a great job simulating the actual DAT exam. Not to mention that the prep course offers strategies and test-taking tips that will build your confidence in preparation for the DAT.
The idea is that the more comfortable you are with the material to expect in the actual test, the more composed you will be while taking the exam, thereby guaranteeing you a higher DAT score.
c) Rigorous Biology Section
When comparing Booster students versus those who used other prep programs, DAT Booster students tend to have much higher Biology section scores.
This could be attributed to the fact that DAT Booster is widely recognized as having a strong Biology curriculum. The Biology portion absolutely represents what you should expect to find on the actual DAT exam.
Essentially, the Biology material covered, including the Biology videos, is pretty detailed and comprehensive.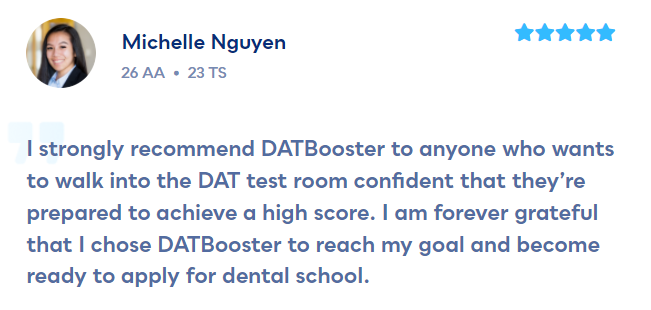 d) Plenty Of Practice Tests
The best DAT prep course should push you to study extensively, and with over 8900 practice questions, each Booster practice test is sure to keep you productive for the entire duration of your DAT prep period.
If you use DAT Booster right from the moment you start studying for your DAT exam, this might very well be the only resource you will need.
DATBooster Pros And Cons
Pros
Affordably-Priced: As far as DAT prep courses go, this is quite possibly the most affordable resource you will find in the market that comprehensively covers all the DAT sections.
Comprehensive: From the videos to the written notes to the practice test questions, all material in this prep program covers everything comprehensively and in great detail.
Up-To-Date: One thing that makes DAT Booster a fantastic program is that the practice questions are continually updated to reflect the most recent DAT exam. This includes covering any new topics that may have been introduced in the actual exam.
Representative: You'd be pleasantly surprised at how similar DATBooster's practice tests are to the real DAT exam questions.
Perfect For Biology: The Bio section in Dat Booster is particularly representative, giving in-depth coverage of the subject.
Detailed Solutions And Explanations: For each incorrect answer choice you make on the practice questions, Booster equips you with a detailed explanation of the correct answer choice.
Identifies Strengths And Weaknesses: The detailed performance analytics allows you to track your progress over time and reveals which topics you should focus more on.
Includes PATBooster: With DAT Booster, you'd essentially be getting 2 resources in 1, and the program even features bonus tests and questions you wouldn't find on PATBooster.
Free Trial: You have the option of trying out the program for some time before you fully commit to getting the premium membership.
Cons
No App: DAT Booster doesn't come with an App, which means that you won't be able to study on the go.
This is the best bang for your buck when it comes to premium DAT prep programs.
Pros
The best PAT section content in the industry.
Representative practice tests that are close to the real thing.
Beautifully illustrated videos that get right to the point.
Cons
No mobile app available
Use code at checkout: TESTPREPPAL
DATBooster Vs. DAT Bootcamp: Which is Better?
Both DATBooster and DAT Bootcamp are pretty much equivalent DAT prep programs that do a great job at giving a student that unfair advantage to better prepare them for the DAT exam.
Which one is better? Well, it all depends on what you are looking for in a DAT prep program.
DATBooster is far cheaper than DAT Bootcamp especially if you use our coupon code "testpreppal" at checkout.
DAT Booster is known to have very representative Biology and PAT sections that are much more relatable to what you will find on the real test. On the other hand, DAT Bootcamp is more representative in the Organic and General Chemistry sections.
The PAT prep on DAT Booster is far more comprehensive, in-depth and representative, than what you will find on DAT Bootcamp. Of course, this is enhanced by the fact that DAT Booster incorporates PATBooster, which has grown to be recognized as among the best PAT prep resources currently in the market.
DAT Bootcamp is a little more detailed than DAT Booster , whose videos are clean and concise, going straight to the point. As such, Bootcamp may be better suited for students who are learning the core concepts of a particular topic, while Booster is better suited for those who are fine-tuning what they already know.
So what's the verdict?
Overall, DAT Bootcamp and DAT Booster have similar offering with DAT Bootcamp offering slightly more things like the app and more practice questions.
However with DATBooster having a lower tag price, it can be a great option for people with a tight budget. This especially if you use our coupon code "testpreppal" in checkout.
DATBooster Review FAQs
Does DATBooster Include PAT Booster?
Yes, DATBooster includes PATBooster.
Booster equips you with unlimited Perceptual Ability Test questions, allowing you to manipulate them in 3D and guaranteeing you a significant advantage. Booster's PAT section is very representative.
How Long Does DATBooster Last?
DATBooster lasts for 90 days or 180 days based on the option you paid for.
Whether using the program as a learning tool or simply fine-tune your grasp of some concepts, the 90-day period will be enough to prep you for the actual test. However, for some people it's better to get 180-day period.
Does DATBooster Have An App?
No, DATBooster does not have an App.
Does DATBooster have a discount or coupon?
Yes, DATBooster offers a discount to all readers of TestPrepPal. Please use our coupon code "testpreppal" in checkout to get a 15% OFF.
Verdict
From what we've seen, DAT Booster would be a valuable DAT prep resource to invest in.
In addition to providing you with some much-needed extra practice, the program will help you craft and stick to a particular study schedule that's ideal for you. This way, you can pace your studying, therefore, maximizing your DAT prep time.
Best of luck!