About us
Our journey started in 2020 with a small team that was dedicated to create unbiased reviews to help students find the best value-for-money prep courses. Today, we have written hundreds of reviews that have benefited more over 100,000 students so far.
Our mission
"helping students find the right prep course that provides the best value for money"
As ex-students ourselves, we know how overwhelming finding the right prep materials can be. There's a lot of resources, books, courses and videos out there. However, it's hard to know which ones are the best and which ones are innaccurate or just simply a waste of your time
We have started TestPrepPal.com to help solve that exact problem. Our team of researchers and ex-students will sift through all the materials in the market in order to find the best resources. Our goal is to identify the best prep courses that can make test preparation less stressful and organized.
Unlink other websites that will cover every test on the planet, we have a different approach here at TestPrepPal. We do a lot of research to understand the pain points and specificities of any standardized test before we start creating articles about it. This is why so far we are only covering a few tests (MCAT, DAT, LSAT, OAT and INBDE) that we think we know a lot about and can provide real insights that will really help students preparing for these tests.
The team at TestPrepPal strives to always have unbiased, accurate and up-to-date reviews about the prep courses. However, if you notice anything you think is not accurate, please let us know at [email protected].
Editorial principles
In-depth research
Our team spends hours of research going through everything that people have said about the prep course. From online reviews and forum discussions, to Facebook groups.
First-hand experience
Most of the prep courses that we reviewed were tested by our team to see if they live up to what the prep company claims.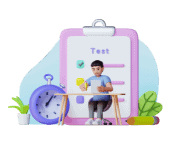 Free practice materials
Our end goal is to help you with your test preparation. Therefore we have created many free practice materials and tools to help you in your prep journey.
Our Team
John Reed
TestPrepPal co-founder and editor-in-chief responsible for making sure every single article we publish on the website aligns with our editorial standards. He's an alumni of the university of Pennsylvania and had +5 years in the education space.
Head of partnerships. Tom's job is to make sure we establish and maintain great partnerships with all the different players in the test prep industry (ex: test prep companies, tutors and universities)
Leah Waithera
Leah is the webmaster in charge of publishing and designing the articles. Her goal is to turn the content written by our experts into visually appealing articles that are easy to read by our readers.
Contact us
Contact us
For any advertising or media inquiries, or in case you just wanted to share some feedback, please use our contact page.
Here are our contact details:
Address: 1110 Birch Street South Connellsville PA 15425
Phone: +1 317-883-3520