The MCAT is a test you really do not want to have to retake.
Studying for this test can be extremely gruelling, though, and it is not uncommon for students to feel underprepared even after months of studying.
A good strategy to ensure a great MCAT score is to get started on practice questions as soon as possible, rather than putting it off until the final weeks of your study time.
In this regard, UWorld is the absolute gold standard and will prove to be a game changer in your studies.
Let's dive right into this UWorld MCAT review and learn more about this study tool, shall we?
Back-to-school limited deal: Get up to $700 OFF today and start your MCAT prep the right way!
Pros
Best video lessons for MCAT in the industry.
Offers all prep options: online, live classes and private tutoring
Score increase guarantee
Cons
Higher price tag but we think it's well justified.
UWorld MCAT Overview
| | |
| --- | --- |
| | |
| | |
| | |
| | |
| | |
| | |
| | |
| Full-Length Practice Tests | |
| | Very Detailed, & Illustrative |
| | |
| | |
| | |
| | |
UWorld MCAT is a question bank resource for medical students preparing to take the Medical College Admission Test. This top-notch resource has been created by subject matter experts knowledgeable in the basic sciences, humanities, and social sciences.
The UWorld Qbank features challenging questions coupled with in-depth answer explanations guaranteed to give you MCAT success.
You can get started with the UWorld MCAT free trial, which will give you access to 100 practice questions for 7 days, after which you will have to pay for a subscription.
The Basic Plan gives you 90-day access for $249, the Standard Plan provides 180-day access for $299, and the Elite Plan gives you 360-day access for $349. Do not forget to check Uworld MCAT discount codes page to see if you can save some money on your purchase.
Here's what you get once you pay for any of the UWorld MCAT question bank subscriptions:
Full QBank covering all topics as outlined by AAMC.
2,100+ premium MCAT-style questions.
Detailed rationales for all answer options.
Vivid illustrations to aid visual learning.
Performance tracking.
Digital Flashcards with integrated spaced repetition.
Customizable exams.
Fast, friendly, and reliable customer support.
The Standard and Elite Plans come with an extra feature: the "One-Time Reset" option for the QBank.
A reset essentially means that you can permanently and irreversibly delete all your test and performance data from the UWorld system, so you would basically be starting afresh.
UWorld MCAT Review For 2023
Exam-Like Interface
The UWorld interface is designed to mirror what students will find when sitting for the real MCAT exam, therefore providing a realistic test stimulation as you study and prepare for the actual exam.
Familiarizing yourself with the MCAT exam interface from early on in your MCAT preparation will help minimize anxiety on exam day. This allows you to build your test-taking confidence so you can think critically come test day.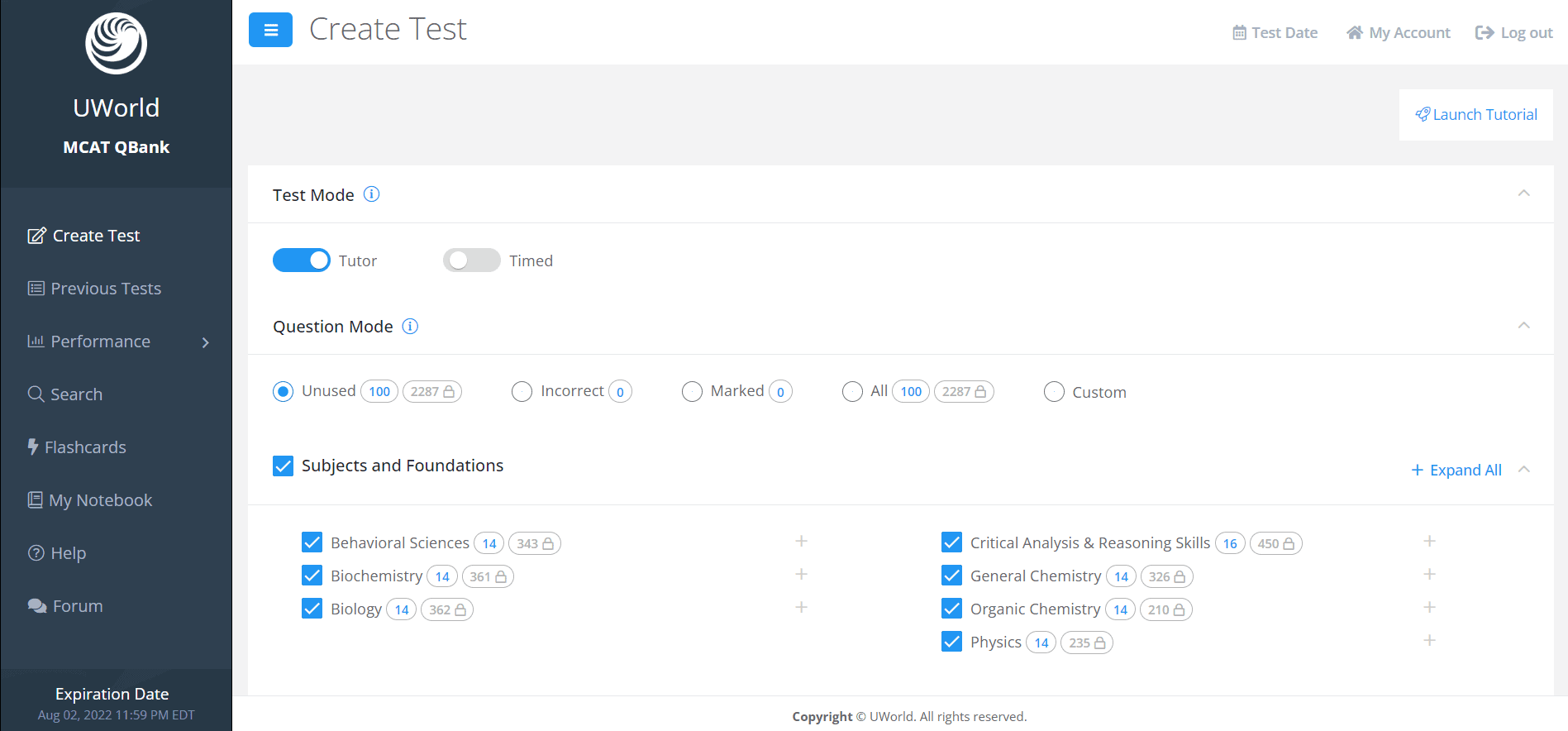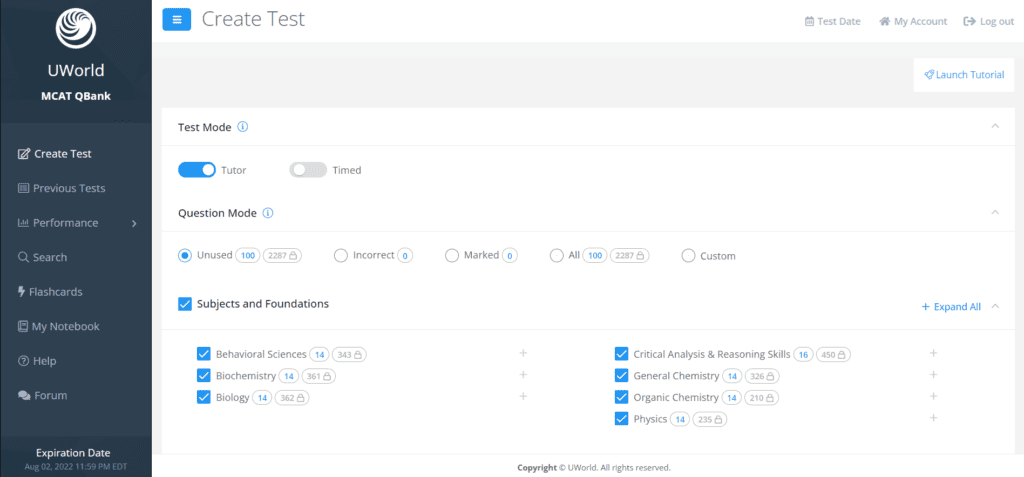 Furthermore, the UWorld interface is intuitively easy to use and navigate, giving you the liberty to choose your preferred test mode.
The 2 test modes are Tutor and Timed, whereby Tutor Mode reveals the correct answer after you answer each question, and Timed Mode allows you to set a time limit on a test.
MCAT QBank
The UWorld MCAT Question Bank is mapped to align with the AAMC blueprint in terms of how content is strategically organized and regularly updated.
This means that there is no guesswork in how this MCAT prep resource is developed, evaluated, or maintained. Everything is done to ensure UWorld aligns with the MCAT test plan blueprint as prescribed by the association that regulates American medical colleges.
Each question in the QBank has been written at or above exam-level difficulty to ensure students prepare adequately using challenging practice questions.
The UWorld questions are primarily passage-based, replicating the style and difficulty of MCAT passages and question types.
The idea is that by the time you are done mastering these MCAT-style passages, your ability to think and reason critically will be sufficiently challenged, so sitting for the actual exam will just feel like you are practicing with UWorld.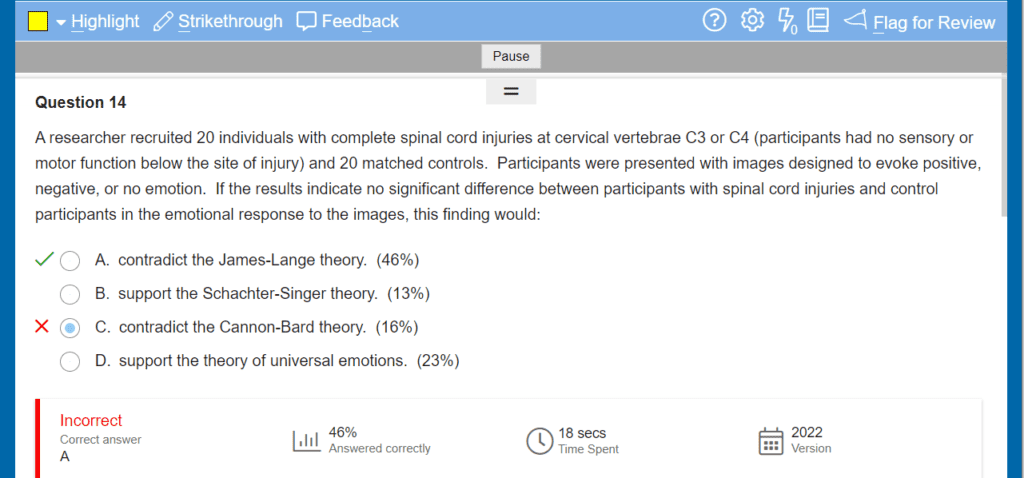 One handy feature is the ability to mark or flag questions, so you can easily review them later for efficient studying.
Furthermore, another unique aspect to this QBank is that it covers the CARS section, allowing you to work on your critical reasoning skills which is a vital requirement for medical examiners.
In case Qbank questions are of high importance to you, we do actually recommend you take a look at Blueprint MCAT as they are the best in the industry when it comes to MCAT questions. And by the way, if you are wondering how they stack up against UWorld, we created this article recently where we looked at both programs to see which one is better: Blueprint MCAT vs UWorld
Back-to-school limited deal: Get up to $700 OFF today and start your MCAT prep the right way!
Pros
Best video lessons for MCAT in the industry.
Offers all prep options: online, live classes and private tutoring
Score increase guarantee
Cons
Higher price tag but we think it's well justified.
Top-Tier Answer Explanations
One key advantage to using UWorld is how they go above and beyond with explaining answers. This helps minimize content gaps during reviews.
From images of experimental procedures to graphically annotated passage data to illustrated tables and flowcharts, the innovative answer explanations used by UWorld are extremely thorough.
The content-rich explanations feature colored images and vivid scientific illustrations to aid visual learning for better understanding and retention of content. Better yet, this has been provided for both correct and incorrect answer options.
The detailed answer explanations include term definitions and meticulous explanations of MCAT concepts in a clear, step-by-step manner.
Despite being content-rich and comprehensive, the rationales are still very easy to understand. Additionally, you are provided with a summary of overarching themes from each question.
Customizable Exams
From the large volume of questions featured in each UWorld QBank, students can create unlimited practice exams, mimicking the real exam.
For customizable study sessions, you can create a single MCAT practice test that spans multiple subjects. And as you go through each multi-subject test, you will have each question tagged with the corresponding AAMC subject, skill and foundation.
While taking each custom test, you can choose between Tutor Mode and Timed Mode, depending on the study session you desire to have.
Additionally, you can use Question Mode to help tailor your test based on whether you want to use new unseen questions, the questions you've previously answered incorrectly, questions you've previously flagged for review, or just a random selection of MCAT questions.
These custom tests can also be saved for review at a later time.
Flashcards
With UWorld MCAT, you can create custom flashcards based on which complex concepts you would like to master. Once created, these cards will automatically be made available during your future study sessions.
The flashcards feature also allows you to browse and organize these custom flashcards using unique self-created tags or using expanded filters such as subject, foundation, etc.
You can also easily edit a flashcard using a flashcards pop-up on the test interface. This way, you can quickly and easily add any UWorld content to a new or existing flashcard in a matter of seconds.
The flashcards come integrated with spaced repetition, and you can access this within the study section of the QBank. At the same time, you can quickly review your progress using innovative flashcard study statistics.
Mobile-Friendly
UWorld comes with a fully-featured mobile App available on Apple, Android, and Amazon devices.
Furthermore, this mobile App syncs across devices, so by seamlessly syncing with the desktop version of your QBank, the App allows you to easily resume your studies from one device to the next.
The greatest advantage of this is that it allows you to study on the go, therefore enabling you to optimize your MCAT test prep period. Also, when switching venues, say, going from home to class, the App allows you convenient, uninterrupted access to your entire MCAT QBank.
Performance Tracking
The detailed performance tracking and reporting used by UWorld shows your progress in individual MCAT subjects and Foundations, allowing you to evaluate your progress in each subject.
You are provided with targeted performance reports which identify your strengths and weaknesses, pinpointing specific subjects and foundations where you need improvement.
You can then use these reports to create custom remediation tests aimed at helping you master the concepts holding you back from getting excellent MCAT scores.
At the same time, these reports allow you to compare your performance to other users, which is a vital advantage considering the MCAT is a standardized exam.
UWorld MCAT Pros & Cons
– Designed to mimic AAMC questions in terms of style, format, and content.
– Offers extremely detailed explanations for both right and wrong answer choices.
– Uses vivid illustrations and other visual aids to enhance knowledge retention.
– You can create customized exams unique to your study needs.
– The MCAT-like interface helps reduce anxiety on test day.
– It does not contain any full-length practice tests.
Verdict
UWorld MCAT QBank is an excellent resource for any student looking to get into a good medical school.
The premium MCAT-style questions mimic the AAMC question format, difficulty level, and test blueprint, so much so that you can use this MCAT prep resource to accurately gauge exactly where you stand and whether you are adequately prepared to sit for the actual exam.
That being said, the top-tier answer explanations are quite possibly the best part of using UWorld QBank. This company truly goes above and beyond when it comes to how they have designed their answer explanations.
The thorough explanations offered for both correct and incorrect answer choices ensure that you will not have any gaps in your content review. Everything is explained clearly, in a detailed yet concise manner.
Using vivid, high-quality visuals ranging from images and illustrations to charts, graphs, and diagrams, this QBank engages your active learning, enhancing your retention of even the most difficult concepts.
Furthermore, the UWorld interface is intuitive and very easy to navigate, ensuring that you spend more time studying rather than trying to figure out how the platform works.
Should you experience any difficulties and need some assistance, you will be happy to know that UWorld's customer service is fast, friendly, and reliable, offering excellent service to get you back on track with your MCAT prep.
From letting you create custom practice tests to being able to create flashcards, this MCAT QBank guarantees a personalized study experience to perfectly suit each student's needs.
The downside is that this question bank does not feature full-length practice tests. Nonetheless, you can overcome this by creating your own practice tests with the aid of the 'Question Mode' feature.
UWorld MCAT FAQs
Is UWorld Enough For MCAT Prep?
Yes, UWorld is enough for MCAT prep, provided you have sufficiently covered your content review.
Primarily, this study tool is designed to familiarize you with MCAT-style questions, so it only makes sense that you have a good foundation of content review before deciding to embark on this question bank.
Nevertheless, UWorld does an excellent job at providing pertinent information required to answer a question correctly. The answer solutions are pretty detailed and easy to understand, further cementing your grasp of even the most challenging concepts.
What Is A Good UWorld MCAT Score?
A good UWorld MCAT score would be anything above 65%.
Above 75% is a very good score, and anything above 80% is pretty much excellent. An excellent score indicates that you have a good grasp of concepts, are able to understand the passages, and know the various details quite well.
That being said, do not stress too much over your UWorld MCAT score percentage because different students will use this tool differently.
Instead, use this tool to identify content gaps, pay attention to your mistakes, and thoroughly study all the answer explanations for both correct and incorrect answers.
UWorld Vs. Actual MCAT?
Uworld questions are typically clear, unambiguous, and logical, which is part of what makes them so representative of the actual MCAT.
The major difference is that UWorld is harder for content while the actual MCAT is more challenging when it comes to question logic. On the one hand, you have content-heavy questions, while on the other hand, you have questions that focus more on critical thinking.
That being said, the average UWorld question is harder than the average MCAT question. However, on the real exam, the questions that stratify the 87th+ percentile scores will be harder than UWorld, requiring more critical thinking and analysis.
How Long Does It Take To Finish The UWorld MCAT Prep Course?
It will roughly take you a month to finish the UWorld MCAT prep course, assuming you are tackling and reviewing about 60 questions per day.
A good plan would be to tackle between 40-100 questions daily, depending on how much daily study time you can dedicate and which sections or topics you are focusing on on that particular day.
Remember that understanding the content sufficiently is more important than rushing through the QBank just so that you can be done.