Well, it's time to settle this debate once and for all.
In 2023, I think most pre-dental students would agree that DAT Booster and DAT Bootcamp are the best value-for-money prep courses out there.
However, the community is divided when it comes to which program wins the battle: DAT Booster Vs. DAT Bootcamp.
So, we got our hands on both courses and we compared them in every possible way to see which one has the upper hand.
Let's dive in.
****If you are in a hurry, here is what you need to know****
Both the DAT Booster and DAT Bootcamp are excellent prep courses.
DAT Bootcamp has a better user interface, a mobile app and more detailed videos (Dr. Mike's Chemistry whiteboard videos are excellent). On the other hand, DAT Booster has a better Biology and PAT section, study materials that get updated more often as well as representative practice tests that are close to the real test. .
If money is not an issue, I recommend getting both of them as they can complement each other in many ways. After all, what's a few hundred dollars if that means you can massively increase your chances of getting into dental school?
Whatever option you go with, we have coupon codes to help you save money on both programs:
DAT Booster Vs. DAT Bootcamp Overview
DAT Booster is a powerful study tool that provides you with everything you need to ace the Dental Admission Test.
Boasting a team of elite educators, this DAT prep program features comprehensive content, including high-quality video lessons, advanced generators, and analytic software to ensure you have no content gaps.
Although you can access some study materials using a free account, It's much better to pay for a premium account that offers a host of features guaranteed to provide adequate DAT preparation.
From thousands of practice materials and DAT-related videos to the integration of PAT Booster for excellent PAT practice, paying for a premium DAT Booster account is more than worth it.
This is the best bang for your buck when it comes to premium DAT prep programs.
Pros
The best PAT section content in the industry.
Representative practice tests that are close to the real thing.
Beautifully illustrated videos that get right to the point.
Cons
No mobile app available
Use code at checkout: TESTPREPPAL
On the other hand, DAT Bootcamp is a similarly well-recognized DAT study tool comprising a hoard of study materials.
Beyond just being a study tool, Bootcamp prides itself in being a study community with over 20,000 students who've walked or are currently embarking on the same journey as you.
Similarly offering two premium membership options, a premium DAT Bootcamp account provides access to Dr. Ari's proven DAT study schedule, as well as the iOS and Android mobile Apps. So, all in all, it is definitely money well spent.
The all-in-one DAT prep that everyone is talking about is here, plus with a discount
Pros
Provides all the necessary materials needed to prepare for the DAT.
The best user interface in the industry.
An advanced markup feature to easily improve on your weaknesses.
Cons
Sometimes the videos can be too detailed
Use code at checkout: TESTPREPPAL10
DAT Bootcamp Vs. DAT Booster Detailed Comparison in 2023
1. Price Comparison
Bootcamp Pro costs $497 for 90-day membership access, while Bootcamp Plus costs $1,197 for a 180-day membership.
On the other hand, DAT Booster will cost you $299.99 for a 90-day membership and $499.99 for a 180-day membership.
While pricing isn't everything when it comes to choosing the best DAT prep course, the consensus is that for almost $200 cheaper, DAT Booster offers much better value for money than Bootcamp.
Taking the Dental Admissions Test is an expensive venture as it is, and most pre-dental students simply cannot afford to spend a ton on DAT prep courses, no matter how badly they may want to ace the DAT exam.
Verdict: Because of this, Booster wins for being cheaper yet without compromising the quality of study materials and the general DAT preparation it offers its students.
2. Practice Exams and Questions
Both Booster and Bootcamp offer more or less the same amount of practice as far as the quantity of practice materials goes. You have more or less the same number of full-length exams, subject tests, and practice questions on both resources.
The difference, therefore, comes in the quality of practice offered in terms of up-to-dateness and how representative the material is of the 2023 DAT.
With regard to this, DAT Booster is a much more favorable resource for practice material because Booster's tests and questions are the most representative of the real DAT exam.
Particularly in the science sections, numerous students have reported seeing similar questions word for word on the actual exam, as they encountered in DAT Booster practice tests.
That being said, Booster is significantly harder than the real DAT. Booster's scores are deflated by about 3 points.
Verdict: Booster is the best DAT resource, with practice tests and materials that are up-to-date and most representative of the real DAT.
3. Video Lessons
Bootcamp has over 1,200 DAT video lessons, while Booster has 380+ video lessons, so even by sheer quantity alone, Bootcamp is in the lead here.
The video production quality is quite decent on both platforms.
However, Bootcamp's videos are more broken down into specific topics making it easier to jump to the particular section you need to review.
Also, to reinforce your content grasp, Bootcamp offers a quiz after each video lesson. This is a great feature that you won't find on DAT Booster.
Booster Videos are much more condensed and concise, going straight to the point, but despite that, these video lessons are still easy to follow.
The instructor does an excellent job at explaining the basics, building up towards the topic of discussion, rather than just diving in as appears to be the case with Bootcamp.
As for Chemistry, Bootcamp's lessons taught by Dr. Mike are far better than Booster's lessons taught by Professor Dave.
Verdict: Bootcamp does an excellent job of breaking down its video lessons into specific topics, making it easy for students to jump to the exact section they need to review content.
On the other hand, Booster videos may be condensed, but they are still easy to follow.
Nevertheless, this round hands-down goes to Bootcamp.
4. Study Materials
a) Cheat Sheets & Worksheets
DAT Booster offers Biology cheat sheets while Bootcamp doesn't.
Just as well, Booster offers more Organic Chemistry worksheets than Bootcamp. While both test prep companies provide Organic Chemistry reaction sheets, Booster goes further to have lab tests and naming chart worksheets.
Verdict: DAT Booster has more comprehensive cheat sheets and worksheets.
b) Study Notes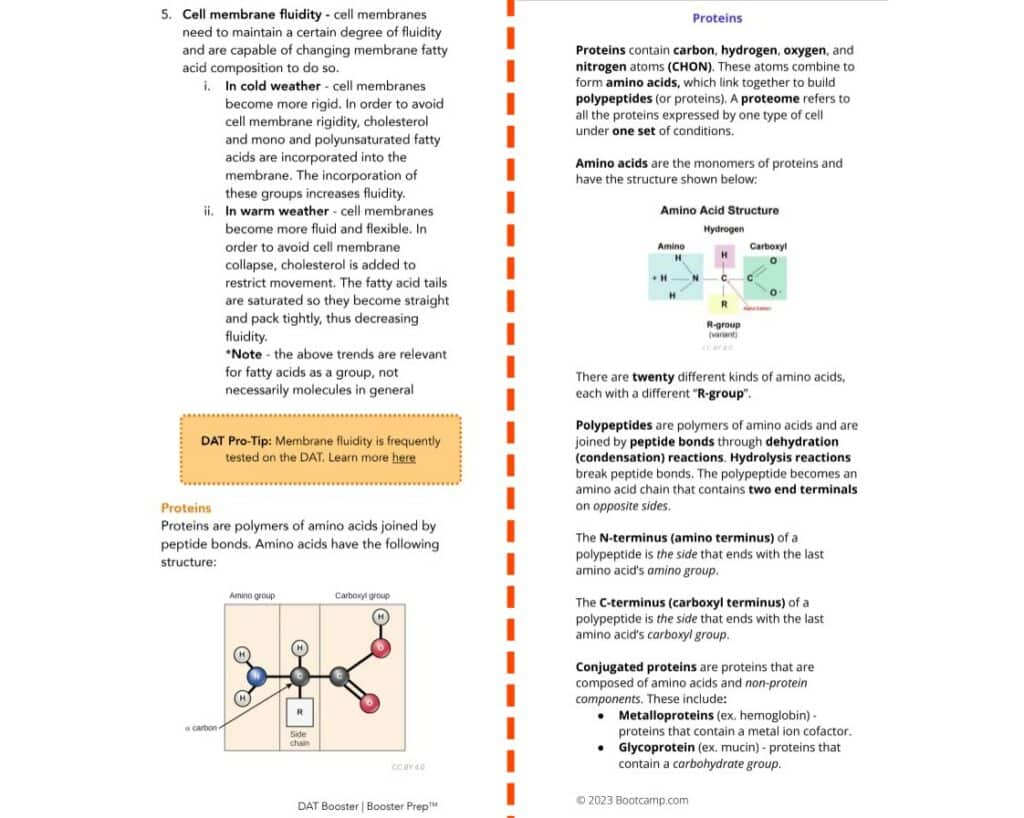 DAT Bootcamp only provides study notes for Biology.
On the other hand, DAT Booster has study notes for Biology, General Chemistry, Organic Chemistry, and Quantitative Reasoning.
Booster's study notes are divided by topics, making them more organized and easier to navigate to the exact document you need. On the other hand, Bootcamp's Biology notes are all contained in a single document.
Booster's notes are bulkier and more detailed, while Bootcamp's notes are far more condensed and straight to the point.
Both Bootcamp and Booster's notes are just as easy to follow through.
Verdict: Booster definitely wins this round. They provide notes for every subject, and their topical arrangement makes it easier to navigate to the exact section you need.
c) Flashcards
DAT Bootcamp provides over 3,600 Quizlet flashcards, but only in Biology.
DAT Booster provides over 4,000 Quizlet flashcards: 3,400 in Biology and 600+ in General Chemistry.
While Bootcamp only has Quizlet flashcards, Booster has both Quizlet flashcards and Anki Decks. Booster's Anki decks cover Biology, General Chemistry, Organic Chemistry, and Quantitative Reasoning.
Verdict: Booster offers more flashcard options, and they comprehensively cover each DAT subject.
5. PAT Tools and Material
a) PAT Generators
While both Booster and Bootcamp have PAT Generators, Bootcamp lacks Keyhole Generators, while Booster lacks Top-Front-End TFE visualizers.
Another difference is that while Bootcamp automatically displays the solutions once the timer has run out, Booster allows toggling the solutions on and off.
Additionally, Bootcamp allows the option to choose either beginner or DAT modes. Booster does not have such an option.
Bootcamp's timer maxes out at 30 seconds, but Booster's timer allows you to have as many as 70 seconds to solve the question.
Verdict: Because you can switch solutions on and off as you wish, depending on how long it takes you to solve the PAT question, I'll lean towards Booster here.
b) PAT Question Banks
Booster has a more updated question bank that includes Floating cube practice.
Verdict: The best DAT prep courses should offer plenty of practice, and because Bootcamp has a much larger question bank, it's the clear winner here.
c) PAT Analyzers
A PAT Analyzer is a special software designed to pinpoint your exact areas of weakness in the various sections of the Perceptual Ability Test.
So how it works is that you start by completing a number of questions in a set amount of time, and then the software will assess your performance in detail.
Bootcamp doesn't have any Analyzers, but Booster has Angle Ranking, Cube Counting, and Hole Punching PAT Analyzers, which can go a long way to boost your PAT score.
6. Interface and User Experience
Bootcamp's website runs much faster and smoother than DAT Booster's.
The one place I'd give Booster some credit is that the side panel main menu is still visible even when watching video lectures.
By contrast, on Bootcamp, the side panel main menu disappears when you get into the video lessons. Therefore forcing you to leave the video lessons panel in order to see and navigate the main menu.
Nevertheless, Bootcamp's home page is much better laid out and organized, giving you a good visualization of exactly what you have to tackle and how much you've accomplished so far.
Verdict: Bootcamp provides a much more pleasant user experience in how their home page is laid out and how smoothly their website runs.
7. Crash Courses
Crash courses are intense, affordable live-online classes that comprehensively highlight high-yield info, tips, and tricks. All this is covered in a 3-hour class composed of a very small group of students.
The entire point of a Crash course is that you get to learn weeks of material in just 3 hours. This way, you can boost your DAT scores in the least amount of time.
While DAT Booster provides crash courses, Bootcamp doesn't.
Due to their time-saving nature, Booster's crash courses have become widely popular with pre-dental students owing to their time-saving nature.
Each crash course is 3 hours long and will cost you $125 for Biology, Organic Chemistry, or Perceptual Ability. Quantitative Reasoning crash courses are cheaper, priced at $99.
8. Additional Features
a) Markup Feature
Bootcamp's mark learning system allows you to tag questions as 'Learning', 'Reviewing', 'Mastered', and 'Bookmarked'.
Conversely, Booster's mark learning system only allows you to tag items as 'Learned' and 'Reviewed'.
Verdict: Bootcamp wind for having more options and, therefore, a better, more concise organization system.
b) Mobile App
While Booster has no mobile App to allow you to study on the go, Bootcamp's mobile App is available on Android and iOS.
c) Score Guarantee
In contrast, while Bootcamp does not offer any guarantees, Booster has a Higher Score Guarantee. 
Is DAT Booster Harder Than DAT Bootcamp?
Based on some online reviews, we can safely say that DAT Booster practice tests have been more representative of the real DAT test. Is DAT Booster therefore harder than DAT Bootcamp? not necessarily. It's just closer to the real test.
Both DAT Booster and Dat Bootcamp are outstanding DAT prep programs that do a great job at getting pre-dental students prepared for the actual Dental Admissions Test exam.
As far as the difficulty of the practice tests that these two courses provide, they are very close to each other. As the DAT test questions change every year, that can make one course or the other seem more difficult compared to the real test.
With that being said, from multiple online reviews we gathered on Reddit and Facebook communities, we get the impression that DAT Booster practices tests have been more representative of the actual DAT test in the recent years.
However, you cannot decide which is the better DAT prep program, based merely on which is harder. Let's take a deeper look at both courses and see what each has to offer.
Verdict: Which one is better?
While Booster is way better for Biology than Bootcamp, Bootcamp has far better Chemistry videos than Booster.
DAT Booster is incredibly up-to-date and representative of the real test, especially when it comes to the perceptual ability and Biology sections.
Furthermore, this is further enhanced by the fact that DAT Booster comes integrated with PAT Booster to provide the ultimate learning experience for anyone who's particularly struggling in the PAT section.
Considering the fact that Booster has already included floating cube practice questions, this is quite possibly the most representative resource for any student preparing for the DAT exam.
Bootcamp's video lessons are excellent for content review. This self-paced course does a great job of breaking down its video content to specific topics so you can effortlessly jump to the exact section you wish to review.
Furthermore, Bootcamp's mobile App is a huge advantage in that you have full access to your videos and question banks while on the go.
So if you are always up and about, and therefore, it's important for you to have your study resources on you to maximize every free time you can squeeze in, then I recommend DAT Bootcamp.
Lastly, we really cannot ignore the money factor, now can we?
For only a few hundred dollars, Booster gives you an elite studying experience using material that's very representative and absolutely up-to-date. Whereas Bootcamp charges almost double that for the same.
Furthermore, Booster offers a higher score guarantee, while Bootcamp doesn't.
Not only does this show the faith DAT Booster has in their study program, but it also doesn't help with giving you some peace of mind when signing up for Bootcamp.
Booster's more affordable pricing makes it quite challenging to build up an efficient case for DAT Bootcamp, but as illustrated above, that is not to mean that the latter has no perks of its own.
Ultimately then, perhaps it all boils down to certain individual factors:
How much more are you willing to spend for the added advantage of having access to your study materials while on the go?
Which DAT section do you need particular help with: Chemistry, Biology, or Perceptual Ability?
Which matters more to you: content review or practice material?
Do you have your own comprehensive study notes?
DAT Booster is affordably priced with excellent quality, representative practice material, and top-notch study notes in every subject and is best suited to help with Biology and PAT. 
On the other hand, DAT Bootcamp has pretty great video lessons, conveniently allows you to study on the go, and is best suited to help with Chemistry.
So, it all depends on what you value more and what's more important to you.
If money is not an issue, I'd actually recommend you buy both of them to make sure you get the best of both worlds. But I understand that is not possible for most people, so just choose what you feel better about and get right to work.
At the end of the day, what matters more is your dedication and hard work. So focus on that instead of wasting too much time trying to decide which DAT prep course to buy. Both of these programs are excellent, so do not sweat it and start your preparation.
Either way, do not forget to use our discount codes to save yourself some money by using these links:
Let me know in the comments about your experience with any of these programs, I would love to hear your thoughts.
Also, we actually did a few other comparison that you might find interesting:
FAQs
DAT Booster or DAT Bootcamp? Which Is Better?
Booster is far cheaper, with representative, up-to-date content, and is a particularly excellent resource for Biology and PAT sections.
Bootcamp has excellent video lessons, a Mobile App where you can access all your study material on the go, and is particularly helpful for the Chemistry section.
So ultimately, your choice between DAT Booster and DAT Bootcamp will depend on a couple of individual factors informing what you are primarily looking for in a DAT test prep course.
Is DAT Booster Harder Than DAT Bootcamp?
Yes, DAT Booster is considerably harder than DAT Bootcamp, but keep in mind that Booster is more representative of the real DAT.
Students who've taken the DAT recently have reported seeing certain questions word for word on the actual DAT as they appeared in Booster's practice tests.
Is DAT Easier Than DAT Booster?
Yes, the real DAT is slightly easier than Booster, which is actually a good thing.
Getting into a good dental school is very competitive, so it helps to over-prepared using challenging material rather than under-prepare using practice resources that are too easy and only provide you with a false sense of security.