Considering the total MCAT score range falls between 472 and 528, with a mean and median of 500, 508 could be considered a pretty decent score.
At the very least, a 508 means you scored above the central portion of the score distribution. But is that enough to make this a good score?
Getting into medical school can be pretty competitive, and yet the competitiveness only keeps increasing every year, challenging students to constantly shoot for a higher MCAT score to better their chances of getting into a top-tier med school.
So how should you feel about a 508 on the MCAT? IS 508 a good MCAT score? Well, let's find out. 
Holidays sale: Get up to $400 OFF today and start your MCAT prep the right way!
Pros
Best video lessons for MCAT in the industry.
Offers all prep options: online, live classes and private tutoring
Score increase guarantee
Cons
Higher price tag but we think it's well justified.
Quick Summary
For the 2021 – 2022 testing cycle, a 508 MCAT score ranks in the 72nd percentile.
The mean total MCAT score for matriculants accepted into allopathic medical schools during this cycle was 511.9.
508 is a pretty borderline score that will require the rest of your med school application to be stellar.
508 is a better score if you have an even distribution in each individual section score, as opposed to having an uneven distribution.
Is 508 A Good MCAT Score?
The MCAT is a major exam, and many students always aim to perform stellarly or get an above-average MCAT score at the very least.
While you really should put in the time, effort, and dedication it takes to ace the MCAT, you need to remember that this score isn't everything, and it isn't the only factor upon which your acceptance into a good medical school will be based upon.
Whether or not 508 is a good MCAT score will depend on a variety of factors unique to each student, including:
Your GPA.
The overall strength of your application.
Your target medical schools.
Your individual section scores.
At the same time, you need to remember that there are other non-quantitative factors that will also affect any medical school admissions process.
These factors include letters of recommendation, extracurriculars, undergraduate coursework, clinical experience, personal statement, etc. Read our article about the difficulty of the MCAT test.
What Percentile Is A 508 MCAT Score?
According to data from the May 2021 – April 2022 testing year, obtaining a score of 508 on the MCAT means that you performed in the 72nd percentile.
This means that you scored equal to or higher than 72% of the total test-takers but lower than 28% of test-takers.
This means that an MCAT total score of 508 is actually above average, seeing as the 50th percentile, or rather, the average MCAT scores for the 2021 – 2022 cycle, fell between 501 – 502.
An even distribution for the section scores is always preferred. So assuming an even distribution, getting a 508 will mean you scored 127 in each of the individual MCAT sections. This means a 127 in Chem/Phys, a 127 in CARS, a 127 in Bio/Biochem, and a 127 in Psych/Soc.
Let us break down these individual section scores so you get an idea of exactly where each score places you:
As long as you score a high, even distribution for each section, 508 can be viewed as a good score because it shows medical schools that you passed each section of the exam. In this case, 127 would be the ideal even distribution for each individual section score.
Getting a 1-point deviation above or below 127 for any two sections would still be okay.
For instance, you would still be fine if your 508 was distributed as 128 – 126 – 127 – 127 in each of the four sections.
Will 508 Get You Into Medical School?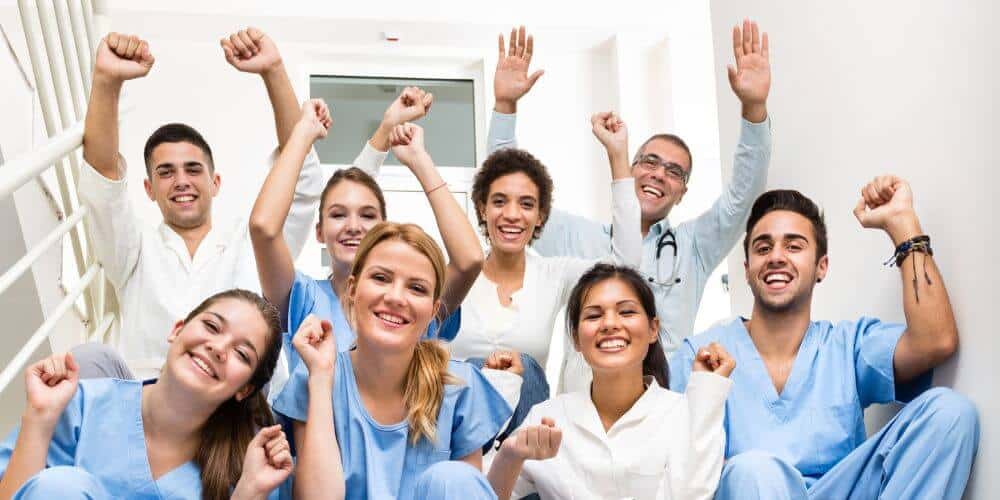 The reason why the MCAT is such a major exam is that how you perform in the MCAT will be used as a measure of how well you will succeed in medical school. So, of course, plenty of students often wonder whether their scores will get them into a good medical school.
Those with higher MCAT scores falling in the 80th percentile, of course, never have to worry about this, as such a score will undoubtedly get into a top medical school.
But what happens when you perform in the 72nd percentile? Can you get into medical school with an MCAT score of 508?
The short answer is yes. 508 can definitely get you into medical school.
The long answer, however, is a little more complicated and nuanced.
For the 2021 – 2022 cycle, the average MCAT score of matriculants, meaning the medical school applicants who got accepted into MD-granting medical schools, was 511.9, which falls in the 81st percentile.
That is to mean that with lower MCAT scores such as 508, your chances of getting into medical school would be pretty low, but not altogether impossible because 508 falls well within the standard deviation range of 6.6.
As previously mentioned, medical schools take a holistic approach when it comes to assessing their applicants' potential. Your MCAT score is only one piece of the puzzle and cannot solely determine your acceptance into medical school.
a) Your GPA
Displaying good academic prowess in your undergraduate years will have medical school admissions committees more inclined to accept you into their programs.
Many med schools will forgive a lower GPA if the MCAT score is higher, and the reverse is also true, whereby a higher GPA could compensate for lower MCAT scores.
As such, having a higher GPA of, say, 3.9 will go a long way in boosting your rather unimpressive MCAT total score of 508.
b) Your Target Schools
With an MCAT score of 508, you should, first of all, consider applying to your state medical schools for the simple reason that schools generally tend to favor in-state students.
The more medical schools your state has, the lesser the competition and, as such, the higher your chances of getting in with average scores. As long as you aren't picky with your school of choice, of course.
While 508 is a decent score, it isn't even close to being the highest MCAT score, so you generally need to abandon all hope of getting into a top-tier school.
That being said, it doesn't mean that 508 will only limit your options to mediocre selections.
There are very solid medical schools that take less competitive scores. These schools include:
| | | |
| --- | --- | --- |
| | | |
| Florida State University College of Medicine | | |
| University of California - Riverside School of Medicine | | |
| University of Kentucky College of Medicine | | |
| Central Michigan University College of Medicine | | |
| East Tennessee State University Quillen College of Medicine | | |
| Howard University College of Medicine | | |
| Louisiana State University - Shreveport School of Medicine | | |
Assuming you are a good student; otherwise, there are plenty of schools that will take you. The catch is that you will need to apply to about 20 medical schools if you want to be accepted.
Of these 20 schools, the idea is to apply to a handful of allopathic medical schools, with the majority being applications to osteopathic schools.
If your science scores are strong, especially, a 508 MCAT score is unlikely to be the thing that keeps you out of med school. You may not get admission into MD, but you can certainly get into DO programs.
Here are a couple of other things you can do to better your chances of getting into an MD program with an MCAT score of 508:
Focus on getting your clinical experience.
Volunteer above average.
Polish your personal statement to show your passion for medicine.
Uniquely highlight your journey to medicine.
Is 508 A Bad MCAT Score?
While scoring a 508 on practice tests could be seen as a good thing, attaining the same score on the actual MCAT exam may not necessarily be something to rejoice over.
A good MCAT score is considered to be at or above the 80th percentile, which in this case would be 511.
So looking at it from this angle, yes, a 508 could be viewed as a bad score so much that some students may even consider retaking the exam, but should you?
Should I Retake The MCAT With A 508?
508 will particularly be regarded as a bad score if your individual sectional scores are uneven or lopsided.
For instance, if your 508 was distributed as 129 – 125 – 126 – 128 in each of the four sections, then perhaps you should consider a retake.
Here's the thing: while a 1-point deviation is okay, a 2-point deviation above or below 127 will be viewed by medical schools as a mediocre score that can be improved upon.
The majority of students end up getting a 508, that's distributed as 128 – 125 – 128 – 127, with the CARS section being their lowest score.
Now, most medical schools are very understanding of how challenging the CARS section can be. So most American medical colleges have accepted students with such a distribution, as long as their GPA is high.
On the other hand, though, such a distribution won't get you admitted into Canadian medical schools because these institutions are known to value the CARS section the most.
These are the factors you should use to gauge whether you should retake the MCAT after scoring a 508.
Should you decide on a retake, make sure you schedule your MCAT test date appropriately so you have sufficient time to prepare so you do not end up with a 508 yet again or even a lower score!
FAQs About 508 MCAT Score
What Is The Lowest MCAT Score Accepted?
The lowest MCAT score accepted varies widely from school to school and from one admission cycle to the next.
That being said, so far, the lowest MCAT score accepted is, perhaps, 491.
Admission into the University of New Mexico School of Medicine requires you to have a GPA of 3.8 and a 491 MCAT minimum. That being said, though, the school does have an MCAT average of 505 for accepted applicants.
The Drew/UCLA Joint Medical Program at Drew University of Medicine and Science is another program where you can get in with a relatively low GPA and MCAT score.
The requirements here are a GPA of 3 and a 498 MCAT score. Better yet, this program comes with a potential transfer to UCLA.
What Is A Competitive MCAT Score?
A competitive MCAT score for the 2021-2022 testing cycle is 511.
This score ranks in the 81st percentile, which was actually the average MCAT score of students accepted into MD-granting programs.
Is A 508 A Good MCAT Score Canada?
Yes, 508 is a good score in Canada as long as you get a competitive CARS score because Canadian institutions place emphasis on the CARS section in particular.
A 508 distributed as 125 – 128 – 128 – 127 probably has a good chance of getting you into a Canadian medical school, as opposed to a 508 distributed as 128 – 125 – 128 – 127.
For Canadian schools, your 508 will largely be based on how you perform in the CARS section, as well as how strong the rest of your application is, of course.
Can I Get Into Med School With A 509 MCAT?
Yes, you can get into medical school with a 509 MCAT score.
A 509 on the MCAT ranks in the 75th percentile, which makes your chances of admission into an MD program that much better.