Passing your dental admission test (DAT) with high scores increases your options when choosing a dental school and kickstarts your career in the dentistry field.
As such, dental school candidates often need to prepare adequately using prep tests and questions.
DAT Cracker is a resource worth considering when using your internet connection to look for materials to help you prepare for the dental admission test.
Here's our detailed DAT Cracker review where we explain what to expect from this online study tool. 
**spoiler alert**
To be fair, DAT Cracker has not regularly updated in recent years. It's a still a cheap tool that can help students but we think most pre-dental students would far better with a more up-to-date pre course like DAT Bootcamp. Check our review on them here.
DAT Cracker Overview:
| | |
| --- | --- |
| | |
| | |
| | |
| | |
| Full-Length Practice Tests | |
| | |
| | |
| | |
| | |
| | |
| | |
| | |
DAT Cracker is an affordable web-based DAT training resource designed to help you ace your dental admission test when you're ready.
This relatively new DAT prep resource has rapidly gained recognition in the pre-dental field, and for good reasons:
55+ PAT and DAT practice exercises
1400+ practice questions with detailed explanations
Unlimited access to desktop and mobile devices ( Android, iOS, Mac & PC)
Randomized tests
Free updates
Ability to compare your scores with others
24/7 support team
Here's an in-depth DAT Cracker review to help you decide whether it's worth your money.
DAT Cracker Review for 2023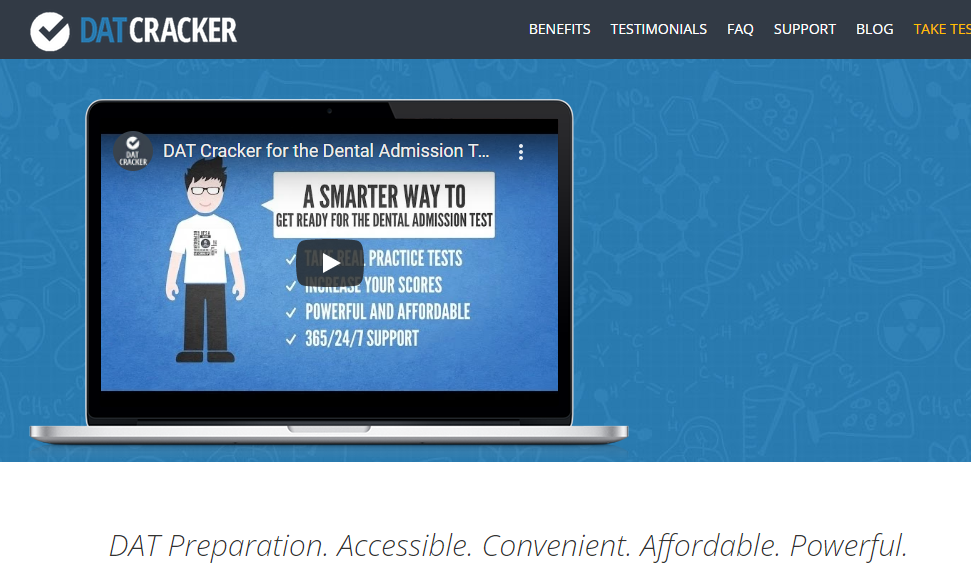 DAT Cracker is an excellent DAT prep resource to help you practice and score highly on your dental admission test.
This affordable and easily accessible DAT review package gives you multiple practice tests and questions for each section, helping you ace the actual DAT.
Here's an in-depth DAT Cracker review of what students can expect:
Full-Length Practice Tests
These tests can help you identify the areas that need the most work, helping you save time and become more efficient when studying.
Practice tests are an excellent way to familiarize yourself with the exam material.
When you upgrade your DAT Cracker membership, you can simulate your dental admission test with five full-length DAT practice tests and more in each section.
That gives you 55+ practice tests to help you understand the DAT testing patterns and the areas you need to work on. That's why these DAT practice tests have a similar difficulty level as the actual DAT.
Here's a breakdown of the practice tests that this DAT Cracker offers:
Biology: 5 tests
General chemistry: 5 tests
Organic chemistry: 5 tests
PAT (cube counting): 5 tests
PAT (hole punching): 6 tests
PAT (angle ranking): 8 tests
PAT (top frontend): 5 tests
PAT (Keyholes): 5 tests
PAT(folding): 5 tests
PAT full-length tests: 5 tests
Reading comprehension: 5 tests
Quantitative reasoning: 5 tests
Whether you're practicing cube counting, general chemistry, or quantitative reasoning, you'll receive a score report in your email following each test you take. Your score report is also available online for each subsection you take.
additionally, your score will be submitted to the company's leaderboard, helping compare your performance with others.
This reliable DAT test prep resource also gives you randomized tests for each section except for reading comprehension and pattern folding.
Practice Questions
Practice questions help you recognize which concepts you have mastered after a topic or study session, and what your specific weaknesses may be.
DAT Cracker gives you 1400+ high-yield prep questions that will help you identify your strengths and where you need more practice.
Measuring the concepts you have mastered is crucial in developing a study plan to polish your weak areas before the next study session or topic.
Fortunately, you only need a reliable internet connection to access the DAT Cracker study questions.
User-Friendly Interface
DAT Cracker features a user-friendly interface that helps students easily navigate the website to quickly access the information they need.
Generally, most students appreciate how accessible the DAT tests are and the ability to save their test results.
You can also easily access their blog to access more resources to help you ace the DAT. The blog is well-organized, and you can sort the resources in different categories or using tags.
Overall, this test prep resource excellently presents its studying materials to the students.
Mobile App
You can use the mobile app to track your progress and see how you're improving as you study.
This web-based resource has partnered with DAT Cram Cards to allow non-traditional students to access the practice tests and detailed explanations through an App.
The app features 2,200+ biology flashcards, 180+ quantitative reasoning flashcards, and 650+ general chemistry flashcards.
Like the website, the app is easy to use, and it offers valuable illustrations and images to help you grasp complex concepts.
You can mark the cards while reading them, allowing you to focus on areas where more practice is necessary. You'll also receive unlimited free updates and contact the DAT Cram customer care support if you have any questions.
Affordably Priced
Students who need more practice questions and tests to prepare for the DAT can access this resource for $199.
You can take a free tour of the site before upgrading your membership to unlock more practice questions and get unlimited access to other resources for 6-months. That's enough time to get a clear picture of how things unfold in the actual DAT.
The free membership allows you to take five diagnostic exams, including natural science, perceptual ability (PAT), quantitative reasoning, and reading comprehension.
You can upgrade your membership if you like what's on offer.
Community & Support
If you have any issues, DAT Cracker makes sure they report back to you via email, within 24hours.
This web-based resource features a highly responsive customer support team that addresses your issues all day long.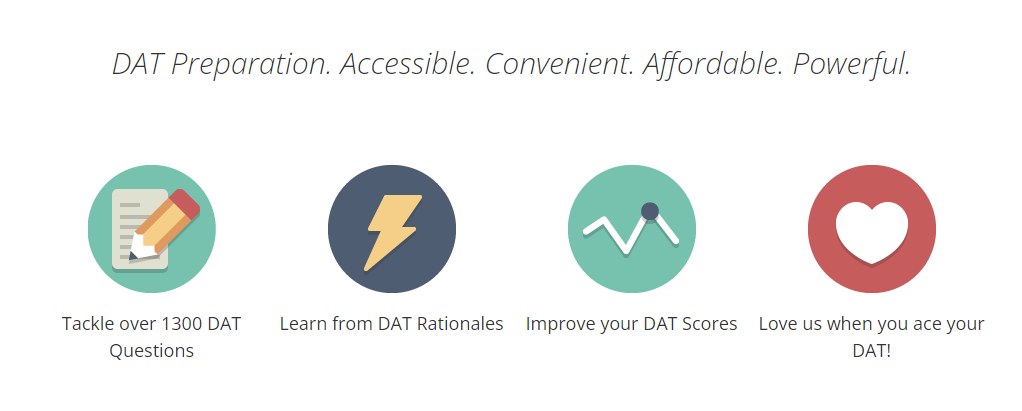 DAT Cracker Pros & Cons
PROS
– Exam-identical preparation resources.
– Free DAT diagnostics exam.
– Affordable.
– Relatively easy to use.
– Free trial available.
CONS
– No live online classes, books, or videos to review.
– Not ideal for standalone lessons
Verdict: Is DAT Cracker A Worthy Study Material?
Based on this in-depth DAT review, we can recommend this prep resource to anyone looking for basic practice material to understand the concepts tested in the DAT.
The subscription is affordable, and the resources are relatively easy to access and use.
Many pre-dental students who have tried DAT Cracker like the number of questions and explanations for different concepts.
Their practice tests help assess how you're doing, but you might need a more detailed review source to learn and understand the DAT concepts fully.
DAT Cracker FAQs
How Much Does DAT Cracker Cost?
DAT Cracker costs $199 for 6 months of unlimited access.
That makes it an affordable option for pre-dental students looking for a valuable training resource under a budget.
You can get a brief view of what this program is offering for free, but there's no money-back guarantee once you pay for the membership.
Is DAT Cracker Worth It?
Yes, DAT Cracker is worth paying for when looking for a basic resource to practice for your DAT.
Its affordable price has made it an ideal option for many pre-dental students, but there are no videos, books or online classes.
Due to the limited number of learning options that DAT Cracker offers, it's not the best option for students looking for standalone lessons and more comprehensive guides.
Nonetheless, it's a great supplement resource for practicing organic chemistry, biology and other DAT-tested subjects.
How Does DAT Cracker Compare With the Real Exam?
DAT Cracker highly resembles the real DAT Exam.
The tests are designed to feature the same level of difficulty as the actual exam, although some students feel that a few sections have relatively easy tests.
Although you may find some questions relatively easy to answer compared to the actual exam, DAT Cracker remains a valuable training resource.
It makes it easy for you to access more practice tests to gain enough experience to ace the actual DAT.
How Long Will the DAT Cracker Schedule Take Daily?
The DAT Cracker schedule ranges anywhere between a few minutes to several hours daily, but everything is self-paced.
The test only takes a few minutes to complete, but you might need more time revisiting the concepts that you're to fully understand. You might also choose to combine it with other DAT review material for better results.